Prospects dim for detained aid workers
Straining to keep tears from running down his cheeks, John Mercer told reporters of his desperate plea with the Taliban. "I offered to go in place of my daughter," he said. "It was a very serious offer. I would do it." But the Taliban didn't even respond to his request to stand in for his 24-year-old daughter, Heather. She and Dayna Curry, 24, are the two Americans who, with six other Westerners, are being detained by the Taliban on charges of promoting Christianity. Shortly before the terrorist attacks on the United States, the aid workers had picked Atif Ali Khan, a Pakistani lawyer specializing in Islamic Shari'ah law and human rights law, to defend them. But the Taliban won't issue Khan a visa, and he says he's not getting much help from American diplomats. "Especially after the [U.S. and other] diplomats left Kabul, I feel these people have been left alone," he tells the Los Angeles Times. He thinks the aid workers "are being sacrificed." The U.S. State Department has confirmed that the American government and Taliban are no longer talking about the case. "It was already a cloudy situation," The Washington Post quotes an unnamed department official saying. "Everybody is out of Kabul right now. There is no communication."
But John Finkelde, the pastor of two Australians also being held, says the Shelter Now workers have not been forgotten. "I think the circumstances of the last week have captured everyone's imagination but certainly their family and friends haven't forgotten them," he tells Reuters. Finkelde also reports that diplomats were able to make contact with the Christians as recently as Friday. "The word we have had back a number of times is that they're doing well," he says. "They're in good spirits."
The situation has probably become even more dire since these news reports were filed, as since then Taliban leaders have announced a holy war against the United States. "I would like to tell my people that our jihad will be formally resuming against the Americans,'' Mullah Mohammad Hassan Akhond, deputy chairman of the Taliban Council of Ministers, said over the radio late yesterday. (Though there's some question as to whether Akhond was speaking out of turn.)
But family and friends—even members of Congress—continue to petition both the U.S. government and the Taliban for the safety of the Taliban workers. "As a father, I would like my daughter out before anything happens," Tilden Curry, dean of the business school at Tennessee State University, tells the Atlanta Journal-Constitution. "I would hope they [the U.S. government] would be very cautious and very sure about their military action. … I just hope they direct it toward the guilty party and avoid harming innocent parties."
Meanwhile, John Mercer is making his pleas from Islamabad, Pakistan. He'd rather still be in Kabul. "This is as far as I am going without my daughter, come hell or high water," he says.
Speaking of detainees …
What do we call the Shelter Now workers? Prisoners? Hostages? It's especially tricky since the U.S. government doesn't recognize the Taliban as Afghanistan's leaders. Maybe it's time to start thinking of them long the lines of Martin and Gracia Burnham, New Tribes missionaries being held by the Abu Sayaaf rebels in the Philippines. The military captured three of the guerrillas on Saturday, including one of the groups communications officers. But the Burnhams remain captive. And in case you were wondering: yes, Osama bin Laden also funds the Abu Sayaaf.
Speak of the devil …
Another photo has been released supposedly showing the face of Satan in the smoke of the World Trade Center attack. That's one from CNN and another from the Associated Press. "We've gotten an incredible amount of response to these pictures," says NBC Denver affiliate KUSA.
Jerry Falwell apologizes—better this time
Way too much press has been given to this already, so let Weblog just note that the The Washington Post, The New York Times, and other media today note Falwell's apology for his statements on the 700 Club. This is his second apology—which went beyond simply saying "I'm sorry my words were taken out of context." This time he's saying, "I want to apologize to every American, including those I named. … When I talked about God lifting the curtain of protection on our nation, I should have made it very clear that no one on this earth knows whether or not that occurred or did not occur." More notable is the about-face by Pat Robertson, who just yesterday was defending Falwell and saying "In no way has any guest on my program suggested that anyone other than the Middle East terrorists were responsible for the tragic events that took place on Tuesday … I again emphasize that there are organizations within the United States which have labored unceasingly to strip religious values from our public square, and in the process, to take away the mantle of divine protection which our nation has enjoyed ever since the days of its founding." Today Robertson has quite a different statement on his site: "Rev. Falwell's initial remarks were completely in accord with what had been said in preceding parts of the program, and then, unexpectedly, he uttered a political statement of blame directed at certain segments of the population that was severe and harsh in tone, and, frankly, not fully understood by the three hosts of The 700 Club who were watching Rev. Falwell on a monitor. … Dr. Robertson said on Fox News' The Edge that he considered the remarks 'totally inappropriate.' He does not wish to comment further on something that is not personally in keeping with the spirit of prayer and sorrow that has been evidenced by the staff of the Christian Broadcasting Network over the past several days."
Related Elsewhere
See our past Weblog updates:
September 17

September 14b | 14a | 13 | 12 | 10

September 7 | 6 | 5 | 4

August 31 | 30 | 29 | 28 | 27

August 24 | 23 | 22 | 20

August 17 | 16 | 15 | 14 |13

August 10 | 9 | 8 | 7 | 6

August 3 | 2 | 1 July 31 | 30

July 27 | 25 | 24 | 23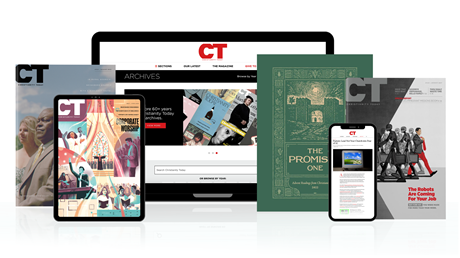 Annual & Monthly subscriptions available.
Print & Digital Issues of CT magazine
Complete access to every article on ChristianityToday.com
Unlimited access to 65+ years of CT's online archives
Member-only special issues
Subscribe
Give Me Shelter (Now Workers)
Give Me Shelter (Now Workers)