God has his appearances, too
Several media organizations have noted the appearance of Satan in the aftermath of the September 11 attacks. Well, writes the New York Post's Rod Dreher—there are also signs of victory over the devil. "Two days after the disaster," he writes, "a construction worker found several perfectly formed crosses planted upright in a pit in the rubble of the heavily damaged 6 World Trade Center." Since then, "exhausted and emotionally overwhelmed rescue workers have been flocking to the site to pray and meditate." Frank Silecchia, who found the crosses, explains that they're "just shards of steel that came from the Tower 1 [the north tower], and went right through the roof of Building 6 and destroyed the entire center of it." But they've become much more for the workers and even journalists who've visited. Silecchia is reportedly trying to convince New York Mayor Rudy Giuliani not to demolish the site during the cleanup efforts. (Unfortunately, there's no photo on the Post's Web site. If you find one, e-mail me.)
re:generation quarterly needs to change its name
After the September 11 attacks, magazines around the country scrambled to change their issues. But you wouldn't expect a magazine that only comes out four times a year to address the attacks. So you've got to hand it to the folks over at re:generation quarterly, which put together a Web-only issue by September 17—and it's actually very good. Ironically, the article by editor Andy Crouch (also a CT columnist) uses the opportunity to attack relevancy. "If there is one lesson the church can learn from 11 September, it's the futility of trying to be relevant to the culture," he writes. "How many PowerPoint presentations on the characteristics of—take your pick—'postmodern culture,' of 'young people today,' of 'what seekers are looking for' are going to be dragged to the Trash icon in the next few months?" We've spent too much time trying to understand pop culture, he writes, and not enough joining together in understanding the gospel. "The answers to all of [today's] questions depend not one bit upon an understanding of last month's top hip-hop artists. They hang entirely upon how deeply and richly we have read the Word of God … and how deeply and richly we have known the Word made flesh."
Much has changed, he writes:
Shortly before an airplane crashed into the Pentagon a few miles from where I sat toying with the remains of an oversized banana muffin, I had said to a colleague with a perfectly straight face, "Like most people my age, I have very few real heroes." Oh, I was a Gen Xer straight out of central casting—quick to see the flawed human core of every noble endeavor, emphatically including my own. Well, forget it. I have hundreds of heroes now.
But not everything has changed, writes Bill Haley. "The reality of evil has not changed. … The cry for justice has not changed. … Human nature has not changed. … The call to pray for our enemies has not changed."
Brian Walsh, however, is struck by just how much has changed. "The president knows, his cabinet knows, the guy on the street knows, and we all know, deep down, that things will never be the same again. … We need to lament the end of an empire, not because that empire was just, and not because that empire should continue, but because the death of this empire will not come without much bloodshed. And it has only just begun. Maybe, if we lament, then there might be an opportunity for us to repent.'"
Albert Louis Zambone, junior dean of the Centre for Medieval and Renaissance Studies in Oxford, England, tries to reconcile these competing mantras—that everything has changed, and the important things have not changed: "'The war creates no absolutely new situation,' C. S. Lewis rebukes me, 'it simply aggravates the permanent human situation so that we can no longer ignore it.'" But he indeed is aggravated. He tells of his difficulty teaching and saying the Lord's Prayer.
There are other good pieces in the digital issue as well—Rudy Carrasco on the importance of understanding Islam, a first-person narrative on family by Annie Young, a poem by David Wright. And the site suggests there's more to come. It's absolutely wonderful that the editors were able to put this special issue together so quickly, but the message the reader is left with is that they really didn't have to: Truth is Truth no matter what, and God is still on the throne.
In other news …
Related Elsewhere
See our past Weblog updates:
September 21 | 20 | 19 | 18 | 17
September 14b | 14a | 13 | 12 | 10
September 7 | 6 | 5 | 4
August 31 | 30 | 29 | 28 | 27
August 24 | 23 | 22 | 20
August 17 | 16 | 15 | 14 |13
August 10 | 9 | 8 | 7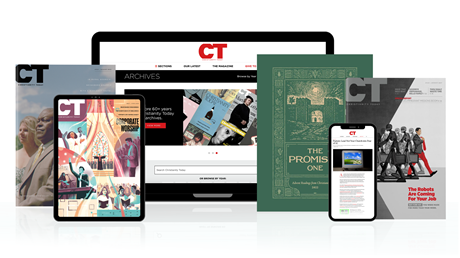 Subscribe to Christianity Today and get access to this article plus 65+ years of archives.
Home delivery of CT magazine
Complete access to articles on ChristianityToday.com
Over 120 years of magazine archives plus full access to all of CT's online archives
Subscribe Now
"Weblog: After Devil Manifestations, Crosses Appear at the World Trade Center Site"
"Weblog: After Devil Manifestations, Crosses ...