Muslims taking "revenge" on Christians in Pakistan
Last week, reports the Chicago Tribune, a mob in Rawalpindi, Pakistan, attacked five Christian families in their homes. A Christian restaurant owner was beaten to death after Muslim customers refused to pay, telling him, "Take your payment from America." The situation is already dire for Pakistani Christians—and it's about to get worse.
"The Christians are very scared," Capt. Mark Rahim, a Roman Catholic serving in the Pakistani army, tells the Tribune. "There are certain groups, certain people—they are small in number but they are very much here—and they are trying to portray this as some kind of war between Christians and Muslims, and under the circumstances it will be very hard for the Christians here to survive."
The threats are already starting to come. Irish priest John Nevin, based in Islamabad, tells the London Independent, "We heard that a mullah in Rawalpindi was warned by the police after telling his followers that for every Muslim killed in Afghanistan, they should pick off two Christians here."
"We started to have problems already on Sept. 11," Shafeek Masih of Nawan Kili tells the Los Angeles Times. "When my mother and sister came out of our house, there were young students there who were throwing rocks at them and using words of abuse. … They said, 'If America attacks Afghanistan, we will kill you.'"
The Tribune's Tom Hundley explains that much of this recent animosity toward Christians stems from media incitement, which has heavily reported on attacks against Muslims and mosques in the United States. "President Bush's visit to a mosque and his condemnation of attacks on Arab-Americans and Muslims received some coverage, but not as much as his use of the word "crusade" to describe the U.S. war against terrorism.," Hundley writes. "All of this has contributed to the widely held impression in Pakistan that America is a dangerous and bigoted place where no Muslim can feel safe." Some religious leaders, then, are calling for vengeance, demanding that attacks on American Muslims be repayed with attacks on Pakistani Christians.
"My message to the West is this," the pastor of Christ Church in Rawalpindi, tells the Independent. "Please do not make revenge attacks on Muslim minorities in your countries, because whatever happens there will come on our heads, two- or three-fold. I heard that a mosque was burnt in Australia. This is not good for us."
Taliban says Christian prisoners are well
Meanwhile, some other Christians in Pakistan are also worried about safety—but not their own. The parents of the Shelter Now workers arrested by the Taliban for promoting Christianity continue to talk to the media, hoping to keep their children's plight a factor in American action against Afghanistan. The parents of Heather Mercer tell the Associated Press that they "were confident that Afghanistan's Taliban rulers would not use their daughter as a 'pawn' in the high stakes brinkmanship following the Sept. 11 terror attacks," and are also convinced the U.S. military won't carpet-bomb Kabul without regard to civilian safety. John Mercer says he thinks the Taliban's religion will keep them from harming Heather. "Islam is a very human, understanding religion," he says. "Their God is our God." While Heather Mercer's parents talk to the AP and The New York Times, CNN interviews the parents of the other American prisoner, Dayna Curry. The Washington Post reports on a prayer service with both Heather's and Dayna's parents and their pastor. And Reuters speaks to Taliban chief justice Maulawi Noor Mohammad Saqib. "They are in Kabul and have no problems," he says of the prisoners. "We are waiting for the arrival of their lawyer. It is up to him when he comes."
Related Elsewhere
See our past Weblog updates:
September 24

September 21 | 20 | 19 | 18 | 17

September 14b | 14a | 13 | 12 | 10

September 7 | 6 | 5 | 4

August 31 | 30 | 29 | 28 | 27

August 24 | 23 | 22 | 20

August 17 | 16 | 15 | 14 |13

August 10 | 9 | 8 | 7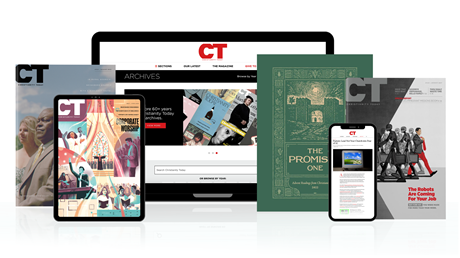 Subscribe to Christianity Today and get access to this article plus 65+ years of archives.
Home delivery of CT magazine
Complete access to articles on ChristianityToday.com
Over 120 years of magazine archives plus full access to all of CT's online archives
Subscribe Now
Terror in Pakistan
Terror in Pakistan