The horror of the terrorist attacks on September 11 is indelibly etched in the hearts and souls of all Americans. Who of us will ever be able to forget the image of hijacked passenger airliners diving into the Trade Towers, the Pentagon, or the hills of Pennsylvania? Or the thousands of innocent lives lost, or the painful shredding of our national sense of well-being? It's a calamity that none of us could have imagined only a short time ago.
Are goodness and hope and God to be found in the ashes? I believe so. Certainly, for those most directly affected, it may be too soon to believe any answers or to receive any comfort. But I believe that answers and comfort will come. As a nation, we've only begun to emerge from shock, and grief and loss will be with us for years. Yet for every life lost we're already seeing thousands of acts of heroism and generosity. May God graciously grant his peace to every person who suffers.
These are times that strip away the places, routines, and assumptions that had seemed most real to us, and had been most often the measure of our wealth. We're left feeling impoverished, vulnerable, and perhaps abandoned by God. Feeling, in other words, utterly mortal.
These are times when we turn to prayer. And in that turning I find great hope. My friend Max Lucado wrote recently, "This is a different country than it was a week ago. We're not as self-centered as we were. We're not as self-reliant as we were. Hands are out. Knees are bent. This is not normal. And I have to ask the question, 'Do we want to go back to normal?' Perhaps the best response to this tragedy is to refuse to go back to normal."
I agree with Max. In fact, it is when normal living is no longer adequate that real prayer flourishes best. Each time we sing "God Bless America," the nation is crying out for God's blessings and favor and help. Though we might wish them to be, God's blessings are not an insurance policy against the sufferings and tragedies that exist in our fallen world. The apostle Peter advised, "Do not think it strange concerning the fiery trial which is to try you, as though some strange thing happened to you."
The experience of crisis doesn't mean we aren't able to ask for and receive God's blessings. When we're in the midst of these sufferings our Heavenly Father longs to pour out His supernatural favor on all who are willing to ask. If ever people from all walks of life sense a need for divine aid and blessing, it is now.
For Christians who are sensing a new readiness to live out their faith, this is a most promising moment. By God's grace and power, now is the time to step up to a larger life of ministry and impact for eternity. Jesus' passion was that His disciples would bless the whole world—people of every race and creed and circumstance. Our passion can be for nothing less. 
It's heartening to see churches, communities and individuals responding to the hatred and destruction with incredible feats of service. And as we stretch beyond our comfort zones in God's service, we discover that His hand is available to empower us. I recall an example from the Old Testament of how God works through us in desperate times. Many years after Jerusalem had been left in ruins by enemy forces, it fell to a man named Zerubbabel to lead in the effort to rebuild the city. When he balked at the task, God reminded him that he would succeed "not by might nor by power, but by My Spirit." Therefore, I encourage Christians everywhere to pray boldly, not only for significant ministry in Jesus' name, but for the power of His Spirit to accomplish it.
Lastly, since we do not know where or when evil forces may strike again, I urge you to continue to pray that God will keep our nation and each of us from evil. Ultimately, only God has the power to keep violence and hatred on this scale from succeeding. We must plead, then, for protection from the evil that is now so nakedly apparent—in the world, in others, and in our own hearts.
One comfort for Christians at times like this is that our faith is matter-of-fact about evil. The Bible calls it sin. We know that it is real and ubiquitous on this planet, and we know that our Savior came to rescue us from its grip now and from its consequences for eternity. In fact, the night before Jesus gave Himself up as a sacrifice for our rescue, He comforted His friends with spiritual advice that was large enough to account for both the joy and horror in life. He said, "I have told you these things, so that in me you may have peace. In this world you will have trouble. But take heart! I have overcome the world."
Setting aside our sorrows for a moment, I urge you to remember that what counts most hasn't changed at all since September 11. Truth is still truth. Love still endures (and ultimately wins over hatred). And God still answers prayer. Join with me and millions of others in beseeching Him for peace, justice and healing for our nation and our world.
Bruce Wilkinson, founder and former president of Walk Thru the Bible Ministries (walkthru.org), is author of The Prayer of Jabez and Secrets of the Vine, currently New York Times bestsellers.
Related Elsewhere
The Prayer of Jabez can be purchased at Christianbook.com along with Secrets of the Vine and a Prayer of Jabez Bible Study.
Bruce Wilkinson's bio can be found at The Prayer of Jabez Web site.
Multnomah Publishers has information on The Prayer of Jabez and Secrets of the Vine, including reader reviews.
For in-depth and continuing coverage of the attack's aftermath, see The New York Times, The Washington Post, and Yahoo full coverage.
For more Christian perspectives and responses, see various articles posted on Christianity.com, Crosswalk.com, and Beliefnet.com.
The Text This Week, a resource for pastors, has collected sermons and reflections in response to the Sept. 11 events.
Christianity Today's previous essays and articles on Christian response to the September 11 attacks include:
Judgment Day | God promised that calamity would follow disobedience. So why are we quick to dismiss it as a reason for the September 11 attacks? (Sept. 25, 2001)
Now What? | A Christian response to religious terrorism. (Sept. 21, 2001)
To Embrace the Enemy | Is reconciliation possible in the wake of such evil? (Sept. 21, 2001)
After the Grave in the Air | True reconciliation comes not by ignoring justice nor by putting justice first, but by unconditional embrace. (Sept. 21, 2001)
Taking It Personally | What do we do with all this anger? (Sept. 14, 2001)
Reflections on Suffering | Classic and contemporary quotations for dark times. (Sept. 13, 2001)
When Sin Reigns | An event like this shows us what humans are capable of becoming—both as children of darkness and of light. (Sept. 13, 2001)
A Wake-Up Call to Become Global Christians | The deadly attacks on America will provoke many responses, but Christians are commanded to love our neighbors. (Sept. 12, 2001)
Fear and Hate | In times like this, as in all other times, Christians have a responsibility to love above all else. (Sept. 11, 2001)
God's Message in the Language of Events | In the face of evil, we must focus on keeping our hearts right. (Sept. 11, 2001)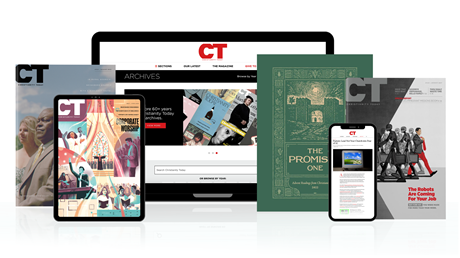 Subscribe to Christianity Today and get access to this article plus 65+ years of archives.
Home delivery of CT magazine
Complete access to articles on ChristianityToday.com
Over 120 years of magazine archives plus full access to all of CT's online archives
Subscribe Now
Prayer After 9.11.01
Prayer After 9.11.01