Since attacks, religion's importance is showing more gains than church attendance.
Gallup is reporting that while America has seen an increase in church attendance since September 11, it hasn't been a dramatic one (video | text). A poll conducted September. 21 and 22 asked those surveyed if they had attended church or synagogue in the last seven days. Forty-seven percent said they had. But this isn't a dramatic rise. The percentage of those saying "yes" has floated around 40 to 45 percent for the last two years. In both February and March of this year, 41 percent said they had been to services in the previous week.
While more Americans are not necessarily going to church or synagogue, Gallup shows that religion has become important in more lives since the attacks. In a poll conducted September 21 and 22, 64 percent said religion is "very important" to them. This is the highest percentage in the survey since 1965. In recent years, the percentage has been in the high 50s and topped out at 62 percent in 1998.
Despite survey results, anecdotal evidence continues to point to an upsurge in America's religious life, church attendance, and a desire for prayer. Last Sunday, 20,000 people transformed New York's Yankee Stadium into an interfaith chapel. A Milwaukee television station is reporting that Bibles, Qur'ans, and books on faith are seeing huge sale increases, and selling out in some stores.
Media coverage is also focusing on the "life-affirming," hands-on, and enormously demanding ministry facing ministers, priests, and rabbis, as Americans now need both consoling and answers to tough questions. Newspapers have picked up on the religious issues that the nation is now wrestling with: "Where was God?" "Where was Satan?" and "What should we be praying for?"
Shelter Now trial could resume tomorrow
Taliban representatives in Afghanistan have said the trial of two Americans held on charges of preaching Christianity will resume Saturday as long as their attorney, a 26-year-old Pakistani hired by their parents is prepared.
In August, Dayna Curry, 29, and Heather Mercer, 24, were arrested along with four Germans, two Australians, and 16 Afghans when the ruling Taliban shut down the aid organization Shelter Now. Their trial began last month but was suspended September 11. According to the Associated Press, the eight foreign workers if convicted, face penalties ranging from expulsion to death.
Question the Pope's health? Come see for yourself
After a week of public appearances that at times showed the effects that Pakinson's Disease is having on the pope, The Vatican last night gave journalists an unpredented opportunity to judge his health for themselves.
The New York Times reports: "Presumably to counter a rash of recent stories about the pope's worsening health, Vatican officials suddenly invited the 60 reporters traveling with him this week to file one by one to the front of the plane, sit next to him for a minute, say hello, and have a photo taken."
The pope, 81, has spent the week in Armenia and Kazakhistan delivering prayers and a message of tolerance. He ended the tour yesterday with a speech in Yerevan in which he called for the international community to make "a choice between good and evil, darkness and light, humanity and inhumanity, truth and falsehood."
More articles
Responding to the attack:
Religion and politics after the attack:
Pacifism:
More on Falwell and Robertson:
Church and state:
Popular culture:
Church life:
Related Elsewhere
See our past Weblog updates:
September 27 | 26 | 25 | 24

September 21 | 20 | 19 | 18 | 17

September 14b | 14a | 13 | 12 | 10

September 7 | 6 | 5 | 4

August 31 | 30 | 29 | 28 | 27

August 24 | 23 | 22 | 20

August 17 | 16 | 15 | 14 |13

August 10 | 9 | 8 | 7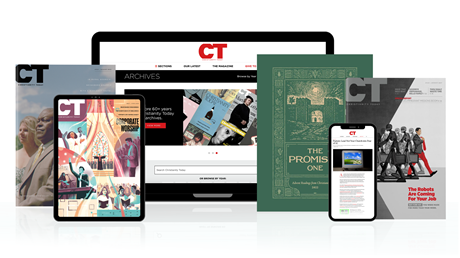 Subscribe to Christianity Today and get access to this article plus 65+ years of archives.
Home delivery of CT magazine
Complete access to articles on ChristianityToday.com
Over 120 years of magazine archives plus full access to all of CT's online archives
Subscribe Now
"Weblog: Religion Up, Church Attendance Not"
"Weblog: Religion Up, Church Attendance Not"