Little is known about Hans Schnell except that he was a Swiss Brethren Anabaptist who sometimes went by the name Hans Beck. In 1541 his wife, Margarete, was imprisoned for her faith. He left the faith for some 14 years, but had returned by 1575 and was an elder, baptizing, and preaching at night in the fields in the area of Urbach and Gottingen in south Germany. The following document dates to about 1575 but retains immediacy because it still sums up the position of many Christian pacifists, and because among the enemies early Anabaptists refused to fight were aggressive Ottoman Turks—a serious Muslim threat in Europe.
There are two different kingdoms on earth—namely, the kingdom of this world and the peaceful kingdom of Christ. These two kingdoms cannot share or have communion with each other.
The people in the kingdom of this world are born of the flesh, are earthly and carnally minded. The people in the kingdom of Christ are reborn of the Holy Spirit, live according to the Spirit, and are spiritually minded. The people in the kingdom of the world are equipped for fighting with carnal weapons—spear, sword, armor, guns, and powder. The people in Christ's kingdom are equipped with spiritual weapons—the armor of God, the shield of faith, and the sword of the Spirit to fight against the devil, the world, and their own flesh, together with all that arises against God and his Word. The people in the kingdom of this world fight for a perishable crown and an earthly kingdom. The people in Christ's kingdom fight for an imperishable crown and an eternal kingdom.
Christ made these two kingdoms at variance with each other and separated. There will therefore be no peace between them. In the end, however, Christ will crush and destroy all the other kingdoms with his power and eternal kingdom. But his will remain eternally. …
When God made his covenant with Noah after the flood, he commanded vengeance and punishment with the power of the sword to punish the evil and put to death the blood guilty and murderers, saying, "Whoso sheddeth men's blood, by man shall his blood be shed." This vengeance to punish evil has remained unaltered in the kingdom of this world with its temporal authority and will remain until the Last Day of his coming, when God will annihilate all the power of this world. Christ also testifies to this when he commanded Peter: "Put up your sword." From these words of Christ we learn that the power of the sword will remain in the kingdom of this world to put to death the blood guilty and murderers according to his Father's order.
But in his kingdom peace should be kept, as he says to Peter: Put up thy sword in its sheath and let them proceed. For that reason he healed Malchus' ear at once, and does not want Christians to fight with the sword for their lives.
Concerning this power of the sword Paul teaches us, saying: "The powers that be are of God. … For rulers are not a terror to good works but to the evil." Also: "He beareth not the sword in vain, for he is the minister of God, a revenger to execute wrath upon him that doeth evil."
The power of the sword in the kingdom of this world is ordained and commanded by God, and whoever resists the ruler, unless he orders what is against God, resists God's order. But if the authorities command something that is against God, I say with Peter and John: "It is better to obey God than men." Likewise the three men in the fiery furnace and Daniel in the lion's den.
Paul's words cited above prove that the vocation of government and the vocation of the Christian are diametrically opposed to each other, like light and darkness.
Therefore the government is a good institution in the world, in that it punishes the bad and protects him who does good. For if there were no government, one could not keep order on earth. Each would then do violence to the other.
But Christ has given those in his kingdom a very different calling and office. "Recompense to no man evil for evil." Also: "Dearly beloved, avenge not yourselves but rather give place unto wrath. For it is written, 'Vengeance is mine, I will repay, saith the Lord.'" Further: "If thine enemy hunger, feed him; if he thirst, give him drink: for in so doing thou shalt heap coals of fire on his head. Be not overcome of evil, but overcome evil with good."
The government is taught to execute vengeance and slay the blood guilty and murderers. In the New Testament Christians are forbidden all revenge and resistance; they are not to resist evil. Peter merely wants permission to ask for revenge. But Christ not only refuses him this, but reprimands him for it, saying: "Ye know not what manner of spirit ye are of." A Christian in the peaceful kingdom of Christ has a loving, peaceable, merciful spirit in the manner of Christ's. He forgives the penitent sinner all sin and transgression. He does not resist evil. He kills nobody physically. He does not preserve his possessions with force but rather presents also the other cheek rather than to oppose the one who strikes him with force. He does not war. He does not injure and kill people but prays for those who persecute and rob him. He who is born again through the Spirit has his Father's nature and qualities in him and is minded as Jesus Christ was minded. Christ not only forbade revenge in his kingdom but also, but his death on the cross, left us an example for us to follow in his footsteps, and prayed for his foes on the cross, which believers also do. …
God uses the government as his minister, whether it performs well or badly. If they are tyrants, God uses them as his rod of punishment, who will, however, at the proper time be held accountable to their Superior and will have to render an exceedingly strict account, as it is written: "The powerful will suffer powerful pain."
Related Elsewhere
"The Two Kingdoms" is excerpted from a translation by Leonard Gross and Elizabeth Horsch Bender. A longer excerpt appeared in Christianity Tody's sister publication Christian History. Purchase a copy of CH issue 5: Anabaptists.
For a more modern defense of Christian pacifism, see Don Murphy's 1986 article, "Can a Christian Be a Pacifist?" from the Dominican journal Spirituality Today.
Some journalists have interpreted "Deny Them Their Victory: A Religious Response to Terrorism" as a Christian pacifist response to September 11, and it has been signed by representatives from historic peace churches. If you read it, however, you'll see that it aligns more closely with the views of Augustine than the views of the Anabaptists.
A Christianity Today Weblog last week examined what Christian leaders are saying about just-war theory and pacifism.
More Christian history, including a list of events that occurred this week in the church's past, is available at ChristianHistory.net. Subscriptions to the quarterly print magazine are also available.
Christian History Corner appears every Friday at ChristianityToday.com. Previous editions include:
A Time For War? | Augustine's "just war" theory continues to guide the West. (Sept. 21, 2001)
The House That Jack Built | C.S. Lewis and six of his literary friends open their doors to students and researchers at Wheaton College's impressive new Wade Center facility. (Sept. 14, 2001)
Raiders of the Lost R | Documentary on School skips religious history, giving a skewed account of American education. (Sept. 7, 2001)
Explaining the Ineffable | In Heaven Below, a former Pentecostal argues that his ancestors were neither as outlandish as they seemed nor as otherworldly as they wish to seem. (Aug. 31, 2001)
Article continues below
Eyewitness to a Massacre | The bloodbath that started on August 24, 1572, left thousands of corpses and dozens of disturbing questions. (Aug. 24, 2001)
Live Long and Prosper | Though a recent survey raises questions, the health benefits of faith have been documented for centuries. (Aug. 17, 2001)
Divided by Communion | What a church does in remembrance of Christ says a lot about its history and identity. (Aug. 10, 2001)
Thrills, Chills, Architecture? | The most exciting adventure at St. Paul's Cathedral would be a time-traveling jaunt through its history. (August 3, 2001)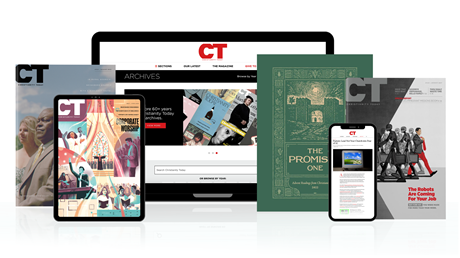 Subscribe to Christianity Today and get access to this article plus 65+ years of archives.
Home delivery of CT magazine
Complete access to articles on ChristianityToday.com
Over 120 years of magazine archives plus full access to all of CT's online archives
Subscribe Now
'He Does Not War'
'He Does Not War'