Fall TV preview: Nudity, profanity, and obscenity
Having concluded his season of The West Wing by having the fictional president call God a "feckless thug" and telling him "to Hell with you" (albeit in Latin), show creator Aaron Sorkin is eager to take the Lord's name in vain this season. If it happens, reports The New York Times, it would break a longstanding taboo. Other shows are scrambling to break different taboos. NYPD Blue creator Steven Bochco wants to use "a scatological reference that has never before been uttered on an ABC series" on his new show Philly. The pilot for CBS's Wolf Lake contains "a particularly revealing sex scene." And an unnamed CBS script includes a word "considered to be on the furthermost reaches of decorum." (God bless The New York Times for its apparent in-house rules on profanity—it neither prints the words themselves nor the dash-dash-dash euphemisms.) "Standards have eased gradually over the decades," explains Times writer Jim Rutenberg. "But the struggles behind the scenes are growing more strident and more complicated—making some people wonder where the boundaries of taste will settle in the next few years." The television show creators are pointing to the popularity of HBO's The Sopranos as evidence that Americans want more nudity, profanity, and violence in their entertainment. But if nudity, profanity, and violence were what made The Sopranos so popular, wouldn't Cinemax be the highest-rated cable station? What's particularly ironic is that Sorkin, Bochco, and other show creators who are saying network TV should be more like The Sopranos are the same people who are always complaining about the lack of original network programs.
Street price for cocaine hit now apparently 30 pieces of silver
Network television creators aren't the only ones pushing the envelope. The British chapter of Youth for Christ has a new film out about Jesus that has come under attack as a distortion of the Bible and harmful to young people. An Absence of Stones, which will be shown to secondary school students to convince them that the Bible is relevant, depicts Jesus as a 15-year-old and the Judas figure (now a girl) betrays him for cocaine. Instead of being crucified, Jesus is murdered by a classmate. Forgive Weblog for being confused, but doesn't making that many changes to the story actually suggest to teens that the Bible isn't relevant to their lives?
Bible saves teen from mother's shotgun
At least one teen believes in the power of the Bible. Actually, it's a terribly tragic story, but is so amazing that it's difficult to keep in mind how horrible it is. Sixteen-year-old Kenny Wallace of North Fort Myers, Florida, was shot by his mother Sunday morning with a 16-gauge shotgun. The only thing that saved him was his Bible. "The Bible deflected 99 percent of the blast," says his pastor, Steve Rogers. "The shotgun blast blew a two-inch hole in it. It saved his life. It's a miracle." Wallace agrees. "God pulled the Bible in the way," he says. "He used the Bible as my sword and my shield." Sadly, Wallace's 6-year-old brother was killed. The 911 call by Leslie Ann Wallace, where she confesses to the shootings, is absolutely horrific.
Related Elsewhere
See our past Weblog updates:
August 31 | 30 | 29 | 28 | 27

August 24 | 23 | 22 | 20

August 17 | 16 | 15 | 14 |13

August 10 | 9 | 8 | 7 | 6

August 3 | 2 | 1 July 31 | 30

July 27 | 25 | 24 | 23

July 20 | 19 | 18 | 17 | 16

July 13 | 12 | 11 | 10 | 9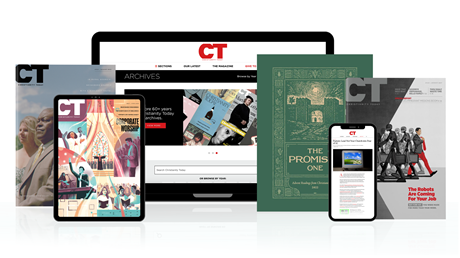 Subscribe to Christianity Today and get access to this article plus 65+ years of archives.
Home delivery of CT magazine
Complete access to articles on ChristianityToday.com
Over 120 years of magazine archives plus full access to all of CT's online archives
Subscribe Now
TV Is About to Get Worse
TV Is About to Get Worse