Mother Teresa had exorcism, says archbishop of Calcutta
Archbishop of Calcutta Henry D'Souza says Mother Teresa had an "exorcism" performed on her when she was hospitalized for heart trouble in 1997. Well, sort of. He's very clear that "Mother was not possessed … it did not hurt her sanctity," but that she received a "prayer of protection" from demons when doctors couldn't find a medical reason for her sleeplessness. "I wanted her to calm down and asked a priest, in the name of the church, to perform an exorcism prayer on her. She happily agreed. After he performed these prayers, she slept very well that night," D'Souza tells Reuters. Commentators seem surprised by the news: "I cannot believe they would have allowed that to happen,'' Notre Dame theology professor Richard McBrien tells the Associated Press. "They could have performed the rite of the anointing of the sick. That's one of the sacraments. Exorcisms aren't sacraments." Fordham University sociology professor Michael W. Cuneo, author of the new book American Exorcism, is also incredulous. "The official Roman Catholic position is that you're supposed to approach an exorcism with a great deal of skepticism," he tells Time. "One of the weirdest things about this story, if the article is correct, is that there was no evaluation on the part of the Archbishop. The order for the exorcism was just off the cuff." Even former New York mayor Ed Koch weighed in on the story. "It was a waste of time," he tells the New York Daily News. "She was as pure as driven snow, before and after." And really, that's what Christianity Today's cover story on exorcisms and deliverance ministries really needed: a quote from former New York mayor Ed Koch.
Christianity as backdrop "almost vanquished" in Britain, says cardinal
The big religion story out of the U.K. today is Cardinal Cormac Murphy-O'Connor's remarks to the National Conference of Priests that Britain is now a post-Christian nation. "It does seem in our countries in Britain today, especially in England and Wales, that Christianity, as a sort of backdrop to people's lives and moral decisions—and to the government, the social life of the country—has now almost been vanquished," he said in unscripted remarks that appear in every British news source today. The scripted remarks give much the same prognosis, but what didn't get reported was the cardinal's call to evangelism and his hope:
We should not be over concerned about the diminishment of numbers. At a certain point we have to leave the question of converts to God, but we must also seek to regain the lapsed. If we are the little flock, it does not mean we are the same as a ghetto or sect, it means that the Church of the future will be one much more open to our unbelieving world, one more able to touch people where they inwardly long to be touched. It will be a Church that does not hide itself away but rather, in a quiet and brave fashion, like the city on the hill or the leaven in the mass [of dough], is the hope of the world.
Indeed, the cardinal didn't say—as the media reported—that Christianity was almost vanquished in the country. He said that its role "as a backdrop" had been subjugated. If the removal of Christianity as a backdrop leads Christians to take their faith to the foreground, Britain will certainly be in a much better situation. That the head of the country's Roman Catholics would suggest that the Church was losing its influence to shopping, popular culture, and neopaganism shouldn't have come as a huge shock to the British news media, but it apparently did. Archbishop of Canterbury George Carey, head of the Church of England, made similar remarks last year, saying that "a tacit atheism prevails" in Britain.
Meanwhile, apparently capitalizing on how neopaganism is eclipsing the Christian church in Britain, The Scotsman has started a series of articles on witchcraft, even offering spells for anger release and bringing more customers to your business.
Holy Land Experience under attack from rabbis—again
Six months after Jews protested the opening of the Holy Land Experience for supposedly targeting them for conversion, the theme park is again under attack. This time, Jewish leaders are criticizing The Scriptorium: Center for Biblical Antiquities, the world's largest collection of biblical artifacts, which will now be housed at the Orlando park. Rabbi Daniel Wolpe, president of the Greater Orlando Board of Rabbis, is particularly upset about the multiple Torah scrolls that will be on display. A Torah "is considered the greatest gift God has given the Jewish people," he says. "Putting it in a museum is the same as a Jew taking an image of Jesus and denigrating it." Funny, but Weblog doesn't remember too many protests when the collection—which also contains an Egyptian Bible from the fourth century, an original 1611 King James Bible, and reams of illuminated manuscripts—was tucked away in a in Grand Haven, Michigan, museum.
More stories
Christians and Jews:
Politics:
Sexual abuse:
Other articles:
Related Elsewhere
See our past Weblog updates:
September 5 | 4

August 31 | 30 | 29 | 28 | 27

August 24 | 23 | 22 | 20

August 17 | 16 | 15 | 14 |13

August 10 | 9 | 8 | 7 | 6

August 3 | 2 | 1 July 31 | 30

July 27 | 25 | 24 | 23

July 20 | 19 | 18 | 17 | 16

July 13 | 12 | 11 | 10 | 9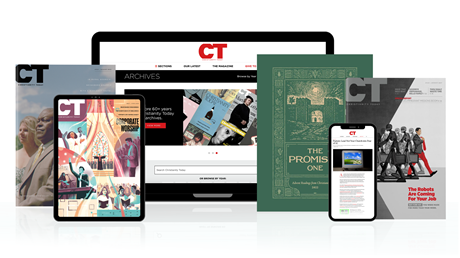 Subscribe to Christianity Today and get access to this article plus 65+ years of archives.
Home delivery of CT magazine
Complete access to articles on ChristianityToday.com
Over 120 years of magazine archives plus full access to all of CT's online archives
Subscribe Now
Mother Teresa Received Exorcism. Or Something.
Mother Teresa Received Exorcism. Or Something.