U.K. evangelistic ministry grosses out shoppers again with crucifixion scene
"Easter is not about fluffy bunnies and eating chocolate eggs, it's about what Jesus did for us," says Ian Willis of the Welsh evangelistic ministry Focal Point. And to "create a stir and shock people out of their consumerist complacency," the group re-enacts the crucifixion each Easter in town centers—with lots of gore. "If this offends people then that's too bad," Willis says.
Two years ago, some shoppers were so shocked by the display that they called for an ambulance. This year, they're just complaining that it's tacky. "It's appalling," Maria Lewis, 20, told The Guardian. "Easter should be observed, but not by shoving some poor bloke in a nappy on a cross and pouring red paint over him. It's confrontational. What gives them the right to do this?"
Next year, Focal Point wants to get rid of the "nappy" (that's a diaper for those of us on this side of the Atlantic). "We want to set up by a famous landmark [in London]," says Willis, "but next time with a fully naked Jesus." Or Focal Point could be really outrageous and take a cue from the Philippines.
Still no Burnhams
Speaking of the Philippines, today's New York Times has an update on efforts to rescue American missionaries Martin and Gracia Burnham. It's not good news. "Expectations that an American missionary couple held hostage for 10 months would be freed Easter weekend collapsed [last night] apparently after the failure of back-channel negotiations, and after the Philippine military admitted that it had been unable to locate the couple's captors," reports Jane Perlez. Last night, it appeared that the Islamic guerrillas were going to release their other hostage, Filipina nurse Eldiborah Yap, leaving only the Burnhams hostage. But the runner sent to get her was turned back by Filipino soldiers, Perlez reports. "There was only silence about the Burnhams," she writes, also reminding readers that "there have been frequent charges in the Philippines of collusion between the army and Abu Sayyaf." Perlez also reports that American military officials in the area are expressing frustration with the Philippines military's rescue efforts.
Meanwhile, Philippine Justice Secretary Hernando Perez says the Abu Sayyaf may be sending millions of dollars earned in ransom payments to the al-Qaeda terrorism network. "It is possible that the money is being channelled towards bin Laden," he said today. "We were told that perhaps Philippine money already here in the hands of terrorists (is) going towards the way of bin Laden." No surprise there.
Harry Potter's patron saint
"The Pope is planning to name Saint John Bosco, a 19th-century Italian priest with a passion for magic, as the patron saint of conjurers, magicians, and wizards," reports The Sunday Times of London. "The idea is the brainchild of Father Silvio Mantelli, a bespectacled priest and magician who boasts the stage name Mago Sales and has devoured all of J.K. Rowling's Harry Potter books. He likes to celebrate mass wearing a clown's plastic red nose." If you can read Italian, there's more from La Stampa.
The final word on The Prayer of Jabez
Well, not final, but authoritative. Now that sales of Bruce Wilkinson's booklet are slowing down, Publishers Weekly looks behind the scenes. Multnomah Publishers expected to sell about 30,000 copies. Now in its 41st printing, it has sold more than 9.2 million copies in 17 languages. Publishers Weekly also reports on how much the book has expanded its publishers territory: it's building a new facility, hiring new staff, and attracting authors (including Tony Evans and Joe Gibbs) that in the past might have seen it as too small. "There's not a budget item within editorial, production, administration and marketing/sales that has not been impacted by The Prayer of Jabez," says Kyle Cummings, Multnomah's senior vice president and CFO.
Related Elsewhere
See our past Weblog updates:
March 28 | 27 | 26 | 25
March 22 | 21 | 20 | 19 | 18
March 15 | 14 | 13 | 12 | 11
March 8 | 7 | 6 | 5 | 4
March 1 | February 28 | 27 | 26 | 25
February 22 | 21 | 20 | 19 | 18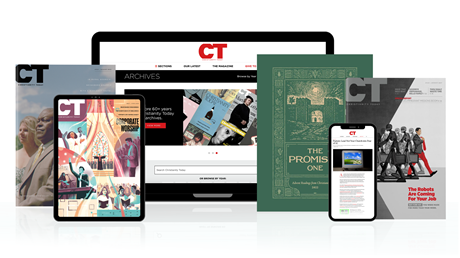 Subscribe to Christianity Today and get access to this article plus 65+ years of archives.
Home delivery of CT magazine
Complete access to articles on ChristianityToday.com
Over 120 years of magazine archives plus full access to all of CT's online archives
Subscribe Now
Communicating Easter's Blood, Not Bunnies
Communicating Easter's Blood, Not Bunnies