Five Abilene Christian University students, all Nigerian, die in crash
For most of the Christian world, Sunday was a time of rejoicing about Christ's victory over death. But at Abilene Christian University (ACU), a 4,800-student school affiliated with the Churches of Christ, the reality of death still clung firm. Sunday morning, an SUV carrying five students crossed the median on Interstate 20, slid along a guardrail, hit a retaining wall, and dropped 30 feet, landing on its roof. All five, who were among ACU's 27 Nigerian students, were killed instantly. "They had been driving all night, so the speculation is they fell asleep," Department of Public Safety Trooper Jeremy Smith told the Associated Press.
"I don't have any real easy words to tell you tonight," ACU provost Dwayne VanRheenen said at an impromptu campus vigil Sunday night. "We know nothing we can say or do can take away the sorrow or discomfort, but we know we can pray together. … Five precious people are gone and we will miss them dearly."
By Monday morning's chapel service, VanRheenen found his words. "As Christians we have hope, not despair," he said. "Death has a sting; it also has a victory. May all of us live in recognition that after life, comes death, and after death comes eternal life."
All five students had been involved in local ministry work, including visiting prisons and nursing homes.
Every pastor's guilty dream
On Palm Sunday, Anglican minister George Wandera allegedly stormed into a service at the Baptist church in Magombe village, Uganda, and demanded to know why so many people were going to that church instead of his. He reportedly kicked and punched the Baptist pastor, Bernard Wanyama, and members of the two congregations joined in the melee. Wanyama was severely injured, but was treated and released, reports the New Vision newspaper of Kampala.
Is this what's next for the U.S. as Christians leave mainline denominations for evangelical congregations? Maybe not: mainline congregations may run out of pastors before they run out of congregants. "A pastor is nothing U.S. churchgoers can take for granted these days," reports the Associated Press. "Though the Roman Catholic priesthood crisis is a familiar story—and current scandals won't help—U.S. Protestant strategists are also becoming alarmed over a growing clergy shortage, particularly in predominantly white, mainline denominations."
Keeping the devil locked up
While ministering in a county jail, Augustine Edosomwan of Phoenix's Living Water of the Valley Church was asked by a female inmate for deliverance (a.k.a. exorcism). Now he's on probation. "Ministry focusing on casting out demons [is] not allowed in the jails," says chaplains' coordinator Mary Falls-Millard. Actually, says the administrative chaplain for the county jail system, Edosomwan would have been okay if he'd cast out the demons in private—and with clearance beforehand. But the woman has now become a target for ridicule by other inmates—and jail officials don't want anyone to feel singled out.
And Passover commemorates Buddha's enlightenment
The Daily News of Halifax, Nova Scotia, was trying to be helpful. For Holy Week, it attempted to briefly outline five major world religions. Christianity was nicely summed up thus: "The life, death and resurrection of Jesus are central to their understanding of who they are and how they should live. Jesus came to restore God's creation to the condition intended by the creator. There is a wide difference in opinion as to how the Bible is to be understood."
But when it came to Judaism, editors fell asleep. "The Bible's core is the Torah, the five books delivered by God to the Jewish people at Mount Sinai through the prophet Muhammad." The prophet Muhammad? (Thanks to the Canada-based RelapsedCatholic.com for pointing out the error.)
More articles
Preparing for Easter:
Easter in Pakistan:
Easter and the Mideast:
Easter and the abuse scandal:
Easter and 9/11:
Easter history:
De-bunnying Easter:
Easter church services:
Debating what Easter means:
Related Elsewhere
See our past Weblog updates:
April 1
March 28 | 27 | 26 | 25
March 22 | 21 | 20 | 19 | 18
March 15 | 14 | 13 | 12 | 11
March 8 | 7 | 6 | 5 | 4
March 1 | February 28 | 27 | 26 | 25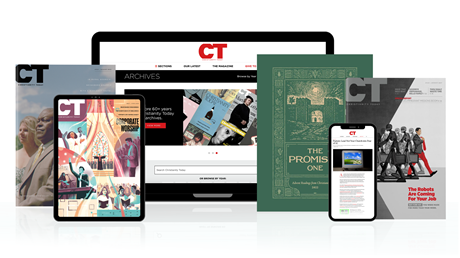 Subscribe to Christianity Today and get access to this article plus 65+ years of archives.
Home delivery of CT magazine
Complete access to articles on ChristianityToday.com
Over 120 years of magazine archives plus full access to all of CT's online archives
Subscribe Now
Five Nigerian Christian Students Die in Texas Crash
Five Nigerian Christian Students Die in Texas Crash