Anne Graham Lotz: Daddy is deaf
Evangelist Billy Graham is "doing very well," says his daughter and fellow evangelist Anne Graham Lotz, "although I'd say in the last month he's just gone totally deaf." She made the comments to Knoxville, Tenn., radio station WNOX.
Fortunately, says Graham spokesman A. Larry Ross, the hearing loss is temporary. "He has a fluid buildup in his inner ear as a consequence of a chronic sinus infection and as a result it has temporarily affected his hearing," the publicist tells The Knoxville News-Sentinel.
Sadly, sinus infections and lung ailments keep recurring for the 83-year-old evangelist, and he's currently receiving outpatient treatment at the Mayo Clinic in Jacksonville. He isn't being treated for hearing loss there, says a clinic spokesman.
Also ailing is Ruth Graham, who broke her pelvis in a recent fall. That news comes from Franklin Graham, who talked to the Grahams' hometown paper, The Charlotte Observer, Tuesday.
Franklin also spoke about Billy's 1972 Oval Office comments about Jews. His father was never anti-Semitic, the younger Graham said, and was instead talking about "a handful of elitists who had control of the major outlets at that time . …The issue has never been Jewish people. His concern was liberalism in that time in the media. And it's changed."
"Colson's columns are indeed his own words," says staffwriter Morse
Last Wednesday, Christianity Today editor David Neff refuted a Los Angeles Times report that Charles Colson had little to do with his Christianity Today column, "Post-Truth Society." "Chuck didn't just sign off on a staff-written piece," Neff wrote. "The column has his fingerprints all over it."
A few more responses have since come to light over the last week. First, LA Times reporter Tim Rutten finally got around to interviewing Colson. The Prison Fellowship head again acknowledged using staffwriters, adding, "When we Christian leaders use the talent of others, we are ethically obligated to publicize that." The Christianity Today column had its genesis, Colson said,
when I read a piece on the problem in

The New York Times

. I drafted a memo to the staff saying this was something we should tackle. Later, when the Stephen Ambrose plagiarism controversy came up, Anne [Morse] drafted, and I edited, a radio commentary. I told her I wanted to turn it into a longer piece for

Christianity Today

and she did. It's a pretty good example of the way we work . …Anne [Morse] was the one who finished the column for CT. I have no problem with telling anybody that. I complimented Anne on the job she did because I thought it was the best work she'd ever done.
Morse herself says Colson deserves more credit. "Mr. Colson's columns have far more than his 'fingerprints,' on them," she said in a letter to Christianity Today. "He is an active participant at every step in the writing process. His columns are indeed his own words. Moreover, Mr. Colson … has never hidden the fact that he employs writers to assist him. Indeed, it would be difficult for him to be more open about this."
Nevertheless, Colson continues to take some heat in the media for the column. Yesterday's Washington Times, for example, covered Rutten's original accusation and the ensuing debate.
Jerry Falwell takes aim at JerryFalwell.com
Baptist minister Jerry Falwell doesn't find JerryFalwell.com very funny. The site is run by Gary Cohn of Highland Park, Illinois, and makes fun of the pastor and his beliefs. So Falwell's lawyer sent Cohn a cease-and-desist letter.
Cohn refused to remove the site, responding, "This is completely noncommercial website, which exists for the sole purpose of expressing, through a parody, my opinion that your client is a jerk." Now the dispute will head to the World Intellectual Property Organization (WIPO), which is somewhat inconsistent in such cases. It allows BosleyMedical.com to accuse the Bosley Medical Group of misconduct, but ordered the owner of Madonna.com to hand the site over to the pop singer.
Church of the Nativity standoff continues
Guns are ready both inside and outside the Church of the Nativity in Bethlehem. As Weblog finishes up, Christian clergy inside the church said Israeli forces blew off one of the church's doors, but the Israeli military denies it. A caretaker at the church was reportedly shot to death by Israeli troops.
More articles
Crime:
Church & state:
Politics:
Education:
Sex & marriage:
The numbers:
History:
Church life:
Sermon stealing:
Related Elsewhere
See our past Weblog updates:
April 3 | 2 | 1
March 28 | 27 | 26 | 25
March 22 | 21 | 20 | 19 | 18
March 15 | 14 | 13 | 12 | 11
March 8 | 7 | 6 | 5 | 4
March 1 | February 28 | 27 | 26 | 25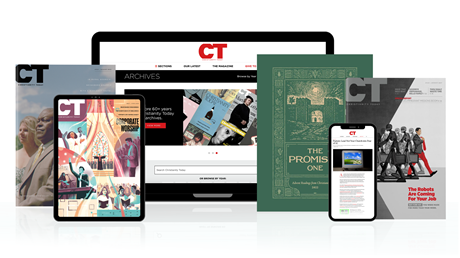 Subscribe to Christianity Today and get access to this article plus 65+ years of archives.
Home delivery of CT magazine
Complete access to articles on ChristianityToday.com
Over 120 years of magazine archives plus full access to all of CT's online archives
Subscribe Now
Billy Graham Is Deaf, But It's Reportedly Temporary
Billy Graham Is Deaf, But It's Reportedly Temporary