Protestants have their own clergy scandals
Weblog is getting deluged with letters about a recent article on what the clergy abuse scandal means for evangelicals. Many readers didn't like part of the article's report, which suggested that clergy abuse of minors is less common in Protestant churches than it is in Roman Catholic parishes. Don't blame the messenger: That's what the interviewees and other reports said.
An Associated Press report, however, has an opposing view. "While data are sketchy, at least one expert believes the incidence of clergy molesting young children may be about as frequent—or infrequent—in Protestantism as it is in Catholicism," reports AP religion writer Richard N. Ostling. The expert is Penn State historian Philip Jenkins, who says Catholic cases get exaggerated and Protestant cases get ignored. Jenkins admits he has no hard numbers to back up his case, but says neither do those who say it's more common in Catholicism.
Actually, some hard numbers have surfaced from Christian Ministry Resources, the publisher of Church Law & Tax Report (the editor, Richard Hammar, was quoted in the earlier CT online article). "Despite headlines focusing on the priest pedophile problem in the Roman Catholic Church, most American churches being hit with child sexual-abuse allegations are Protestant, and most of the alleged abusers are not clergy or staff, but church volunteers," summarizes The Christian Science Monitor. "Over the past decade, the pace of child-abuse allegations against American churches has averaged 70 a week."
Weblog has had a lot on the clergy abuse scandals, but for regular updates, be sure to check out Ponyter.org's Clergy Abuse Tracker and Yahoo's full coverage area.
Burnhams spotted? Maybe.
U.S. spy planes have located where American missionaries Martin and Gracia Burnham are being held, southern military commander Lieutenant-General Roy Cimatu told reporters yesterday. Actually, that's what he reportedly said. Today he says it was a 10-year-old child, not a spy plane, who spotted the missionaries. Monday's New York Times reported that the Philippine military didn't know where they were, so there is a question about whether the military is trying to save face. U.S. officials aren't commenting on Cimatu's report, says The Wichita Eagle. The newspaper, which deserves much praise for its vigilance on the Burnhams' story, also has a report headlined "U.S. officials downplay Burnhams' importance." Sounds interesting (not to mention worrisome), but the link is dead.
Gulf News in the United Arab Emirates has another worrisome report: Martin and Gracia Burnham have been separated. Gracia is still on Basilan Island, says the paper, but Martin has been taken away with Abu Sayyaf leader Mujib Susukan. The paper's source is a local who "claimed he saw the hostage when he delivered food to the Abu Sayyaf camp last month."
Meanwhile, Abu Sayyaf is urging the Philippine government to negotiate. "This offer, perhaps the last one, should be an opportunity for the government to resolve this problem," leader Abu Sulaiman told Radio Mindanao Network.
Minister says his dad, not James Earl Ray, killed Martin Luther King Jr.
"My father was the main guy" who shot Martin Luther King, says the Rev. Ronald Denton Wilson of New Covenant Church in Graham, Florida. "It wasn't a racist thing. He thought Martin Luther King was connected with communism, and he wanted to get him out of the way." He says his announcement's timing with the 34th anniversary of the assassination is only coincidental, and that he's coming forward now to "cleanse my soul. … I've carried this weight for a long time." The FBI is investigating, and meanwhile Wilson has become a media celebrity, reports The Gainesville (Fla.) Sun.
More articles
Holy Land violence:
Life ethics:
Money & business:
Other religions:
Science & health:
Bible:
Missions & ministry:
Clergy:
Worship wardrobes:
Pop culture:
Soccer:
Other sports:
Politics & law:
Religion & violence:
Pope John Paul II:
New Mexico chapel:
Deaths:
Abuse opinion:
Other articles of interest:
Related Elsewhere
See our past Weblog updates:
April 4 | 3 | 2 | 1
March 28 | 27 | 26 | 25
March 22 | 21 | 20 | 19 | 18
March 15 | 14 | 13 | 12 | 11
March 8 | 7 | 6 | 5 | 4
March 1 | February 28 | 27 | 26 | 25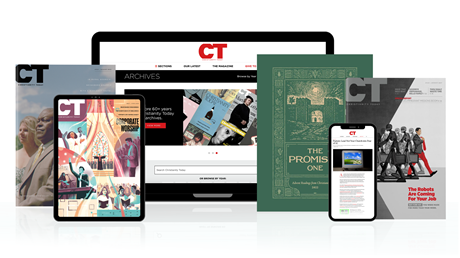 Subscribe to Christianity Today and get access to this article plus 65+ years of archives.
Home delivery of CT magazine
Complete access to articles on ChristianityToday.com
Over 120 years of magazine archives plus full access to all of CT's online archives
Subscribe Now
70 Child Abuse Accusations Against Churches Each Week—and Most Are Protestants
70 Child Abuse Accusations Against Churches Each ...