Every other year, Calvin College hosts a Festival of Faith & Writing, bringing together a marvelous array of writers and readers, publishers and editors, and tables loaded with books and journals—a feast. This year's conference, which began last Thursday and concluded on Saturday night, drew more than 1,600 registrants and featured keynoters Stephen Dunn, Kaye Gibbons, Ernest Gaines, Kathleen Norris, Jan Karon, and Oscar Hijuelos as well as dozens of other fine writers—enough so that you wished you could attend the festival on three parallel time tracks.
One of the "others" was the extraordinary Yaffa Eliach, a woman of seemingly inexhaustible energy and encyclopedic knowledge of life in the shtetl, the typical small town or village in which Eastern European Jews lived for centuries before the Holocaust. Eliach, who created the Tower of Life at the Holocaust Memorial Museum in Washington, D.C., is probably best know for her book There Once Was a World: A 900-Year Chronicle of the Shtetl of Eishyshok. But many years earlier she published an equally remarkable book, Hasidic Tales of the Holocaust, based on tape-recorded interviews and oral histories with Holocaust survivors and others who are transmitting their stories.
The contrast between Eliach's book and most Holocaust literature, especially that represented by what Melvin Jules Bukiet calls the "Second Generation" writers, could not be more stark. Bukiet, as we noted a couple of weeks ago, has just edited a collection of Holocaust writings called Nothing Makes You Free, bragging in the introduction that these writers are "viciously unredemptive, scoured of weakness as they look atrocity in the face with barely contained rage." In contrast, the Hasidic tales gathered by Eliach are fundamentally redemptive, and some even recount instances of miraculous deliverance.
For any reader, Eliach's book is likely to rouse contradictory emotions, and this is especially true for Christian readers. On the one hand, the spirit of these tales suggests that even in the face of the Holocaust there is an alternative to nihilism, an alternative to be found in devotion to the God of Abraham, Isaac, and Jacob. On the other hand, the stories often prompt reflection on differences between Judaism and Christianity.
Some tales, for example, explain how a person was saved from the jaws of death because of the merit of an ancestor. Joshua Hochshield, who teaches philosophy at Wheaton College and with whom I read Eliach's collection in a book group, pointed out that there are surprisingly few references in this volume to God's action, God's love, God's self-revelation—that the emphasis falls more on the collective identity of the Jewish people.
On the other hand, some of these Hasidic tales may seem uncomfortably close to stories many of us have heard in church, stories of persecuted Christians and miraculous acts or strange "coincidences" where the hand of Providence can be detected, stories that we long to believe and yet that often seem suspect in one way or another. Eliach herself situates the tales in ambiguous terrain, concluding her foreword with a quotation from Bertolt Brecht: "The imagination is the only truth."
Eliach's book was first published in 1982. It should be read alongside a book just published by Yale University Press, Salvaged Pages: Young Writers' Diaries of the Holocaust, collected and edited by Alexandra Zapruder. Like Eliach, Zapruder, a young scholar, is both passionate and meticulous. And her carefully documented volume, like Eliach's, offers personal accounts that are strong enough to overcome the resistance many readers have developed because the Holocaust has been overexposed and monumentalized and trivialized. Yet Zapruder's collection is also much different from Eliach's.
While all of the stories in Eliach's book fall under the penumbra of Hasidism and have been shaped either by their tellers or by the editor (or by both) to conform to conventions of the traditional Hasidic tale, the diaries represented in Zapruder's book are heterogeneous. A few are skillful in a literary sense, but most are not. They represent many different segments of twentieth-century Judaism, not only the Hasidic community. Some of the writers perished, while others survived. Above all, Zapruder strongly resists any redemptive framing of these "fragments," as she calls them.
Consider reading a few pages of Eliach one night, a few pages of Zapruder the next. Can there be any doubt, whatever the differences, that both testify to the depth of evil within the human heart—within our own hearts? Civilized Europe cracks open to reveal the rot within. Something is broken, something that can't be fixed by the United Nations or the latest fruits of biotechnology or by anything less than God, whose new heaven and new earth we await with hope and longing and celebrate even now, as the Hasidim dance, for his kingdom is already present in this sin-darkened world.
John Wilson is editor of Books & Culture and editor-at-large for Christianity Today.
Related Elsewhere
Visit Books & Culture online at BooksandCulture.com or subscribe here.
This month, Books & Culture Corner is looking at books that provide an opportunity for meaningful reflection on the Shoah. Previous parts in this series include:
'Nebuchadnezzar My Slave' | Was the Holocaust God's will? (April 15, 2002)
'In the Beginning Was the Holocaust'? | Blasphemy, rage, memory, and meaning of the Shoah. (April 8, 2002)
Books & Culture Corner appears Mondays at ChristianityToday.com. Earlier Books & Culture Corners include:
'Nebuchadnezzar My Slave' | Was the Holocaust God's will? (April 15, 2002)
'In the Beginning Was the Holocaust'? | Blasphemy, rage, memory, and meaning of the Shoah. (April 8, 2002)
The Gospel According to Biff | A conversation with novelist Christopher Moore. (April 1, 2002)
Baseball 2002 Preview | Part 2: Saving the game? (March 25, 2002)
The State of the Game | After one of the best World Series ever, baseball faces a crisis. (March 18, 2002)
America's Homegrown Islam—and Its Prophet | The strange story of Elijah Muhammad, leader of the Nation of Islam and onetime mentor of Malcolm X. (Mar. 11, 2002)
'Must Be Superstition' | Rediscovering spiritual reality. (Mar. 4, 2002)
Science Holds a Meeting | A report from the annual convention of the AAAS. (Feb. 25, 2002)
Saint Frodo and the Potter Demon | The Lord of the Rings and Harry Potter series spring from the same source. (Feb. 18, 2002)
Dictionary of the Future | Trendspotter Faith Popcorn on the words that will define our tomorrow. (Feb. 11, 2002)
Does Creationism Equal Holocaust Denial? | Yes, says Michael Shermer in Scientific American. (Feb. 4, 2002)
Theodore Rex | Is "popular history" getting a bad rap? (Jan. 28, 2002)
Letter to Martin Luther King, Jr. | A progress report. (Jan. 21, 2002)
Keeping the Dust on Your Boots | Remembering the Afghan refugees—and the church in Iran. (Jan. 14, 2002)
Coming Attractions | Books to watch for this year. (Jan. 7, 2002)
Books of the Year, Part 2 | After the top ten, here's the best of the rest. (Jan. 4, 2002)
Books of the Year | Part 1: The Top Ten (Dec. 17, 2001)
"Daddy, What Is the Soul?" | Does the church have an answer? (Dec. 10, 2001)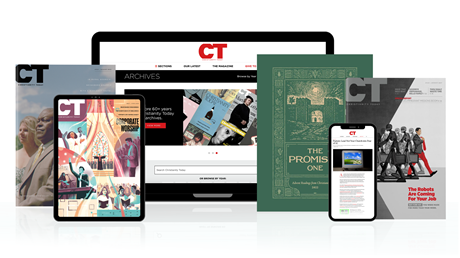 Annual & Monthly subscriptions available.
Print & Digital Issues of CT magazine
Complete access to every article on ChristianityToday.com
Unlimited access to 65+ years of CT's online archives
Member-only special issues
Subscribe
A Grave in the Air, a Soul Dancing
A Grave in the Air, a Soul Dancing