Paul and Oreta Burnham behind hostage deal
What's most shocking? That a $300,000 ransom was reportedly paid to free American missionaries Martin and Gracia Burnham? That their captors, the militant Muslim Abu Sayyaf, apparently reneged on the deal? Or that Martin's parents, Paul and Oreta Burnham, made the deal (Or, at least, made some kind of deal)?
The elder Burnhams have denied that they were involved in the payment, but Paul went on Radio Mindanao today to ask the abductors to keep their word. "The family of Martin and Gracia are deeply saddened and disappointed to learn that the Abu Sayyaf has broadcast its intention to continue holding Martin and Gracia and Deborah Yap until additional demands are met," he said. Apparently a deal was made March 13, and on March 19 the Abu Sayyaf said they'd release the hostages within five days. As that deadline came and went, the negotiator again said they'd be released soon.
 "On behalf of the family and children of Martin and Gracia we respectfully ask the Abu Sayyaf group and [Abu Sayyaf leader] Khadaffi Janjalani to honor their agreement with us," he said. "If not, how can anyone ever trust the Abu Sayyaf again?" Again? Paul Burnham also defended trusting them in the first place. "Is it evil to make an agreement with them?" he asked.
In many people's minds, the answer to that question is yes. But it depends on the agreement—and the elder Burnhams' deal with the Abu Sayyaf may not have been the $300,000 ransom. Paul Burnham didn't explicitly mention the ransom payment, but it sure sounds like what government officials confirmed two weeks ago. But a CT reporter just this morning reached Oreta Burnham, who said, "We did not pay the ransom."
Back to Paul Burnham's question. The Washington Times is among those who believe ransoming hostages could be considered an evil. "Payment to Abu Sayyaf sends an unmistakable message to al Qaeda that what works in the Philippines will probably work elsewhere," the paper editorialized April 15. "How can we expect other nations to help us stop the flow of money to terrorists when we ourselves are sending it?"
Likewise, New Tribes Mission reiterated its policy not to pay ransoms, and says it "was not aware the family members were involved in a deal until they revealed it to mission representatives in confidence Saturday, April 20."
Even without Senate bill, Bush's faith-based initiative is working
"The number of faith-based groups using government funds to provide social services has grown in the past two years, and state and federal agencies seem more willing to parcel out smaller grants to ministries," The Washington Times reports, summarizing a study by the Hudson Institute and the Center for Public Justice. The study's Web site summarizes the main findings (and has the full report):
State and local governments are increasingly turning to the faith community for support in serving low-income families; frequently contracts are being written with "new players" [faith-based organizations] that do not have a longstanding history of receiving government funds; government agencies have greatly expanded the range of social services they are purchasing from [faith-based organizations]; and more contracts are being written with individual congregations, and not only faith-based nonprofit organizations, than ever before.
Then there's this paragraph in the Times article:
Meanwhile, [director of the White House office of Faith-Based and Community Initiatives Jim] Towey said his office is "working hard to pass legislation in the Senate" that, when combined with a House bill, would provide more incentives for charitable giving and support of faith-based services.
So does that mean the White House is pushing for the differences between the already passed House bill and the massively scaled back, yet to be passed Senate bill to be negotiated in conference committee? If so, that could be great news for religious organizations who could use government funds. Senate leaders have earlier said they want to avoid such a conference committee, and just want the House to forget H.R. 7 and approve the Senate's version.
More articles
Church life:
Life ethics:
Theology:
Social justice:
Sex & marriage:
Other stories of interest:
Related Elsewhere
See our past Weblog updates:
April 25 | 24 | 23
April 19 | 18 | 17 | 16 | 15
April 12b | 12a | 11 | 10 | 9 | 8
April 5 | 4 | 3 | 2 | 1
March 28 | 27 | 26 | 25
March 22 | 21 | 20 | 19 | 18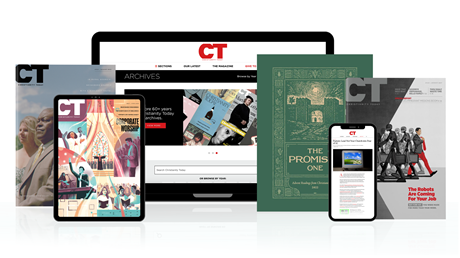 Subscribe to Christianity Today and get access to this article plus 65+ years of archives.
Home delivery of CT magazine
Complete access to articles on ChristianityToday.com
Over 120 years of magazine archives plus full access to all of CT's online archives
Subscribe Now
Paul Burnham Says Deal With Abu Sayyaf Was Made, Then Broken
Paul Burnham Says Deal With Abu Sayyaf Was Made, Then Broken