Philippine rebels release Italian priest
Muslim rebels in the Philippines released Italian priest Giuseppe "Beppe" Pierantoni early Monday morning after holding him captive since October 17. The rebels apparently abandoned Pierantoni and fled when a special police operations group raided their camp.
"It was, I think, a miracle of prayer what happened to me," the priest told reporters in Manila. "I am really very, very thankful and very grateful to God and also to the Filipino government. I believe that after six months of living in the forest trying to escape … the police and the army, it was a miracle to be freed and without any harm, without any particular suffering."
To celebrate the miracle, he's going to Italy for a week, then it's back to the dangerous island of Mindanao. "I want to return to the Philippines," he said. "It's unlikely that they would kidnap the same priest twice."
Though Pierantoni's captors operate in a similar area and with similar motivations and tactics to the Abu Sayyaf group holding American missionaries Martin and Gracia Burnham, they are two different terrorist organizations. The "Pentagon" group that held the priest is reportedly an offshoot of the Moro Islamic Liberation Front (MILF). (That group, which is in peace talks with the Philippine government, denied any involvement with Pierantoni's captivity.)
The Philippine government has adamantly denied that any ransom was paid for the priest, but today's Philippine Inquirer reports otherwise. Both military and police sources have confirmed that money was given to the Pentagon group on multiple occasions for Pierantoni's release. Pierantoni also confirmed the payment, and said he was saddened by it.
Nevertheless, to the Philippine government, the freedom of Father Pierantoni is good news for the Burnhams. "We are slowly reaping the fruits of our efforts to combat terrorism, poverty, crime, corruption, and the respect for the rule of law," President Gloria Macapagal Arroyo said. "We will not rest until this scourge has been wiped out of our land." To the military, she was clear: "My marching orders: Give them no quarter. Annihilate them."
Philippine Interior Secretary Joey Lina was also optimistic. "I think it is a matter of days that we will be able to get the three [hostages]," he said.
In related news, New Tribes Mission says that contrary to earlier rumors, the Burnhams have not been separated and are relatively healthy. "It means they're alive," Martin's father, Paul Burnham, told The Wichita Eagle. "We really don't know what they mean when we hear they're 'OK.' We think it means they aren't sick or injured."
Missionaries kidnapped in 1993 officially declared dead
Another kidnapping story came to a close this week, but this one had a much sadder conclusion. A Florida judge officially declared New Tribes missionaries Mark Rich, Dave Mankins, and Rick Tenenoff dead, more than nine years after they were kidnaped in the jungles of Panama. Last September, the missions agency concluded that their captors, Revolutionary Armed Forces of Colombia (FARC) guerrillas, shot them to death three years after their abduction. Still, the State Department had dragged its feet in declaring them dead, leaving the missionaries' widows unable to collect Social Security benefits or make other financial conclusions. The widows had filed suit, but it only took Seminole Circuit Judge Thomas Freeman five minutes to issue the death certificates, reports The Orlando Sentinel. "I'm sorry we had to get together on such a somber matter," Freeman said. "But life goes on. God bless you."
Church of Ireland dean faces heresy charges
Andrew Furlong, the Church of Ireland's Dean of Clonmacnoise, will be tried for heresy on the basis of a Christmas message that attacked all the major tenets of the Christian faith. "I believe God is a God of infinite love and that human beings are of sacred and ultimate worth," he said in a message appearing on his church's Web site. "But I don't believe Jesus is his son or that he is divine or savior." He called Jesus a "mistaken and misguided" prophet, saying he "was neither a mediator nor a savior, neither super-human nor divine; we need to leave him to his place in history and move on." About Christmas, he said, "I believe in a God of love who cradles the world in all its trouble but not in a God who came as the babe of Bethlehem to be cradled in a stall." Is it any wonder that he's being charged with heresy? Actually, yes. The Church of Ireland has been loathe to question its leaders on doctrinal issues. This is only the second time in 130 years that the Church of Ireland Court of the General Synod has investigated such a case.
Related Elsewhere
See our past Weblog updates:
April 9 | 8
April 5 | 4 | 3 | 2 | 1
March 28 | 27 | 26 | 25
March 22 | 21 | 20 | 19 | 18
March 15 | 14 | 13 | 12 | 11
March 8 | 7 | 6 | 5 | 4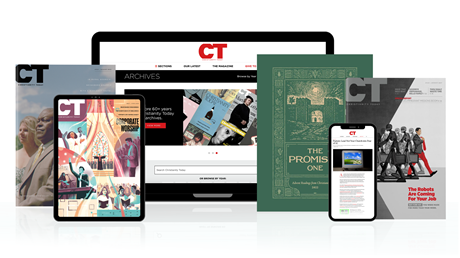 Annual & Monthly subscriptions available.
Print & Digital Issues of CT magazine
Complete access to every article on ChristianityToday.com
Unlimited access to 65+ years of CT's online archives
Member-only special issues
Subscribe
Conclusions Come to Kidnapped Missionaries' Stories—But Not Burnhams'
Conclusions Come to Kidnapped Missionaries' ...