As Church of the Nativity standoff continues, Christians offer prayers
Where ox and ass once greeted the birth of Jesus, Palestinian and Israeli guns continue to aim at each other. The standoff at Bethlehem's Church of the Nativity is in its eleventh day today, and prospects for a peaceful conclusion are bleak. Last night, negotiations broke down—the 200 or so Palestinians say they won't leave the church compound until the Israeli Defense Forces withdraw, and Israeli Prime Minister Ariel Sharon says the military won't withdraw "until the terrorists give themselves up." (This is, reports the Associated Press, an apparent easing of an earlier stance, where Israel said the Palestinians would have to surrender directly to Israeli soldiers.)
The New York Times reports what it's like inside the church area, based on three telephone interviews.
A dozen wounded Palestinian gunmen are being cared for by a nun in the back of the grotto. … Palestinian fighters walk around the basilica with assault rifles slung across their backs, sleeping on pews or on the floor when not on watch duty. And the monks and nuns generally keep to themselves, venturing from their monasteries into the church itself only two to three times a day to check the holy site, light oil lamps and conduct services. … Explosions and gunfire regularly surround the church, the monks said. And today a whiff of tear gas blew in.
The clergy say they're not hostages, but the Israeli government says they're not able to speak freely. The clergy also said yesterday that food will only last another day or two. And they're concerned about the shooting of Armen Sinanian, a 22-year-old Armenian monk whom an Israeli soldier apparently mistook for a gunman.
Times reporter David Rohde asked Father Parthenios, a Greek Orthodox monk, if he had a message for the outside world. "Pray for peace," he replied. Christians seem to be doing this already, though the prayers are sometimes partisan. The Jerusalem Post notes the launch of the Jerusalem Prayer Team, which is headed by Texas minister Michael Evans, who is also executive director of the Corrie ten Boom Fellowship. The team, endorsed by Tim LaHaye, Pat Robertson, John C. Maxwell, and others, is organizing prayers "for the peace of Jerusalem, but also explicitly attempts "to show encouragement and love for the Jewish people from the Christian church in America." Palestinians aren't mentioned on the site.
In her Wall Street Journal column today, Peggy Noonan also examines the importance of prayer for the Holy Land. "It is easier to fight than to pray," she writes. "In fact it's much easier to fight than to pray. It's one of the reasons we do more of the former than the latter. And fighting is hard. … No one congratulates you for [praying] because no one knows you're doing it, and if things turn out well they likely won't thank God in any case. But I have a feeling that the hardest thing is what we all better be doing now, and that it's not only the best answer but the only one."
Apocalypse update
National Review Online columnist Rod Dreher has an update to his earlier story about the role of premillennial dispensationalism and other eschatology in the Mideast conflict. The birth of a red heifer may rekindle passions for a Third Temple—and bring apocalyptic fervor to an all-time high. "These kinds of circumstances are exactly what people are waiting for," Richard Landes, director of Boston University's Center for Millenial Studies, tells Dreher. "We could be starting a war. If this is a real red heifer, and strict Orthodox rabbis have declared her worthy of sacrifice, then a lot of Jews in Israel will take that as a sign that a new phase of history is about to begin. The Muslims are ready for jihad anyway, so if you have Jews up there doing sacrifices, talk about a red flag in front of a charging bull."
Meanwhile, Todd Strandberg's Rapture Index stands at 172—it's high, but still several points off the 182 hit on September 24, 2001.
Dobson weighs in on cloning
Even though Weblog's roundup of reactions to Bush's speech on cloning was pretty lengthy yesterday (check it out here if you missed it or just read it yesterday morning), Weblog missed one important voice: James Dobson. The psychologist and bestselling author devoted his Focus on the Family broadcast to the issue yesterday (RealPlayer required). "We in the prolife and profamily community have good reason to be appreciative to the president for taking this unambiguous stance on this very, very important issue," Dobson said after a large portion of Bush's speech. He was joined with several guests, including Sen. Sam Brownback, who is sponsoring the comprehensive ban on cloning.
Related Elsewhere
See our past Weblog updates:
April 11 | 10 | 9 | 8
April 5 | 4 | 3 | 2 | 1
March 28 | 27 | 26 | 25
March 22 | 21 | 20 | 19 | 18
March 15 | 14 | 13 | 12 | 11
March 8 | 7 | 6 | 5 | 4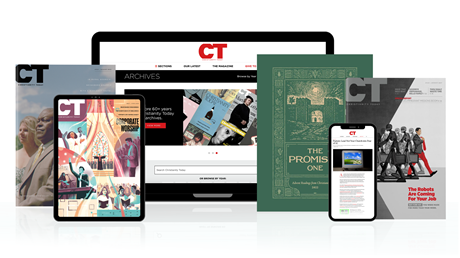 Annual & Monthly subscriptions available.
Print & Digital Issues of CT magazine
Complete access to every article on ChristianityToday.com
Unlimited access to 65+ years of CT's online archives
Member-only special issues
Subscribe
Praying for Peace
Praying for Peace