David Brooks: We need another Niebuhr
Fresh off an ingenious Weekly Standard cover story on the new suburban "Sprinkler Cities," David Brooks examines Reinhold Niebuhr for The Atlantic Monthly. The American theologian has been dead for 31 years, but is more relevant than ever, Brooks says, especially his core idea "that reform had to be conducted by people who were acutely aware of the limits of human capabilities and the intractability of sin."
No doubt Niebuhr would have supported the war against terrorism—but not all of Bush's efforts in it. "We take, and must continue to take, morally hazardous actions to preserve our civilization. We must exercise our power," he wrote. "But we ought neither to believe that a nation is capable of perfect disinterestedness in its exercise, nor become complacent about particular degrees of interest and passion which corrupt the justice by which the exercise of power is legitimized."
It's on this final point that Brooks issues his disagreement. "People need to have their hopes fired and their passions engaged. … Slavery would not have ended without the zeal of the abolitionists." In fact, Brooks argues, today's problem is too little zeal, not too much.
Still, Brooks concludes, "It would be helpful to have more thinkers of his sort, or at least one—a thinker who simultaneously believes in using power and is keenly aware that its use is inevitably corrupting."
Brooks laments that "a Nexis search on Niebuhr turns up only a handful of references to him over the past year." (Brooks mentions a First Things article by Wilfred M. McClay, but a Wall Street Journal article by Joe Loconte certainly deserves a nod as well.) Indeed, if there's a theologian getting attention since 9/11 it seems to be the anti-Niebuhr Stanley Hauerwas, who argues against American interventionism. Kathy Shaidle over at the Relapsed Catholic weblog has been compiling other bloggers' comments on the Duke theologian (more here, here, here, and here), most based on an article in the National Catholic Reporter, and most overwhelmingly negative. First Things has a take on Hauerwas, too. And here's Wabash College theologian Stephen Webb's Theoblogy Seminar item on how Hauerwas and Niebuhr have more in common than one might think.
Franklin Graham: Muslims should pay up
Franklin Graham, promoting a new book, continues to rile folks with his statements on Islam. "I'm certainly not preaching against Muslim people," he said on WBT, a Charlotte, North Carolina, radio station. "I am concerned about our nation, and on Sept. 11 last year, we were attacked by followers of Islam, claiming to do this in the name of Islam." He says Muslim clerics around the world have been too silent, haven't apologized, and should help rebuild New York or compensate the families of those who died in the 9/11 attacks. The story is widely carried today, including a piece in The New York Times, but it's really nothing he hasn't said before.
More articles
Church and state:
Politics:
Courts:
Life ethics:
Religion and the media:
Education:
Science:
Sex, marriage, and family:
Pop culture:
Missions & ministry:
Church disputes:
Catholicism:
Theology in Africa:
Other stories of interest:
Related Elsewhere
See our past Weblog updates:
August 14 | 13 | 12
August 9 | 8 | 7 | 6 | 5
August 2 | 1 | July 31 | 30 | 29
July 26 | 25 | 24 | 23 | 22
July 19 | 18 | 17 | 16 | 15
July 12 | 11 | 10 | 9 | 8
July 5 | 3 | 2 | 1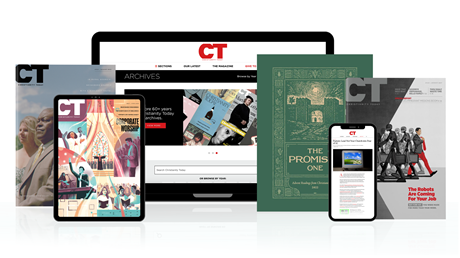 Annual & Monthly subscriptions available.
Print & Digital Issues of CT magazine
Complete access to every article on ChristianityToday.com
Unlimited access to 65+ years of CT's online archives
Member-only special issues
Subscribe
O Reinhold, Where Art Thou?
O Reinhold, Where Art Thou?