At any meal in a college cafeteria, some studious diner will be flipping through a set of homemade flashcards. The same system that drives home multiplication tables also works great for Greek terms, modern American authors, chemistry symbols, or whatever the next quiz will cover. An electronic version of the flashcard model, the Christian History Tutor CD-ROM from Luther Productions, works pretty well for church history, too.
Originally assembled for an online course at Luther Seminary, the material on this CD is divided into two levels: basic and advanced. Each level is divided into four sections: Early Church (30-500), Middle Ages (500-1500), Era of Reform (1500-1600), and Global Christianity (1600-2000). As these divisions would suggest, the CD is geared toward Reformation-minded Protestants, though Roman Catholic figures appear in all sections as well. (Unfortunately the same cannot be said for the Eastern Orthodox or other ancient, non-Western churches, which appear only sporadically.)
In addition to a helpful overview article, each section features a chronological table with entries under "People" and "Story," as well as lists of "General Knowledge" and "Places." Each item in these lists is linked to a flashcard-like page with a label, an image, and a short explanatory text. The texts and labels are generally solid though sometimes frustratingly brief (only four lines on Augustinian Theology, for example). Images vary widely in quality, from useful photos of artifacts and architecture to fuzzy, text-based clip art. Electronic images are always tricky, but it seems that the makers of the CD had an extremely limited art budget.
The last major feature of each section is a set of self-tests with between 10 and 100 questions. Answers to all of the multiple-choice questions can be found in the section's entries, but there is no peeking in the middle of the quiz. The test-taker is immediately notified whether an answer is correct or incorrect. The self-tests also offer a running percentage score, which probably made more sense when the resource was part of an online course but will still appeal to anyone who misses the days of getting gold stars on papers.
To give an idea of a typical entry, the first person listed on the advanced Middle Ages page is Benedict of Nursia. Clicking on his name brings up a page labeled "Mentor of western monasticism and author of The Rule of Saint Benedict." The text describes Benedict's establishment of the abbey at Monte Cassino, outlines his Rule, and points out the importance of Benedictine monasticism. A stock photo of a Benedictine abbey in England completes the entry. Users may click on two places mentioned in the text, Rome and Monte Cassino, to read related entries in the "Places" section or return to the chronology to read about more sixth-century people and events.
The chronological tables serve as the organizational backbone of the CD. Users are welcome to follow links within entries toward other areas of interest, but as most articles have only a few links, it is difficult to stray too far from the chronological plan. The "martyrs" entry (advanced-track, early church section), for instance, links to "relics," which in turn links to "crusades" (in the medieval section), but "crusades" links only to the medieval entries for "Jerusalem" and "Constantinople." These entries, which are different from the Early Church entries for the same cities, double back to "crusades" without giving much information. To get to "Islam," a logical cross-reference for "crusades," the user must return to the medieval chronological table. Oddly, the CD is not searchable.
As flashcards make little sense to students who have not read the textbook, the Christian History Tutor may confuse users who have never taken a church history class or read an overview like Bruce Shelley's Church History in Plain Language or Mark Noll's Turning Points. But church history enthusiasts seeking to deepen their knowledge or teach church history to others should find this a helpful resource. It would work well in a homeschool setting, too.
Elesha Coffman is the former managing editor of Christian History.
Related Elsewhere
The Christian History Tutor can be purchased through Luther Productions at or at Amazon.com.
The Christian History Interactive CD-ROM features longer articles (from Christian History magazine) but doesn't have quizzes.
More Christian History, including a list of events that occurred this week in the church's past, is available at ChristianHistory.net. Subscriptions to the quarterly print magazine are also available.
Christian History Corner appears every Friday at ChristianityToday.com. Previous editions include:
How the Early Church Saw Heaven | The first Christians had very specific ideas about who they would meet in the afterlife (Aug. 9, 2002)
Divvying up the Most Sacred Place | Emotions have historically run high as Christians have staked their claims to the Church of the Holy Sepulchre (Aug. 2, 2002)
Article continues below
Legacy of an Ancient Pact | Why do Christians still chafe under restrictions in some Muslim nations? It all started with Umar (July 26, 2002)
Big Church Revival | Christian gyms and shopping malls may be new, but full-service megachurches are positively medieval. (July 19, 2002)
Phantom Saints | Juan Diego could soon join a long line of pious, exemplary, and quite possibly imaginary Catholic heroes. (July 12, 2002)
2002 Is Not 1789 | Before trying to figure out what the framers of the Constitution really thought, remember that they were from a wildly different country—the past (July 5, 2002)
Between Extremes | Church leaders didn't like Pelagius's ideas about free will, but they've never been able to avoid them completely (June 28, 2002)
Severe Success | Bernard of Clairvaux was a tough act to follow—yet thousands of Christians walked his path. (June 21, 2002)
Coming to America | Commentators who call proposed INS policies an unprecedented invasion of privacy forget what foreign visitors were asked 80 years ago, and why. (June 14, 2002)
When Pacifists Attack | 350 years ago, George Fox launched a powerful, peace-loving movement with an assault on established Christianity. (June 7, 2002)
Captive Christians | Views from inside Roman, English, and German prisons give a sense of how kidnapped missionaries might feel. (May 31, 2002)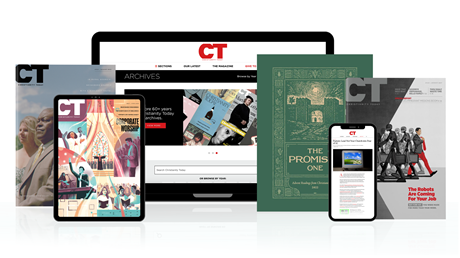 Subscribe to Christianity Today and get access to this article plus 65+ years of archives.
Home delivery of CT magazine
Complete access to articles on ChristianityToday.com
Over 120 years of magazine archives plus full access to all of CT's online archives
Subscribe Now
History in a Flash
History in a Flash