As we have recently been reminded by Bruce Wilkinson's best-selling book on the subject, Jabez—a man mentioned only once in the Bible—prayed for God to "enlarge his territory," and God granted his request.
Wilkinson, founder and former president of Walk Thru the Bible Ministries, interprets "territory" as "opportunity for evangelistic ministry." Arguably, no person in the history of the church has had a larger "territory" than the 19th-century British preacher Charles Haddon Spurgeon.
Long before the first megachurch, Spurgeon preached regularly (often 10 times in a week) to audiences of 6,000 and more. He once addressed an audience of 23,654, without aid of amplification. He grew the congregation of his New Park Street Church from 232 in 1854 to 5,311 in 1892, making it the largest independent congregation in the world. Prime Ministers, presidents, and other notables flocked to hear him. No preacher in the history of the church has been more prolific: His collected sermons amount to more than 20 million words—a number equivalent to the 27 volumes of Encyclopedia Britannica, 9th edition. Several of his books and collections have sold over 1 million copies, and his sermons are still read as models today.
Wouldn't it be interesting if Spurgeon told us what he thought of the "prayer of Jabez"? Well, indeed he did. In the year 1871, standing before his congregation at the Metropolitan Tabernacle in London, Spurgeon took as his text 1 Chronicles 4:10: "Now Jabez called on the God of Israel, saying, 'Oh that You would bless me indeed and enlarge my border, and that Your hand might be with me, and that You would keep me from harm that it may not pain me!' And God granted him what he requested." (NASB)
The contrasts between Spurgeon's sermon and Bruce Wilkinson's recent blockbuster "book-ette" are instructive.
We'll start with Wilkinson's book. If you haven't read it already, somebody you know has. The language on the back cover helps to explain its multi-million copy sales success: Breathlessly, the blurb copy seeks to draw us in: "Are you ready. … to ask God for the abundant blessings He longs to give you?" Just praying Jabez's simple prayer will, the blurb promises, "release God's favor, power, and protection" and allow the enterprising Christian to "break through to the life you were meant to live."
This sort of appeal may sell books, but it courts spiritual presumptuousness.
Inside, however, there are things to admire. Wilkinson argues that most Christians have simply not expected enough from the Creator of the Universe. He encourages his readers to "have faith in an extraordinary, miraculous God" and "step out to act on that faith." He stresses that this confidence must be rooted in total dependence on God, rather than in any strength of our own. He downplays native ability and talent, insisting that God uses "ordinary people." And he insists we must pray for God's agenda.
Where the trouble occurs, and where Spurgeon's 130-year-old take on Jabez is instructive, is in Wilkinson's one-sided portrayal of what "God's agenda"—or in Jabez's words, the "blessing indeed"—might look like. On this score, we never get very far from the sales-motivational hype of the back cover. Throughout the book, Wilkinson continues to talk about the Christian life in terms of "unclaimed blessings," like money in a forgotten account just waiting to be collected by the person bold enough to step up and ask for it.
Granted, this is not the prosperity gospel of recent decades. Wilkinson ties "blessing indeed" to greater effectiveness in ministry. The deal is, you pray for God to "enlarge your life" so that you can, in turn, "make a greater impact for Him." Then, "as your [ministry] opportunities expand, your ability and resources supernaturally increase, too."
And granted, Wilkinson encourages his readers to "let God work in your life regardless of what He chooses," as "it will always be for your best."
But there is no hint in this book that that "best" might sometimes seem less than a blessing to our human eyes. We are to expect clear sailing, as long as we don't sin and depart from "God's agenda." This is a feel-good message. Wilkinson assures his readers, "if you're like many who use the Jabez prayer … you'll come to times in your life when you feel so blessed that you stop praying for more, at least for a while."
What about those times when our prayers seem to hit a brass sky, or we struggle with pain, disappointment, or grief? We get no hint in this book that such times exist for people who "use" this bold prayer of Jabez. Spurgeon, though, had every reason to know that they did. For he was a man who experienced not only great "enlargement of territory," but great suffering as well.
Throughout Spurgeon's life, he experienced bouts of depression. He also endured gout, kidney inflammation, and other illnesses that laid him out, incapacitated and in excruciating pain, for weeks and even months at a time. Thus when he came to meditate on the fact that Jabez was named for the exceptional pain his birth had caused his mother (1 Chron. 4:9), he counseled, "To a great extent we find that we must sow in tears before we can reap in joy . …You may expect a blessing in serving God if you are enabled to persevere under many discouragements."
Wilkinson's brand of evangelical activism requires a pragmatic, business-like approach to the Christian life. It regards interruption—any suffering or delay—as intolerable. Indeed, Wilkinson writes: "Do you believe that a supernatural God is going to show up to keep you from evil . …? Jabez did believe, and he acted on his belief. Thereafter his life was spared from the grief and pain that evil brings."
Spurgeon's approach to the Christian life, on the other hand, leaves room for pain and delay. Focusing as he did on the formation of Christian character and on intimacy with God in Christ, Spurgeon could tolerate and even welcome suffering. As he thought about what Jabez might have meant by "blessing indeed," he reminisced on his own life: "I have oftentimes looked gratefully back to my sick chamber. I am certain that I never did grow in grace one half so much anywhere as I have upon the bed of pain." In light of his own experience of growth through suffering, Spurgeon could affirm that pain may bring the greatest possible blessing—eternal fellowship with a loving Christ.
This does not mean, Spurgeon added, that we should all pray for pain. Not everyone needs this kind of discipline. Indeed it "ought not to be so" that any of us need it. "Our joyous mercies ought to be great fertilizers to our spirit." But given the lingering effects of sin in us, "not unfrequently our griefs are more salutary than our joys. The pruning knife is best for some of us," and in the end "this light affliction may work out for you a far more exceeding and eternal weight of glory," a "blessing indeed."
For Wilkinson, sin appears as a temporary interruption, requiring nothing more than a hurried reconciliation before the joyous flow of blessing continues. "When you sin after experiencing the Jabez blessing" you should "rush back into God's presence and make things right . …Don't squander even for a minute the miracle that He has started in your life. Indescribable good still lies ahead for you and your family."
Spurgeon, on the other hand, knew that sin is much, much deeper than individual temptations and actions that can be patched up by a single, perfunctory reconciliation. Its deep wound sometimes requires protracted surgery. So he encouraged those who experienced "dark nights of the soul"—nights that have no place in Wilkinson's scheme—with these words: "Though the harrow go over and over thy soul, and the deep plough cut into thy very heart; though thou be maimed and wounded, and left for dead, yet if the Spirit of God do it, it is a blessing indeed."
This, though it will not sell millions of books as back-cover blurb copy, is a message with depth and staying power. Sorrow can strengthen faith. Affliction can be, as Spurgeon elsewhere put it, "the best book in a minister's library." But 130 years of middle-class prosperity later, it seems millions of American Christians prefer instead to buy a book that downplays such godly sorrow.
Chris Armstrong is managing editor of Christian History magazine.
Related Elsewhere
More Christian History, including a list of events that occurred this week in the church's past, is available at ChristianHistory.net.Subscriptions to the quarterly print magazine are also available.
Prayerofjabez.com includes the text of Spurgeon's sermon on Jabez (no. 994, vol. 17, year 1871).
Issue 29 of Christian History (not online, but available in print and on the Christian History Interactive CD-ROM) is dedicated to Spurgeon.
An article from that issue on Spurgeon's sufferings is available online at Pilgrim Publications. That site, featuring the unabridged works of Spurgeon, has extensive information on him.
Christian History Corner appears every Friday at ChristianityToday.com. Previous editions include:
History in a Flash | A new CD-ROM offers quick access to the facts of church history, plus interactive quizzes. (Aug. 16, 2002)
How the Early Church Saw Heaven | The first Christians had very specific ideas about who they would meet in the afterlife (Aug. 9, 2002)
Divvying up the Most Sacred Place | Emotions have historically run high as Christians have staked their claims to the Church of the Holy Sepulchre (Aug. 2, 2002)
Legacy of an Ancient Pact | Why do Christians still chafe under restrictions in some Muslim nations? It all started with Umar (July 26, 2002)
Big Church Revival | Christian gyms and shopping malls may be new, but full-service megachurches are positively medieval. (July 19, 2002)
Phantom Saints | Juan Diego could soon join a long line of pious, exemplary, and quite possibly imaginary Catholic heroes. (July 12, 2002)
2002 Is Not 1789 | Before trying to figure out what the framers of the Constitution really thought, remember that they were from a wildly different country—the past (July 5, 2002)
Article continues below
Between Extremes | Church leaders didn't like Pelagius's ideas about free will, but they've never been able to avoid them completely (June 28, 2002)
Severe Success | Bernard of Clairvaux was a tough act to follow—yet thousands of Christians walked his path. (June 21, 2002)
Coming to America | Commentators who call proposed INS policies an unprecedented invasion of privacy forget what foreign visitors were asked 80 years ago, and why. (June 14, 2002)
When Pacifists Attack | 350 years ago, George Fox launched a powerful, peace-loving movement with an assault on established Christianity. (June 7, 2002)
Captive Christians | Views from inside Roman, English, and German prisons give a sense of how kidnapped missionaries might feel. (May 31, 2002)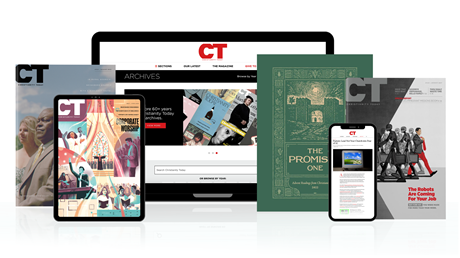 Annual & Monthly subscriptions available.
Print & Digital Issues of CT magazine
Complete access to every article on ChristianityToday.com
Unlimited access to 65+ years of CT's online archives
Member-only special issues
Subscribe
Spurgeon on Jabez
Spurgeon on Jabez