Francine Rivers is an award-winning writer who was named to the Romance Writers of America Hall of Fame in 1997. Her fiction often deals with real issues and causes readers to think through their own beliefs. Her books include The Atonement Child, Redeeming Love and the Mark of the Lion trilogy.
How did you get started as a writer?
Well, I always wanted to write from the time I was very little, and my mother encouraged me. She wrote a journal from the time she was 15 up until about the age of 76. So she was encouraging me to write stories.
You got your start in books by writing steamy romantic novels. How did that fit with your faith?
I had been raised in the church, but I wasn't a Christian. I had a lot of head knowledge but no heart knowledge. So it didn't really make any difference. But I was searching. I can see in the last couple of those novels that I was really searching for answers. They were dealing with God, touching on God and the search for God.
What were the titles of those books?
I'd rather not give the titles because I don't want people going out and looking for them. I have gotten all the rights back to those books, and they're no longer in print. I have friends that buy them. And they toss them.
Some of them are in libraries, but I see them as an opportunity for me to witness and say, "Well, this was the before. Then Christ came into my life, and everything changed after that in dramatic ways."
So there you are exploring spiritual yearnings in not-to-be-named steamy romance novels. What happened to change things?
We moved into a new house. An 8-year-old boy came over and said, "Have I got a church for you." And when I walked into that church, they were teaching from the Bible. New concept. I had grown up where they read the Bible, but it was like, "Here it is, and now let's talk about how to change the world."
This particular church was going through and teaching the Word, the historical aspects, and what it actually says.
Had you read the Bible much before this?
Not a lot. From my upbringing, you let the Bible open and the wind blows it and then you read where it stops. I had never read the entire Bible. I thought I knew what was in there.
Did you find it compelling?
Not to begin with. I had prayed about that. I met a gal that talked about how she wasn't interested. And her mother had said, "Would you pray to be interested?" And she said, "Well, not really. That wouldn't be honest."
So [the mother] said, "Would you pray to have an interest to have an interest?" And she said yes. So I thought, well, if it worked for her, maybe it would work for me. So I prayed that God would remove my interest in romance reading and replace it with a passion for his Word. And that prayer was answered almost immediately, because I read through the Bible every year. And to me, it's the most fascinating reading in the world.
How did that end up changing your life as a writer?
I started over from scratch. I had sold over three and a half million books in the general market, and I was making good money. So I had to make a choice. Am I going to be willing to step back and trust that God's going to do something with this—or am I going to go the way I've always gone? And I think if you trust God, he will take care of it. It was very scary.
I couldn't write for three years. When I became a born-again Christian, it was like it was shut off completely. I couldn't write anything. Nothing made sense. I would try to write. I'm stubborn—I wanted to write.
I felt later on that God had literally shut it off because he was saying to me, you know, you say you want to be a Christian, but you need to get to know who I am.
It was during that three years that I began to really read the Bible cover to cover. And at the end of the three years when I felt that writing wasn't my idol anymore and not my identity, then we did a minor prophets study and came to the book of Hosea. And it was like the doors opened and God was saying, "This is the book I want you to write." And that was Redeeming Love, based on the book of Hosea.
What changed in your writing formula?
For one thing, my whole reason for writing is different. But I also start with a question. I'm always dealing with something that I have no answer to when I begin.
It's usually something that I need to take before the Lord and say, "I need an answer for this." I don't understand. Or just issues in my life. Like I had had an abortion over 35 years ago. So I was dealing with the aftermath of that when I was writing The Atonement Child.
I see my writing now as a form of worship and praise for God. And I know that by the end of the book he's going to be teaching me the lesson. And it's not always the one I think it's going to be.
How do you choose among all of the issues that are in your thoughts?
It's the one that won't let go. It's the idea that just keeps eating at me over and over again.
As in The Atonement Child, I couldn't get away from it. I remember, we'd go out for long walks and say, "God, I don't want to write that book. I don't want to deal with that issue because it hurts so much."
What is your advice for a young writer?
My advice would be don't look at the market at all. Don't look at the publisher at all. You look at God. And you go where God is taking you.God will take care of the rest.
You need to write from the heart, and you need to write what God is drawing you to write and not what is selling in the marketplace. If you're looking at that then the market has become your idol.
Strive for excellence. See yourself always as an apprentice. You're never an expert writer. I still take classes. I still study writing. Always be in scripture. And the most important thing is your relationship with God—that has to be your first priority. He has to be your first love. And consider him your audience of one. You're writing for God.
What's most rewarding to you about being a writer?
There will be a couple moments during the process of writing a book when I will really feel an encounter with God. And I'll know that what I'm writing is something that he's showing me, and that's why I write.
Related Elsewhere
Visit DickStaub.com for audio and video of his radio program (4-7 p.m. PST), media reviews, and news on "where belief meets real life." The full text of this interview will be for sale on the website soon.
Earlier Dick Staub Interviews include:
Ben Heppner | The acclaimed dramatic tenor speaks about getting into opera, his faith, and P.O.D. (Aug. 20, 2002)
Morton Kondracke | The political commentator talks about how being saved from alcoholism, and trying to save his wife from the ravages of Parkinson's. (Aug. 13, 2002)
Mike Yaconelli | The author of Messy Spirituality discusses God's "annoying love." (Aug. 6, 2002)
David Brooks | The Weekly Standard senior editor talks about the spiritual life of Bobos. (July 30, 2002)
Calvin Miller | The author of Jesus Loves Me: Celebrating the Profound Truths of a Simple Hymn talks about childlike faith (July 23, 2002)
Kathleen Norris | The author of The Virgin of Bennington talks about being found by God in the midst of sex, drugs, and poetry. (July 16, 2002)
Thomas Moore | "To really live a secular life and enjoy it is part of being a religious person," says the author of Care of the Soul and The Soul's Religion (July 9, 2002)
Os Guinness | Whether we're seeking or have already been found, we're all on a journey. (July 2, 2002)
Oliver Sacks | The physician author of Awakenings talks about his Orthodox Jewish upbringing, order in the universe, and testing God. (June 25, 2002)
David Myers | People say they know money can't buy happiness, says the Hope College psychology professor. But they don't truly believe it. (June 18, 2002)
Richard Lewis | The comedian, actor, and author talks about his humor, addiction, and spiritual journey. (June 11, 2002)
The Dick Staub Interview
Dick Staub was host of a eponymous daily radio show on Seattle's KGNW and is the author of Too Christian, Too Pagan and The Culturally Savvy Christian. He currently runs The Kindlings, an effort to rekindle the creative, intellectual, and spiritual legacy of Christians in culture. His interviews appeared weekly on our site from 2002 to 2004.
Previous The Dick Staub Interview Columns: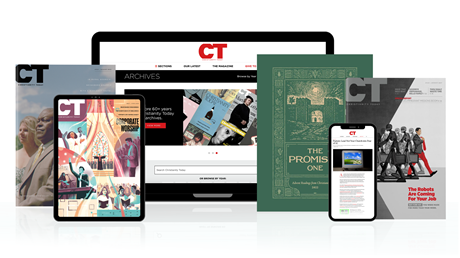 Subscribe to Christianity Today and get access to this article plus 65+ years of archives.
Home delivery of CT magazine
Complete access to articles on ChristianityToday.com
Over 120 years of magazine archives plus full access to all of CT's online archives
Subscribe Now
Francine Rivers
Francine Rivers