Journalists can't believe how great it is to be in Utah. An Associated Press story from last Friday said, "Niceness is the theme of the 2002 Winter Olympic Games, where locals jump to offer directions and even National Guardsmen pause from pawing through bags to smile. Smiling faces are all over Salt Lake City."
Good-natured excitement and unbridled enthusiasm, said Time, seem to bubble from both Olympic employees and the public.
Where does this general happiness come from? The Associated Press guesses it's the Church of Jesus Christ of Latter-day Saints (LDS), which claims about 70 percent of Utah's population. "There's no original sin in Mormon theology," the article says. "And if the whole apple thing wasn't Adam and Eve's fault, maybe people are not so bad."
This impression is probably just fine with Utah citizens, who had worried about the coverage the state and the Mormon church would receive when put into the world spotlight. Before the games, The Salt Lake Tribunereported that bad publicity had already started.
"The world's media is ripping us, dredging up the old Mormon clichés, reinforcing the stereotypes," the paper said. "It's a legacy of bad press that goes back more than a century."
The Washington Times also reported on the fresh criticism being leveled at Salt Lake City, citing a recent Saturday Night Live skit in which two skiing Mormons attempted to convert an athlete mid-competition.
"However harsh the early publicity," the Times reported, "most Utahans are convinced the Olympics will do their image more good than harm."
Knowing that many journalists had already dubbed the games "The Mormon Olympics," the church's plan was to clear up misconceptions about its faith while lying low to not attract bad press.
The strategy has apparently paid off given the coverage of the "niceness" of this Olympics. "Working in the state's favor … is an army of well-educated, well-mannered, and bilingual volunteers, most of whom happen to be a Mormon," The Washington Timesreported.
Gordon B. Hinckley, the church's 91-year-old president, issued a directive that church adherents not proselytize during the games but instead concentrate on being good hosts.
"[Evangelizing] would be akin to inviting someone over to your home for a meal, and having missionaries jump out at them from the bushes on their way home," the church's public affairs director Bryan Grant told The Detroit News.
That the church isn't pushing the Book of Mormon at pretzel stands and medal ceremonies seems to be a surprise for journalists. "I've given them every opportunity to try to convert me," writes Damian Whitworth of The Times of London, who says he took temple tours and hung around Mormon locations. "But it appears that the Church of Jesus Christ of Latter-day Saints has enough recruits, for I haven't been proselytized once."
In a Time Olympic Diary dispatch, writer Jessica Reaves randomly mentions the church in her last paragraph. "None of us have been approached by any Mormons bent on spreading the word," Reaves writes. "Granted, its only been 24 hours since my arrival, but if current trends hold, it seems there will be precious few conversions here over the next two weeks."
With reportedly 13,000 journalists in the city, this is a big public relations opportunity for the church. According to The Washington Times, the temple added 350 volunteers to its media relations office to offer story ideas, set up tours, and answer questions. Stories coming out of Salt Lake City have looked at the origins of the religion, prevailing Mormon myths, the church's longing to be viewed as a Christian denomination, and Mormon athletes competing in the Olympics.
While Mormons may not be evangelizing, a few articles have focused on who is. The Associated Press reports that some evangelicals are on the Olympic grounds to point out the errors in Mormon teachings. One group is even handing out anti-Mormon information disguised as guidebooks to Temple Square.
As the article points out, not all Christian groups in the city are preaching an anti-Mormon message. Thousands of members of the Southern Baptist Convention, United Methodist Church, the Salvation Army, Bibles for America, and Youth With a Mission are active at the games, running free refreshment centers, information centers, and Internet cafés.
Meanwhile, the Falun Gong has led public meditations and candlelight vigils while distributing information on the persecution leveled against the group in China. Scientologists are also active in Salt Lake City, operating an exhibit about their founder, L. Ron Hubbard.
While evangelism and religion are not new to the Olympics, the games are about athletic competition. Beliefnet.com has found a way to combine the two with a look at why athletes in Protestant countries win more medals. The site's "Spirit of the Games" page also has profiles of athletes including Christian speed skater Catriona LeMay Doan.
Todd Hertz is assistant online editor of Christianity Today.
Article continues below
Related Elsewhere
Christianity Today's2002 Winter Olympics page has more articles related to the games.
See continuing Olympics coverage from our Sports Spectrum site.
Previous Christianity Today coverage of the Mormon church includes:
Weblog: The Church of Jesus Christ? | Mormons: Don't call us Mormons. (Feb. 20, 2001)
Mormon Makeover | An effective evangelical witness hinges on understanding the new face of Latter-day Saints. (March 6, 2000)
The Mormon-Evangelical Divide |Beliefs that set Mormons apart, and evangelicals' response. (Feb. 9, 2000)
A Peacemaker in Provo | How one Pentecostal pastor taught his congregation to love Mormons. (Feb. 9, 2000)
Mere Mormonism | Journalist Richard Ostling explores LDS culture, theology, and fans of 'crypto-Mormon' C.S. Lewis. (Feb. 9, 2000)
Mormons, Evangelicals Tangle Over Web Site | A publishing unit of the Church of Jesus Christ of Latter-day Saints will continue a copyright lawsuit against an evangelical ministry that counters Mormon teaching and history. (Feb. 9, 2000)
Mormons on the Rise | Southern Baptists Take Up the Mormon Challenge. (June 15, 1998)
Francis J. Beckwith, coauthor of The Mormon Concept of God: A Philosophical Analysis, reviewed How Wide the Divide? for Christianity Today. The review, "With a Grain of Salt," appeared in the November 17, 1997 of our print issue.
A review of Richard Ostlings' book, Mormon America: The Power and the Promise, was published in Christianity Today sister publication Books & Culture. The review was written by two practicing Mormons.
Ostling's cover story on Mormonism, "Kingdom Come," from the August 4, 1997 of Time magazine, is available online.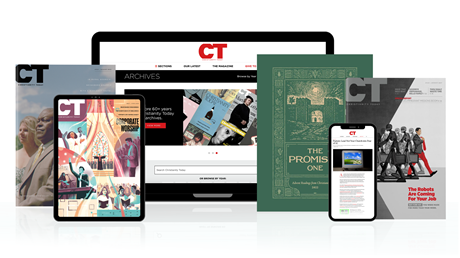 Subscribe to Christianity Today and get access to this article plus 65+ years of archives.
Home delivery of CT magazine
Complete access to articles on ChristianityToday.com
Over 120 years of magazine archives plus full access to all of CT's online archives
Subscribe Now
The Shiny, Happy Olympics
The Shiny, Happy Olympics