Last night's State of the Union address also marked the one-year anniversary of President Bush's announcement of his faith-based initiative. But last night, the subject warranted only a brief mention in a long list, after "productive farm policy, a cleaner environment, [and] broader home ownership." Though the House has passed a faith-based initiatives bill, the Senate is stalling. Are the Senate and White House letting the faith-based initiative die a quiet death?
Not necessarily. "I have not given up on my faith-based initiative," Bush told a meeting of mayors and country officials last Thursday at the White House. "I believe so strongly in the power of faith, I believe strongly that we must unleash the armies of compassion in every city in America to provide hope for people where hope doesn't exist. … I think we can get a bill out of Congress."
But that bill is unlikely to look much like H.R. 7, the bill the House passed in July. The Wall Street Journal reported Friday that Bush will make a speech this week outlining his latest plans for the faith-based initiative. "This time around, he won't push for allowing religious groups that accept federal aid to discriminate against job applicants whose views or lifestyles they oppose, such as homosexuals," wrote Journal reporter Jim VandeHei (the article is available only to Journal subscribers). Bush will also announce a successor to John DiIulio, who resigned in August as director of the White House Office of Faith-Based and Community Initiatives. "Bush advisers will only say that the new 'faith czar' won't grate on Republicans and administration officials as Mr. DiIulio sometimes did," VandeHei wrote.
Details of what Bush will push for are already emerging. White House aides told the Associated Press that Bush wants to expand Americorps, the domestic service program started by President Clinton, and open it up to faith-based organizations and churches. Some expected that such an announcement would have made last night's speech, but Bush kept his outline of the USA Freedom Corps—which includes Americorps, Senior Corps, Peace Corps, and other citizen service programs—to a minimum. In a speech today, Bush will give more details on his plans for this program.
This seems to be the new thrust for the faith-based initiative. The Hudson Institute's Marshall Wittman told The Philadelphia Inquirer Sunday that the Bush administration plans "to cut off the more controversial sides of the faith-based efforts and try to give more momentum by linking it to secularized community efforts like Americorps." Already, reports the Inquirer, "about 10 percent of Americorps volunteers and 15 percent of Seniorcorps volunteers work with religious groups."
This doesn't just mean that protections against hiring mandates are likely off the table. The whole idea of "charitable choice"—letting faith-based organizations compete for government grants without sacrificing their religious nature—may be gone, too.
Therefore, it looks like Senate legislation on faith-based service is going to stick to the bare minimums that everyone can agree on. Earlier this month, a group of 33 ideologically diverse national leaders issued recommendations about what those points of common ground are. The invitees weren't all known for consensus-building, and are rarely on the same side of any church-state issue; representatives came from Americans United for the Separation of Church and State, the Southern Baptist Convention, People for the American Way, Teen Challenge, the Freedom Forum, Big Brothers Big Sisters, black church groups, and other organizations.
Among the group's recommendations were allowing deductions for charitable givers who don't itemize their tax returns and making it easier for small faith-based organizations to apply for grants. Private foundations and corporations were encouraged to drop restrictions on giving to faith-based programs. But nothing was said on expanding charitable choice or allowing hiring protections—the issues were too controversial.
"Their report indicates that the pieces of Mr. Bush's proposal most likely to survive are those that stimulate private giving to charities—not direct government financing," said The New York Times. "This may be as far as it can go," agreed Philadelphia Inquirer columnist Jane Eisner.
Liberal groups that participated in the meeting but that don't want the faith-based initiative to go any farther are certainly spinning it that way. "The point we're trying to make is that you can do so much good without ever getting to those issues [of charitable choice and hiring]," People for the American Way Vice President Elliot Mincberg told The Washington Times.
Moderates on the group later argued that even if the legislation could go further, it is worth passing the consensus guidelines separately, lest they be defeated by more controversial issues. "The 'hot button' issues and what's important are often two different things," wrote Beliefnet cofounder Steven Waldman. "If all these recommendations were adopted … it would do a great deal to help religiously oriented charities to help the poor."
Charles Haynes, senior scholar at the Freedom Forum's First Amendment Center, made a similar case. "Here's the message to Congress and the White House: Let's act now on what we can agree on—and avoid the bitter fights and lawsuits," he wrote. "There's no question that implementing these 29 recommendations would dramatically advance the efforts of faith-based and community organizations to help those most in need."
Ron Sider, president of Evangelicals for Social Action (and another member of the group), also praised the recommendations. But he warned against making them the final word. The argument that the recommendations are all that is politically possible "involves a fundamental misconception," he wrote. "Any single person could block any proposal. Therefore our recommendations represent the minimum, not the maximum, that is politically possible. In the Congress, proposals require a majority (60% in the Senate), but certainly not a 100% vote. It is simply nonsense to suggest that the minimal, unanimous recommendations of this exceedingly diverse group represent all that Senators Santorum and Lieberman can persuade a majority of the Senate to pass."
Faith Works
The faith-based initiative faces another battle as well: lawsuits. A U.S. district court ruled earlier this month that a state-funded drug treatment program was unconstitutional because it was too religious. Judge Barbara Crabb made clear that her ruling should not be taken as a judgment on charitable choice as a whole, but both sides of the debate made the connection. "Far from overturning charitable choice, which she does not even challenge, Judge Crabb's decision is a warning that states must carefully adhere to the specific guidelines laid down by Charitable Choice," wrote Stephen Lazarus, senior policy associate for the Center for Public Justice. "However, while this decision does not negatively impact charitable choice, it still jeopardizes the religious liberties of Faith Works [the Wisconsin program] and its clients. Judge Crabb's opinion would require Faith Works staff and clients to divest their program of its distinctive religious character to be eligible for direct funding. Here her reasoning takes a wrong turn. charitable choice, the controlling federal law, does not require this. Nor does the First Amendment."
The Wall Street Journal made a similar point in an editorial on Friday. "On the one hand, if Faith Works takes religion seriously, it loses its government benefits. On the other hand, if it abandons religion, it loses its effectiveness. This looks like the kind of government discrimination against religious welfare groups that Congress banned in the 1996 welfare reform. That law's charitable choice provision said faith-based charities could compete with secular organizations for government money." But the decision isn't all bad, says the Journal. "It may do some political good if it serves as a wake-up call to a Congress that has been dithering over the Bush initiative. … We suspect Judge Crabb['s decision will be] reversed, but it would help if Congress expressed its strong desire to let Faith Works work."
What's at stake in all this debate isn't just how much help in helping the poor churches and religious organizations can get from the government. As James W. Skillen, president of the Center for Public Justice, wrote earlier this week,
The weakness in our union at present is due to confusion and unnecessary disagreement over the very meaning of religious freedom. The president's original plan had nothing to do with promoting discrimination or encouraging the imposition of religion on those who don't want it. To secure a just republic, there must be equal treatment of all faiths and philosophies in public as well as in private life. Our union will grow more divided, its poor may become poorer, and its communities may be further weakened if the president and Congress do not enact legislation that insists on the equal treatment of all social-service organizations. It is time to end discrimination against self-acknowledged religious organizations because they refuse to secularize themselves.
Ted Olsen is online managing editor of Christianity Today.
Related Elsewhere
Also appearing on our site today:
Implacable Foes Find (Some) Common Ground on Faith-Based Initiatives | Diverse working group's recommendations represent the minimum, not the maximum, that is politically possible.
Past Christianity Today articles on the Faith Based Initiative include:
Where Does the Faith-Based Initiative Stand? | Observers look to Bush support, discussion, and the hiring exemption as keys to Charitable Choice legislation. (Sept. 7, 2001)
House Approves Charitable Choice Bill | Hiring protections for religious organizations stays in the bill, but back-room negotiations may mean they won't stay. (July 27, 2001)
Article continues below
DiIulio Pitches Charitable Choice to Cautious NAE Delegates | Meanwhile, group suggests religious broadcasters reconsider severing ties. (March 21, 2001)
No More Excuses | Bush's faith-based initiative should reinvigorate our mission of service. (March 15, 2001)
Charitable Choice Dance Begins | Faith-based organizations cautious but eager for government aid. (March 15, 2001)
Bush's Faith-Based Plans | George W. Bush, Texas governor and presidential candidate, has placed government cooperation with faith-based initiatives at the core of his campaign. (Oct. 25, 1999)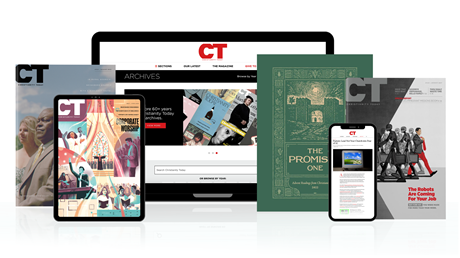 Subscribe to Christianity Today and get access to this article plus 65+ years of archives.
Home delivery of CT magazine
Complete access to articles on ChristianityToday.com
Over 120 years of magazine archives plus full access to all of CT's online archives
Subscribe Now
The State of the Faith-Based Initiative
The State of the Faith-Based Initiative