It is not an everyday occurrence for Laura Murphy, Washington Director of the ACLU and Richard Land, head of the Southern Baptists' public policy arm or Barry Lynn, Director of Americans United and John Castellani, Director of Teen Challenge, International, to announce public agreement on anything, much less the urgent need to expand the capacity and funding of faith-based organizations (FBOs) to overcome poverty in America. When that happens it is an occasion for celebration.
On January 15, I participated in a press conference at the National Press Club in Washington to release an important new document, "Finding Common Ground," prepared by a national working group chaired by former Democratic Senator Harris Wofford.
Early in the summer of 2001, it became clear that the Democratic majority in the Senate would not accept the House's bill expanding Charitable Choice and implementing a variety of faith-based initiatives. So Republican Senator Santorum asked the Democrat he defeated to chair an exceedingly diverse group of national leaders to see if they could find some common ground on the whole faith-based initiatives. I was privileged to serve on this Working Group over the last six months along with leaders from groups as diverse as the ACLU, Teen Challenge, The National Council of Churches, the Southern Baptist Convention, Evangelicals for Social Action (ESA), People for the American Way, the NAACP, the American Muslim Council, Americans United, and Big Brothers/Big Sisters.
Both Republican Senator Santorum and Democratic Senator Lieberman have encouraged this project and indicated that they hope this spring to co-sponsor and pass legislation reflecting some of our key recommendations.
This bipartisan, consensus document calls for a number of things ESA has been promoting:


a major increase in funding for faith-based anti-poverty programs


capacity building (including new intermediaries) to strengthen faith-based organizations (FBOs)


sophisticated, empirical studies to evaluate the comparative success rate of a variety of faith-based and secular social service providers in areas like drug rehabilitation


One key section of the study calls for greater understanding of the variety of FBOs and includes an elaborate typology of FBOs developed by ESA policy analyst Heidi Rolland Unruh and myself. In fact, several members of the Working Group told me this typology was one of the most important accomplishments of the process.
This highly diverse group did not reach agreement on many crucial issues. We worked by consensus; therefore any single member could veto any proposal. Several members of the Working Group have and continue to vigorously oppose Charitable Choice legislation, especially its hiring exemption which allows faith-based groups receiving federal funds to continue to exercise their right to hire staff who share their religious beliefs (I prepared a paper for the Working Group on this topic). Working by consensus, we simply had to say nothing together on issues of that sort.
Some commentators, especially opponents of Charitable Choice, are implying that the 29 recommendations of our Working Group represent all that is politically doable until after the elections this fall. I think that involves a fundamental misconception. Our group worked by consensus. Any single person could block any proposal. Therefore our recommendations represent the minimum, not the maximum, that is politically possible. In the Congress, proposals require a majority (60% in the Senate), but certainly not a 100% vote. It is simply nonsense to suggest that the minimal, unanimous recommendations of this exceedingly diverse group represent all that Senators Santorum and Lieberman can persuade a majority of the Senate to pass.
In fact, the bill now goes to the Senate, especially the Democratic leadership. Democratic Senator Lieberman has been working all fall with Republican Senator Santorum to draft a compromise bill. In fact, they were ready with a bill this past December that would have, among other important things, increased charitable donations by billions of dollars by enabling the 80 million tax filers who use the short form and therefore do not itemize their deductions (Form A) to claim a tax benefit for their charitable giving. (The House bill (H.R.7) passed by Republicans last spring included this provision, but allowed $25 a year for individual filers and $50 for a couple! Fortunately, Lieberman/Santorum greatly increased that figure.) For some reason, Democratic majority leader Daschle did not let this Lieberman/Santorum measure come to a vote this December.
Mr. Daschle must now decide whether he will allow the Senate to vote on the Lieberman/ Santorum compromise bill (which includes several significant expansions of the faith-based initiative even though it does not expand Charitable Choice). As I told the Washington reporter for The Boston Globe on January 15, if Daschle does not, then Democrats will have to explain to the American people during the election campaign this fall why Democrats blocked measures that everybody from the ACLU to the Southern Baptists endorse.
Almost everyone agrees we should expand the role of faith-based organizations to help reduce the scandal of widespread poverty in the richest nation in history. To implement that consensus, however, requires significant change on the part of many people: private secular and corporate foundations who often automatically reject applications from religious social service agencies; conservative Christians who too often rail against government anti-poverty programs without giving sacrificially from private funds to support effective faith-based programs; and yes, the Democratic leadership in the Senate.
In our introduction, the Working Group reminds the nation of the "fierce urgency of now:" "Over twelve million children live below the poverty line. Massive numbers of youth are falling behind and dropping out of school." We must, the report says in a careful reference to what I call inner spiritual conversion and external socio-economic change, "stand with those who struggle, helping them find the strength they need from within, and the help they need from without, to change and improve their lives." In the words of Martin Luther King at the Lincoln Memorial in 1963, "now is the time to open the doors of opportunity to all of God's children."
Ron Sider is president of Evangelicals for Social Action. This essay first appeared in the January 23 issue of ESA's Prism E-Pistle.
Related Elsewhere
To subscribe to the Prism E-pistle, send a blank message to PrismEpistle-subscribe@yahoogroups.com or view past issues.
Also appearing on our site today:
The State of the Faith-Based Initiative | One year after Bush outlined his plan to let religious social-service groups compete for government funds, little has actually made it through Congress.
Past Christianity Today articles on the Faith Based Initiative include:
Where Does the Faith-Based Initiative Stand? | Observers look to Bush support, discussion, and the hiring exemption as keys to Charitable Choice legislation. (Sept. 7, 2001)
House Approves Charitable Choice Bill | Hiring protections for religious organizations stays in the bill, but back-room negotiations may mean they won't stay. (July 27, 2001)
DiIulio Pitches Charitable Choice to Cautious NAE Delegates | Meanwhile, group suggests religious broadcasters reconsider severing ties. (March 21, 2001)
No More Excuses | Bush's faith-based initiative should reinvigorate our mission of service. (March 15, 2001)
Charitable Choice Dance Begins | Faith-based organizations cautious but eager for government aid. (March 15, 2001)
Bush's Faith-Based Plans | George W. Bush, Texas governor and presidential candidate, has placed government cooperation with faith-based initiatives at the core of his campaign. (Oct. 25, 1999)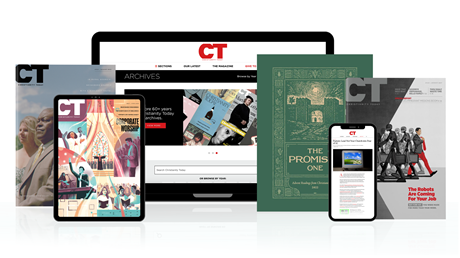 Annual & Monthly subscriptions available.
Print & Digital Issues of CT magazine
Complete access to every article on ChristianityToday.com
Unlimited access to 65+ years of CT's online archives
Member-only special issues
Subscribe
Implacable Foes Find (Some) Common Ground on Faith-Based Initiatives
Implacable Foes Find (Some) Common Ground on ...