City council: Mayor didn't act as mayor in banning Satan from town
Regular Weblog readers will remember the story of Carolyn Risher, the mayor of Inglis, Florida, who on Halloween banned Satan and other demonic forces from her town. After media attention and inevitable pressure from the ACLU, the town has backed down from the declaration. The Town Commission voted Monday night that Risher's declaration was "the work of an individual, not a town official, because it was never authorized, despite being on town stationery," reports the St. Petersburg Times. The ACLU is appeased. "This takes care of it nicely," said one of the group's lawyers observing the controversy. But the issue isn't totally taken care of; the town is now divided between Christians angry at the commission's withdrawal from the statement and those who feel ridiculed. "We're getting a lot of media attention lately, and it's made the town the dang laughingstock of the country," says commissioner Floyd Craig, who says he's challenging Risher as mayor next year. A St. Petersburg Times editorial expressed similar discomfort:
No one doubts the sincerity of Mayor Carolyn Risher when she says she wants to protect the residents of Inglis from evil. … But now her actions have brought more than ridicule to the community; they've also brought the imminent threat of a lawsuit that could cost taxpayers money and credibility. … People from all over the globe have had a laugh at Inglis' expense. We're confident Risher never meant for that to happen. But this situation no longer can be brushed off as a harmless, amusing eccentricity by a well-intentioned church lady. … Risher should seek the forgiveness of any residents she may have offended and assure everyone she will not allow her religious beliefs to supersede her responsibility as a public servant.
Study: Herod died of chronic kidney disease, Fournier's gangrene
The distemper seized upon his whole body, and greatly disordered all its parts with various symptoms; for there was a gentle fever upon him, and an intolerable itching over all the surface of his body, and continual pains in his colon, and dropsical turnouts about his feet, and an inflammation of the abdomen, and a putrefaction of his privy member, that produced worms. Besides which he had a difficulty of breathing upon him, and could not breathe but when he sat upright, and had a convulsion of all his members, insomuch that the diviners said those diseases were a punishment upon him.
So wrote the Jewish historian Josephus about the death of Herod the Great, the Roman appointed king of Judea who brought all sorts of nice things to Palestine but also tried to kill the infant Jesus. Encyclopedia Britannica notes, "In his last years Herod suffered from arteriosclerosis. … He was in great pain and in mental and physical disorder. He altered his will three times and finally disinherited and killed his firstborn, Antipater. The slaying, shortly before his death, of the infants of Bethlehem was wholly consistent with the disarray into which he had fallen. After an unsuccessful attempt at suicide, Herod died." But exactly how did he die? Jan Hirschmann, physician at the University of Washington's School of Medicine, thinks he knows: "When I first looked at the general diseases that cause itching, it became clear that most of them couldn't explain a majority of the features of Herod's illness," Hirschmann tells The Jerusalem Post. "At first, I considered Hodgkin's disease and some diseases of the liver. … I finally concluded that the most likely explanation was that his chronic kidney disease was complicated by an unusual infection of the male genitalia called Fournier's gangrene." The BBC reports that the National Kidney Research Fund has its doubts. "The National Kidney Research Fund is unable to conclusively confirm that King Herod died from chronic kidney disease, although many of the symptoms the ruler displayed are common among kidney patients," said a spokesman. New Scientist notes, "Only about 500 cases of Fournier's gangrene have been recorded in the medical literature. It is caused when Staphylococcus, Streptococcus or E. coli bacteria infects and starts to rapidly kill cells, turning tissue black."
The dignosis is all part of the fun at the Clinical Pathologic Conference, which in past years has examined the deaths of Edgar Allan Poe, Alexander the Great, Ludwig van Beethoven, General George Custer, Wolfgang Amadeus Mozart, and Claudius. Weblog is glad to be sitting in an office scanning newspaper Web sites (though I could have done without the images of Fournier's gangrene I turned up in an online search, thank you very much).
Flier mire
School officials at DuPont-Tyler Middle School in Hermitage, Tennessee, say they've made a mistake. A flier advertising a Christian club called First Priority was unconstitutional. Did it say "This school only believes in the Christian God of the Bible"? No. Did it say "Your child is not welcome here unless he or she has been washed in the blood of the Lamb"? No. The Tennessean explains: "The flier has big type that proclaims, 'The Day That Changed Dupont-Tyler!' and displays the school's name in two other places." Horrors! "I'm trying to be fair," parent Mary Chapman told the paper, "but I still have a problem with it because it had the school name on it. It sounds like an endorsement." Coming up, fliers that say, "Please come to our club. We can't tell you where it meets, but maybe some other kid will tell you where—but don't ask on school grounds during regular school hours, please. That's unconstitutional."
More articles
History:
Education:
Church and state:
Religion and politics:
Church life:
Other articles of interest:
Related Elsewhere
See our past Weblog updates:
January 29 | 28
January 25 | 24 | 23 | 22 | 21
January 18 | 17 | 16 | 15 | 14
January 11 | 10 | 9 | 8 | 7
January 4 | 3 | 2 | December 31
December 28 | 27 | 26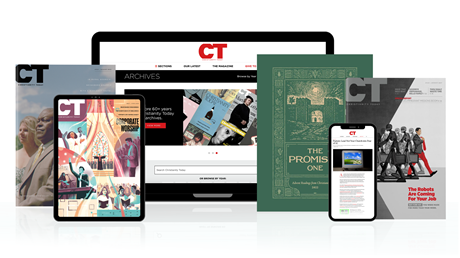 Annual & Monthly subscriptions available.
Print & Digital Issues of CT magazine
Complete access to every article on ChristianityToday.com
Unlimited access to 65+ years of CT's online archives
Member-only special issues
Subscribe
Who Has the Authority to Ban Satan?
Who Has the Authority to Ban Satan?