In southern Afghanistan, near the border with Iran, thousands of refugees are living in tents, driven from their homes by civil war, by the American bombing, by hunger and misery and desperation. Iran won't let them in, having already absorbed Afghan refugees going back to the war against the Soviets, but Red Crescent workers from Tehran bring food and medical care to the camps. Working alongside them has been a team from Elam Ministries, a Christian organization based near London.
Elam, as you may recall from the Old Testament, was a region east of the Tigris River. And Elamites are listed in Acts among the peoples present at Pentecost, each able to hear what Peter preached as if he were speaking their own language. Elam Ministries serves the church in Iran—where, in a population exceeding 70 million, a few thousand Christians are allowed to practice their faith so long as they don't seek to win converts—and in other countries where Persian is spoken.
A decade ago, when Kurdish refugees fled Iraq in the aftermath of the Gulf War, Elam was there to help the Red Crescent. That cooperation laid the foundation for Elam to help again when the current Afghan refugee crisis developed. In the camps, even as commentators speculated on the prospects for a "clash of civilizations" between Islam and the West, Muslims and Christians worked together to help Muslims in need.
Their work is largely undramatic. They bring potatoes and onions, apples and pears, sugar and eggs, and huge stacks of flat bread. They distribute blankets and medicine. Except for a very brief glimpse of a truck unloading or some similar scene, none of this is likely to make the evening news.
One member of the Elam team recently at work in the camps is Arne Bergstrom, the subject of a column in this space last year. Between trips, he spoke at his home church, Faith Evangelical Covenant in Wheaton, Illinois, about the people in the camps and the inspiring worship he experienced among Iranian believers both in Tehran and London. Under very difficult circumstances, including a period of persecution several years ago that culminated in the death of several Christian leaders, the church in Iran maintains a steadfast faith.
Years of drought have ravaged the countryside where the refugees are gathered, and a fine white dust floats in the air. On the long trip back from the camps to Tehran, Arne noticed that his boots were covered with the ubiquitous dust, and he started to clean them. What stopped him was a picture in his mind's eye of the faces he'd seen: weary fathers and grandfathers (for the most part, women stayed inside the tents, out of view), a boy who had lost his family in the bombing and had walked more than 200 miles from what had been his home, laughing children finding games to play even in this setting. He decided to leave the dust on his boots.
In the church in Tehran, some people looked askance at the dusty boots. (The casual California style of dress for worship hasn't caught on there yet.) Others offered to help him get them clean. But when he explained why he had chosen to leave the dust on his boots, they understood. And so did we, here in the comfort of suburban Wheaton.
John Wilson is editor of Books & Culture and editor-at-large for Christianity Today.
Related Elsewhere:
Visit Books & Culture online at BooksandCulture.com or subscribe here.
Christianity Today's World Report has more stories on Afghanistan and the current refugee crisis.
Last March, Christianity Today reported that, "Iran's state and religious authorities were showing a 'new openness,' and would consider extending the rights of local Christian minorities."
Books & Culture Corner appears Mondays at ChristianityToday.com. Earlier Books & Culture Corners include:
Coming Attractions | Books to watch for this year. (Jan. 7, 2002)
Books of the Year, Part 2 | After the top ten, here's the best of the rest. (Jan. 4, 2002)
Books of the Year | Part 1: The Top Ten (Dec. 17, 2001)
"Daddy, What Is the Soul?" | Does the church have an answer? (Dec. 10, 2001)
'We Now Know' | The boast of imperial science. (Dec. 3, 2001)
"24 Cow Clones, All Normal" … | Oh yes, and a few cloned human embryos that died. (Nov. 26, 2001)
"Discovering" Islam: The Intellectual Challenge | There's good reason to believe that there will be staying power to the West's belated "discovery" of Islam. (Nov. 19, 2001)
Disturbing the Peace | Is art always subversive when it's doing its job? (Nov. 12, 2001)
Play Ball | Baseball, leisure, and worship. (Nov. 2, 2001)
Is God a Body-Snatcher? | The restless intelligence of philosopher Peter van Inwagen. (Oct. 30, 2001)
"Science and the Spiritual Quest" | A place at the table for Christians, but at a price. (Oct. 22, 2001)
Beyond Belief? | Nobel Prize-winner V.S. Naipaul's accounts of Islam presuppose the superiority of modern skepticism. (Oct. 15, 2001)
Covering Islam | Getting beyond the feel-good bromides. (Oct. 8, 2001)
Christian Scholarship … For What? | Academic speakers affirm the value of beholding God's creation. (Oct. 1, 2001)
Myths of the Taliban | Misinformation and disinformation abounds. What do we know? (Sept. 24, 2001)
The Imagination of Disaster | "We thought we were invulnerable." Really? (Sept. 17, 2001)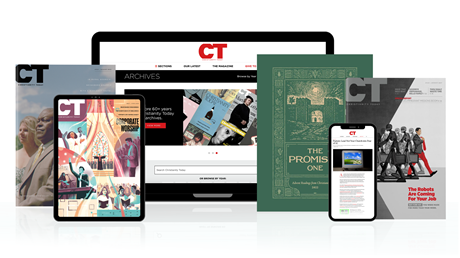 Annual & Monthly subscriptions available.
Print & Digital Issues of CT magazine
Complete access to every article on ChristianityToday.com
Unlimited access to 65+ years of CT's online archives
Member-only special issues
Subscribe
Keeping the Dust on Your Boots
Keeping the Dust on Your Boots