Kristof to evangelicals: Stop caricaturing Islam as violent
Remember New York Times columnist Nicholas D. Kristof? He praised evangelicals as "the new internationalists" in a May 21 piece. In yesterday's Times, however, Kristof takes aim at evangelicals—specifically Paul Weyrich, Franklin Graham, and Jerry Vines—for "bigotry" against Islam.
"It's a cheap shot for us to scold Arabs for acquiescing in religious hatred unless we try vigorously to uproot our own religious bigotry," he said. "If we want Saudi princes to confront their society's hate-mongers, our own leaders should confront ours."
In fact, Kristof says, Christians should recognize what's so great about Islam:
If Islam were really just the caricature that it is often reduced to, then how would it be so appealing as to become the world's fastest-growing religion? Islam already has 1.3 billion adherents and is spreading rapidly, particularly in Africa, partly because it also has admirable qualities that anyone who has lived in the Muslim world observes: a profound egalitarianism and a lack of hierarchy that confer dignity and self-respect among believers; greater hospitality than in other societies; an institutionalized system of charity, zakat, to provide for the poor. Many West Africans, for example, see Christianity as corrupt and hierarchical and flock to Islam, which they view as democratic and inclusive.
Meanwhile, in Nigeria, a 20-year-old Aliyu Ibrahim is asking an Islamic court for a death sentence because he blasphemed against the prophet Muhammad (not only is that the official sentence for blasphemy where he lives, but Ibrahim says he can't live with himself now). And the Italian newspaper Corriere della Sera says Muslim militants planned to attack the Vatican, but called off the offensive two months before last year's terrorist attacks in the U.S.
Pastors arrested for beating 11-year-old
Two pastors of Capitol City Baptist Church in Austin, Texas, were arrested Tuesday for allegedly beating an 11-year-old at a summer camp for Spanish speaking children. According to police, 22-year-old pastor Joshua Thompson beat Louie Guerrero for an hour. Joshua's twin brother, Caleb, held the child down, though Guerrero was permitted a bathroom break. Guerrero went into the intensive care for five days. His kidneys failed, and he required a blood transfusion. The reason for the beating? Guerrero cheated on a Bible quiz.
"He gets me angry, so angry because he didn't have no right to hold him down, and the other one to beat him," the child's mother told News 8 Austin (video available). "They don't have a heart."
The boys' father, Hank Thompson, is pastor of the independent fundamentalist Capitol City Baptist Church, which has 300 members. "I believe they are sorry with all their hearts that they ever did it too, thinking they were doing good," he said (video). "They will pay the price they have to pay with dignity and with respect to the law, but I don't believe we're guilty in any major manner. I believe, I think what they are being accused of, when the truth comes out, my boys will be exonerated."
They face a life sentence.
More articles
Politics and religion:
Life ethics:
Christian pop culture:
Catholicism:
Related Elsewhere:
See our past Weblog updates:
July 9 | 8
July 5 | 3 | 2 | 1
June 28 | 27 | 26 | 25 | 24
June 21 | 20 | 19 | 18 | 17
June 14 | 13 | 12 | 11 | 10
June 7 | 6 | 5 | 4 | 3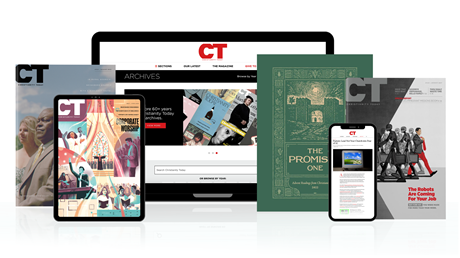 Subscribe to Christianity Today and get access to this article plus 65+ years of archives.
Home delivery of CT magazine
Complete access to articles on ChristianityToday.com
Over 120 years of magazine archives plus full access to all of CT's online archives
Subscribe Now
Would Islam Be So Popular If It Were a Religion of War?
Would Islam Be So Popular If It Were a Religion of War?