President's Council on Bioethics proposes moratorium on research cloning
"Cloning edict angers both sides," says a San Francisco Chronicle headline today. The President's Council on Bioethics yesterday recommended a total ban on reproductive human cloning, but only a four-year moratorium on so-called therapeutic cloning, or cloning embryos for research purposes.
"By permanently banning cloning-to-produce-children, this policy gives force to the strong ethical verdict against cloning-to-produce-children, unanimous in this Council (and in Congress) and widely supported by the American people," said the ten-person majority of the 17-member council. "And by enacting a four-year moratorium on the creation of cloned embryos, it establishes an additional safeguard not afforded by policies that would allow the production of cloned embryos to proceed without delay." (The full report, including an 11-page executive summary, is available at the council's website.)
A seven-member minority doesn't want the moratorium. "The research shows great promise, and its actual value can only be determined by allowing it to go forward now," they said. "Regardless of how much time we allow it, no amount of experimentation with animal models can provide the needed understanding of human diseases."
President Bush, however, doesn't want a moratorium either—he wants an all-out ban on all forms of human cloning. "His position is based on principle," House spokesman Scott McClellan told The Washington Times. "Any attempt to clone a human being is morally wrong." A White House statement called for the Senate to "take action this year to ban all human cloning. As the Council's majority recommendation makes clear, no law should be enacted this year that authorizes any human cloning."
Conservative Christian groups were upset that the council didn't call for a total ban. "Hopefully, this report will serve as a speed bump to slow down the apparent rush to 'clone and kill' human embryos for their stem cells," said Carrie Gordon Earll, bioethics analyst for Focus on the Family. "The recommended moratorium is only a stopgap measure and does not guarantee that human embryos created by cloning will be protected. … It's disconcerting to realize that learned, intelligent individuals, like these council members, fail to understand the simple biological fact that all cloning is reproductive and creates a new human life. It is deceptive to create separate categories of human cloning based on what scientists intend to do with the embryo."
Concerned Women for America president Sandy Rios similarly argued that the act of human cloning—not the reason for the process—makes it immoral. "This decision leaves the American people vulnerable; a moratorium on a dangerous act is not enough," she said.
Family Research Council president Ken Connor praised the work of council members who worked for a total ban on human cloning, and he could at least muster one cheer: "In an environment where that which is not prohibited is permitted, a temporary moratorium on human cloning is better than no ban at all," he said. "However … in the final analysis, it's lamentable that a majority of this commission, with all of its intellectual horsepower, was unable to distinguish between right and wrong, good and evil."
It all depends on your perspective
It's fun to see how it Church of England's change in its teachings of divorce and remarriage got spun in the papers. All of these headlines cover essentially the same story:
Church of England rejects policy | The Church of England decided Tuesday against adopting a policy on allowing divorced people to remarry in the church, saying the decision was up to individual priests (Associated Press)
Synod step towards church marriage for the divorced (

The Guardian

)
New stance on marriage for divorcees could bring fresh hope to Charles and Camilla (Ananova)
Charles' remarriage cleared (

Herald Sun,

Australia)
More articles
Vouchers:
Pledge of Allegiance:
The march of unchristian soldiers | America's legal intention to sanctify freedom of religion has been transformed into freedom from religion (Paul Udoto,

The Nation,

Nairobi, Kenya)
If you're serious about God, this is a disaster | When is God not God? When He's blessing America, apparently. Or when in Him we trust. Or when this big old imperial power is one nation under Him. (Mark Kingwell,

National Post,

Canada)
Politics:
Law & government:
Crime:
Other religions:
David Benke suspended:
Missions & ministry:
Church life:
Sexuality & gender:
Bible:
Bible translation incites debate | Critics say Today's New International Version doesn't reflect God's intentions. Others say it merely reflects changes in English usage (

St. Petersburg

[Fla.]

Times

)
One of Apostles was a woman, Church is told | Joanna, who was close to Jesus during his ministry, changed her name to Junia and was recognized by St Paul as an Apostle, says Richard Bauckham, Professor of New Testament Studies at St Andrews University (

The Times,

London)
Pop culture and media:
Anglicanism:
Catholicism:
Science & health:
Other stories of interest:
Related Elsewhere:
See our past Weblog updates:
July 11 | 10 | 9 | 8
July 5 | 3 | 2 | 1
June 28 | 27 | 26 | 25 | 24
June 21 | 20 | 19 | 18 | 17
June 14 | 13 | 12 | 11 | 10
June 7 | 6 | 5 | 4 | 3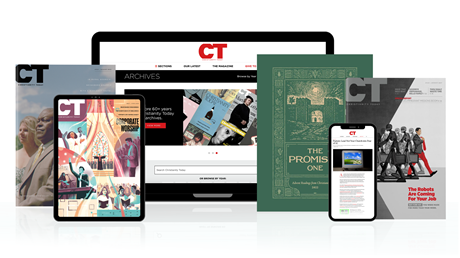 Annual & Monthly subscriptions available.
Print & Digital Issues of CT magazine
Complete access to every article on ChristianityToday.com
Unlimited access to 65+ years of CT's online archives
Member-only special issues
Subscribe
President's Bioethics Council Calls for Cloning Moratorium, Christian Activists Want Ban
President's Bioethics Council Calls for Cloning ...