Moon launches major ad campaign
The Rev. Sun Myung Moon, founder of the Unification Church, has launched a $720,000 advertising campaign to report the events of a supposed "special ceremony [that] took place in the spirit world."
The church hopes to place the 7,000-word ad, "A Cloud of Witnesses: The Saints' Testimonies to the True Parents," in major newspapers in each U.S. state. Forty-seven papers have accepted thus far, including The Los Angeles Times, Chicago Sun-Times, The Philadelphia Inquirer, and Houston Chronicle.
Moon, who claims he met Jesus in 1935, has long used expensive campaigns to promote himself, woo Christian leaders, and seek legitimacy. In 1985, the church spent between $4.5 million and $10 million on public relations packets sent to 300,000 Christian leaders.
The new ad claims to be a series of testimonials from religious leaders, including Jesus, the Buddha, and Muhammad, who were present at a December spirit-world seminar. The group allegedly signed a resolution proclaiming, "Reverend Sun Myung Moon is the Savior, Messiah, Second Coming, and True Parent of all humanity."
Christians who are attributed testimonials to Moon include Peter, Paul, John Calvin, Karl Barth, Martin Luther, and John Wesley. Most of the ad's quotes are unequivocal praise for Moon and commitments to follow his teachings. "I respect, believe, and depend on all the words and theology of Reverend Sun Myung Moon," reads the alleged testimonial of St. Augustine. "I give my oath and pledge, raising my hands to all that I do together with the Lord."
All the testimonials are odd; some are little more than nonsense. Horace Underwood, the first Christian missionary to Korea, is alleged to say, "I joyfully celebrate the fact that the Second Coming has come to Korea, an eastern country that takes polite etiquette very seriously."
Others listed in the ad include historical figures of Confucianism, Islam, Hinduism, and Buddhism (represented by seven of the Buddha's ten disciples. Apparently the Dalai Lama was not in attendance because he keeps getting reincarnated.) In addition, Karl Marx, Joseph Stalin, Deng Xiao Ping, and Vladimir Lenin allegedly represented Communism at the conference. (It's nice to know they're no longer atheists.)
There is no word on how delegates to the spirit-world conference were selected.
The ad ends with an alleged letter from God who invites Moon and his wife, whom followers call the True Parents, "to the position of King of Kings." The letter reads: "If there were a word better than "love," I would like to borrow it. Although the True Parents reside in a deep place in my heart, I cannot adequately express my love for you in words. I want to hold you all night and talk to you!"
Pledge girl's mom: "We love the Lord"
Sandy Banning, the former girlfriend of Michael Newdow, spoke out Sunday for the first time about the recent Pledge of Allegiance suit that the atheist Newdow filed on behalf of their daughter, Glen.
His argument claimed that Glen was injured by having to watch and listen to students proclaim in the pledge that the country exists "under God." On June 26, the Ninth Circuit Court found the words unconstitutional.
"I was shocked," Banning told Fox News. "I just stood there with my mouth open and thought, 'Oh my gosh, the President of the United States thinks my child's an atheist.'"
Banning told reporter Rita Cosby that she has sole legal custody of her daughter and thus feels that Newdow's case has no merit. She said that Newdow has in the past celebrated Jewish holidays with Glen, has long had an interest in constitutional law, and did not check with Banning or Glen before filing the suit.
"I'm speaking out because my daughter is being raised in a Christian home," Banning, a Sunday school teacher, said. "We are not atheists, and I need to communicate to the American people that my daughter's not being harmed by reciting the Pledge of Allegiance."
Not only is Glen not harmed by the pledge, Banning says, but she loves saying it. "She told me the first day of school that she led the class in the Pledge of Allegiance," she said. "She was very excited."
After the court's decision, Banning's daughter told her, "I'm still going to say 'one nation under God.' I'll say it quietly so no one will know I'm breaking the law."
Other news in the Pledge case includes:
Ex-Partner of Plaintiff on Pledge Goes Public | A defense fund is established to protect the reputations of the woman and her child (Los Angeles Times)
Related Elsewhere
See our past Weblog updates:
July 15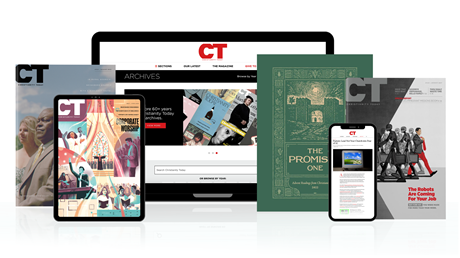 Subscribe to Christianity Today and get access to this article plus 65+ years of archives.
Home delivery of CT magazine
Complete access to articles on ChristianityToday.com
Over 120 years of magazine archives plus full access to all of CT's online archives
Subscribe Now
Spirit in the Sky?
Spirit in the Sky?