Both sides agree to secession for southern Sudan
Approximately two million people have died in 19 years of civil war in Sudan. On Saturday the country's Islamic government and the largely Christian south reached a basic agreement that may lead to a full peace accord.
After five weeks of negotiations, the Khartoum government has agreed to terms for the Sudan People's Liberation Army's (SPLA) biggest demand, independence. Under the deal, a six-year transition period will be followed by a referendum offering secession to Christians and animists in the south.
Until then, the Sudan government has agreed not to force Islamic law on Christians.
The two sides have not agreed on a ceasefire but one is expected by September. According to the BBC, both sides are under intense U.S. pressure to reach a deal and have agreed to continue negotiations through August.
According to Nairobi's The Nation, a female member of the SPLA wept as the deal was reached. "I cannot believe this, or my God, how sweet is the news, after all these years of civil strife," she cried. "Now we will have something good to tell our people who have suffered beyond repair."
However, six years is a long time. As the BBC reports, both sides are cautious and "there is still a long way to go before the Sudanese can be assured of a new era of peace."
Future Archbishop of Canterbury to take part in ritual with pagan roots
"As the sun rises over a circle of Pembrokeshire bluestones, the Archbishop of Wales, the Most Rev. Dr. Rowan Williams, will don a long white cloak while druids chant a prayer to the ancient god and goddess of the land," reported The Times, London, on Friday. "After a trumpet fanfare and the thrice partial sheathing and unsheathing of a six foot, six inch sword, a citation will be read."
Then, the man expected to be the next Archbishop of Canterbury will be accepted as an honorary member of the white druidic order of the Gorsedd of Bards, the Welsh body of poets, musicians, writers, and artists. Williams is a prolific author and poet.
Some evangelical leaders in the Church of England are worried about Williams' involvement in the 200-year-old ritual with pagan roots. "We are concerned that Christian leaders should concentrate on the celebration and promotion of the Christian faith in all its wonder and power rather than dabbling in other things," the Rev. David Banting told The Times.
Those in the Gorsedd say the group's pagan roots are far behind it. Williams will not be the only Christian leader in the group. A former Archbishop of Wales is a member, as is the Right Rev. Daniel Mullins, who says the group "has no link at all with ancient druidism."
There's no word if Williams's induction as Archbishop of Canterbury will also include the "thrice partial sheathing of a six foot, six inch sword."
Richard W. De Haan dies
The former president of RBC Ministries, Richard W. De Haan, died last week at the age of 79 after a long illness.
For more than 30 years, De Haan was known as the voice of Radio Bible Class, a weekly production of RBC Ministries, and for his writings in the devotional guide Our Daily Bread.
The son of RBC's founder, M. R. De Haan, M.D., he became president of the ministry in 1965. His eldest son, Mart, now serves in that role. De Haan is survived by his wife, Marge, and their four sons and daughters-in-law—Mart and Diane, Rick and Tricia, Kurt and Mary, and Steve and Lisa—as well as 13 grandchildren.
RBC Ministries began in 1938 as the Detroit Bible Class and has grown to include daily and weekend radio programs, weekly television, Discovery House Publishers, Discovery House Music, Discovery Series study booklets, and Sports Spectrum magazine.
More articles
World Youth Day:
Crime:
Pop culture:
First Amendment:
The Pledge of Allegiance:
Related Elsewhere
See our past Weblog updates:
July 19 | 18 | 17 | 16 | 15
July 12 | 11 | 10 | 9 | 8
July 5 | 3 | 2 | 1
June 28 | 27 | 26 | 25 | 24
June 21 | 20 | 19 | 18 | 17
June 14 | 13 | 12 | 11 | 10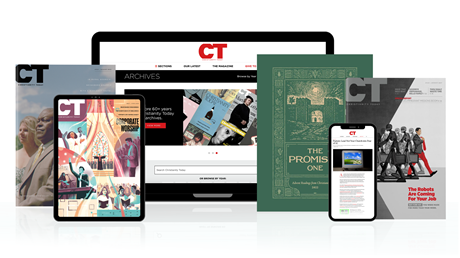 Subscribe to Christianity Today and get access to this article plus 65+ years of archives.
Home delivery of CT magazine
Complete access to articles on ChristianityToday.com
Over 120 years of magazine archives plus full access to all of CT's online archives
Subscribe Now
Peace For Sudan?
Peace For Sudan?