Billy Graham's 1972 comments still drawing fire
Over the last week, Billy Graham's 1972 Oval Office comments about Jews have continued to draw reaction from newspapers and magazines. While earlier in the week most pundits were suggesting that the evangelist was merely blinded by power and just "went along" with Nixon's anti-Semitism to maintain good relations with the president, comments later in the week were distinctly harsher.
On the on the other side of the Atlantic, however, the comments are both harsh and satiric. John Sutherland's column in The Guardian is ironic. "Graham has always been close to the Republican White House," notes Sutherland. "He was, not long after schmoozing anti-semitically with Nixon, the man who saved young George Bush from the demon drink. What did the Reverend say during those closeted hours of spiritual counselling—that America's breweries and distilleries were owned by 'Satanic Jews'? No tapes, unfortunately."
Writing in The Nation, Robert Scheer largely keeps the focus on Richard Nixon's end of the conversation, but he doesn't let either man off the hook. "When we are busy condemning national chauvinism, religious hatred and war crimes abroad, it is no time to whitewash our own past. To utter such thoughts invites the riposte that one seeks to weaken our nation rather than strengthen it," Scheer writes. "Thankfully, this country has a clear history of questioning sanctimonious expressions of authority, and the release of these tapes, however late, is a clear example of that."
Much of the questioning now seems to be how much the comments represent Graham's "real" views. Of course, much of the question is raised by Graham's own statement, "They [Jews] don't know how I really feel about what they're doing to this country."
"Was Graham really this anti-Semitic, or was he seeking to enhance his own position by feeding Nixon's paranoia?" asked Pittsburgh Post-Gazette columnist Sally Kalson. "The answer appears to be both. … Graham is 83 now and frail. Anyone who's been around that long might have forgotten the ethnic slurs he uttered 30 years ago, and also might have undergone a sincere change of heart. Then again, some old prejudices never die; they just learn to dress a lot nicer. Which description fits Graham is not for me to say; I can't see into the man's heart."
One of Kalson's fellow columnists at the Post-Gazette, Dennis Roddy, also weighed in. He talked about how Graham differed from his mentor, Mordecai Ham ("a revivalist who considered Jews 'beyond redemption.' … Once he had pitched tent in a given town, he would denounce, by name, local Jewish merchants"). And Graham was good friends with Harry Golden, editor and publisher of The Carolina Israelite.
I suspect that Billy Graham really did love Harry Golden very much. … It is possible for a man to dislike an entire people and yet delude himself into thinking he can love one of its constituent members. … But it is also possible that a bit of Mordecai Ham found its way into Graham's marrow. Just as Harry Golden could no more have abandoned his roots as a Jew than Graham could have cast aside his Biblical fundamentalism, our lives are a constant struggle between what we are born to be and what we choose to become. Reconciling those two is how we grow. It is how a man becomes, in the words of Billy Graham, "a missionary in himself."
Over at the St. Petersburg Times, columnist Mary Jo Melone isn't cutting the evangelist any slack. "Billy Graham fell off the pedestal on which he had stood so long," she wrote. "The frailty of his humanity was revealed. He had been poisoned by the same prejudices that afflict the rest of us. His words shock only because of who he is. But they don't surprise. Anti-Semitism … runs deep, in high places and low."
Actually, anyone who thinks Graham hasn't admitted the frailty of his humanity hasn't been listening to his message. His words shock but don't surprise not because of what anti-Semitism is, but because of what sin is.
Melone spends most of her column attacking Graham for his "incomplete" apology. That's also the focus of an article in The Jewish Week. Anti-Defamation League head Abraham Foxman "rejected the apology as 'mealy mouthed,'" the paper said. "He does not address the ugliness, the sinisterness, of his beliefs," Foxman told the paper … All of a sudden he has lost his memory and says these things don't reflect his view? Whose views do they reflect? … It's so sad that an icon of the church doesn't have the guts to say that what he said is horrible and that nobody should believe it."
Beliefnet editor Steven Waldman makes a similar case. "Rather than saying he doesn't remember making such comments, Graham should admit that he did hold such views back then—and explain how and why he outgrew such beliefs," Waldman writes. "If he were to offer that kind of honest description of his own moral and mental evolution, it would provide a pathway to more tolerant thinking for those still mired in reflexive hatreds, and an implicit forgiveness for others who once held those views and are now ashamed. He can face honestly who he was, or deny it. If he faces it, he will go down in history as an even greater man than we thought he was prior to the release of the Nixon tapes."
Readers may wonder about Waldman giving a man like Graham advice on maintaining his legacy, but one can't deny that Beliefnet has done an amazing job on this news story. Not only do they have a timeline of Graham's relationship with Jews, they also have actual audio clips from the 1972 tapes. They're almost impossible to understand, but there they are.
Beliefnet also has a column by the Southern Baptist Convention's Richard Land, who makes several points: Graham is still "one of the greatest preachers and leaders in all of Christian History," but he isn't perfect, the comments allow Americans, and evangelicals in particular, to examine their hearts for lingering racism and prejudice, and the comments are an opportunity to remind the Jews that "there is no group in American life more supportive of the Jewish people in general and the state of Israel in particular than the evangelical Christian community."
Without a doubt the best article on the Graham situation is also at Beliefnet, written by someone who knows what he's talking about: Graham's biographer, William Martin. He's adamant that the 1972 comments were an aberration.
In five years of intensive research into Billy Graham's life and ministry, including extensive access to his archives at the Billy Graham Center at Wheaton College, followed by an additional decade of close attention to matters pertaining to the evangelist, I never found a hint of such sentiments. It would not have been particularly surprising had there been such evidence, given that some evangelical and fundamentalist leaders, particularly in the generation preceding Graham's, were prone to accept, and sometimes voice, anti-Semitic stereotypes that were more common in the general culture than is the case today. But if they were there, I did not find them. For that reason, as well as for abundant evidence that Graham evinced a broader and more generous spirit as he aged and as he moved in ever-widening circles, I recommend that these statements, uttered in casual conversation on February 1, 1972, not be seen as revealing "the real Billy Graham," kept well hidden for the rest of his 83 years.
But Martin doesn't just stick to his research as evidence that Graham isn't an anti-Semite—he also notes that the tapes themselves are unclear. "The identity of 'they,' 'whole thing,' and 'he' are not indicated. It is possible that what was deleted is quite damning of both the preacher and the president. It is also possible that those alleged to have a stranglehold are more closely specified than Jews or even liberal Jews."
Martin is more than historian in his column—he's also pastor. "Should [Graham] have known better than to say the things he said? Of course." He concludes. "Should he have played the role of prophet rather than court chaplain and boldly spoken truth to power? Absolutely. Should we, in light of all we know about him, which is a great deal indeed, condemn him as a duplicitous hater? That privilege would seem to be reserved only for those completely confident the stone they are poised to throw will leave no stain in their own hand."
More articles
Church & State:
Theology:
Archaeology:
Missions & ministry:
Pop culture and music:
Christian pop culture:
Ecumenism:
Related Elsewhere
See our past Weblog updates:
March 8 | 7 | 6 | 5 | 4
March 1 | February 28 | 27 | 26 | 25
February 22 | 21 | 20 | 19 | 18
February 15 | 14 | 13 | 12 | 11
February 8 | 7 | 6 | 5 | 4
February 1 | January 31 | 30 | 29 | 28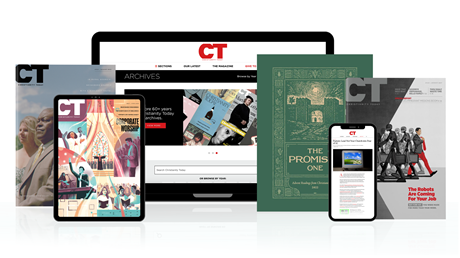 Subscribe to Christianity Today and get access to this article plus 65+ years of archives.
Home delivery of CT magazine
Complete access to articles on ChristianityToday.com
Over 120 years of magazine archives plus full access to all of CT's online archives
Subscribe Now
Was Billy Graham an Anti-Semite? The Commentaries Continue.
Was Billy Graham an Anti-Semite? The Commentaries Continue.