Afghanistan faces a crisis of faith
An Associated Press article late last month reported on Christian missionaries' plans to enter Afghanistan. "Muslim for a millennium, this prostrate land now looks from far-off pulpits like a God-given opportunity for missionary work," Charles J. Hanley wrote. However, Hanley reported, it might not be as easy as they think. "Resistance would be formidable. To many traditional Afghans, proselytizing threatens the fiber of daily life where religion is an intrinsic part."
Now comes a report on the front page of the San Francisco Chronicle that says religion may not be as intrinsic a part of daily life as thought. "Now that the hard-line movement's strong grip on Afghan society has been released—even in the countryside, where support for it was strongest—some people are not sure they want to be Muslim at all," writes Anna Badkhen. Mosques where hundreds once joined together in prayer daily are now empty. "Few pray five times a day, as the Koran instructs," writes Badkhen. "In cities like Kabul and Mazar-e-Sharif, muezzins' calls for evening prayer now go virtually unnoticed as men gather in restaurants for dinner instead of going to the mosque." Even Muslim clerics are disillusioned. Hamir Jan, 82, tells the paper, "When the Taliban came, they defamed the name of Islam. They beat everyone; they forced people to pray. People became disillusioned in Islam because of the Taliban."
There's even an undercurrent of the democratization of Islam. "Muslim people of Afghanistan are each their own religious leader," a Pashtun leader says.
This crisis of faith could present a huge opportunity for missionaries, especially as Afghans wonder exactly what it is they believe.
ABWE, missionaries shot down say they're not suing government after all
The Association of Baptists for World Evangelism is contradicting reports in The Washington Post, Associated Press, and elsewhere that it and its missionaries are suing the U.S. government for $35 million in compensation for the April shooting in the Peruvian skies.
"Friends of our ministry, including members of Congress, as well as our attorneys, have approached the government agencies involved over the past several months in order to seek redress for the families victimized by the wrongful deaths and physical injury caused by the negligent actions of government agents," a statement from the mission agency says. "While ABWE respects the right of the families involved to seek appropriate legal redress, neither Jim Bowers, nor Kevin Donaldson, nor their families desire to sue the U.S. or the Peruvian government in spite of great personal and financial loss."
Still, as Weblog said earlier, if there's any question in your mind about whether Bowers and Donaldson deserve an apology and compensation, watch the video again.
Priest's dog held hostage
David Lloyd, an English Roman Catholic priest, had quite a rough weekend. On Saturday, his car was stolen. His cell phone was in it, and so was his 4-year-old Welsh Terrier, Rosa. The thieves abandoned the car and burned it, then used the cell phone to demand a £3,000 ($4200) ransom for Rosa. They also called members of the church, threatening to kill the dog if they didn't get the money.
The incident was widely disseminated over the British media, and apparently the dognappers decided they were in over their head. Two boys reportedly found the dog abandoned in a field yesterday and took it to the police. "I can't do anything else but forgive them, can I?" Lloyd said of the thieves. "Because I can't carry them for the rest of my life for what they've done."
Does this story upset you? It's just a dog. Martin and Gracia Burnham have been held hostage for 290 days in much worse conditions. Pray for them, get involved in pushing for their release, and contact your representative to urge the U.S. government to make their freedom a priority.
More articles
Persecution:
9/11, six months later:
Israel:
Politics & law:
Church & State:
Education:
Evolution:
Science:
Abuse:
Bible:
Church life:
Clergy life:
Sex & marriage:
What would Columba say?
Youth:
Catholicism:
Other stories of interest:
Related Elsewhere
See our past Weblog updates:
March 11
March 8 | 7 | 6 | 5 | 4
March 1 | February 28 | 27 | 26 | 25
February 22 | 21 | 20 | 19 | 18
February 15 | 14 | 13 | 12 | 11
February 8 | 7 | 6 | 5 | 4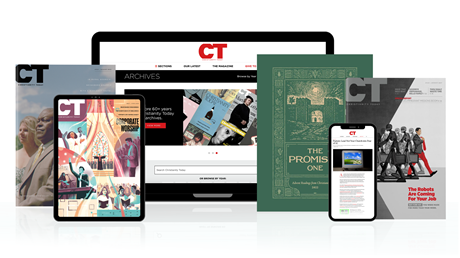 Subscribe to Christianity Today and get access to this article plus 65+ years of archives.
Home delivery of CT magazine
Complete access to articles on ChristianityToday.com
Over 120 years of magazine archives plus full access to all of CT's online archives
Subscribe Now
Afghanistan, Land of Opportunity
Afghanistan, Land of Opportunity