U.S. government will compensate missionaries shot down over Peru
"Our government is compensating the victims of terrorist attacks, so it seems very appropriate that the government compensate innocent victims of negligence on the part of the United States," Donald Davis, an attorney for the Association of Baptists for World Evangelism (ABWE), told the Associated Press yesterday. Apparently the Bush administration agrees, and will pay Baptist missionaries shot down over Peru last April. Davis says the ABWE initially asked for $35 million (that's asked for, not sued for), but settled for an undisclosed smaller amount. In addition, the Peruvian government will buy the ABWE a new plane and pay the medical expenses of pilot Kevin Donaldson. (The AP story says the U.S. "will compensate the family of an American missionary and her infant daughter who died," i.e., Jim Bowers. Surely Donaldson is part of the deal, too, but the AP suggests he isn't.)
White House press secretary Ari Fleischer also issued a non-apology for the incident yesterday. "The United States Government and the Government of Peru deeply regret this tragic event," said a written statement. "We offer our sincere condolences to the victims and their families. Neither government believes that Mr. Donaldson was responsible for this incident. It should never have happened, and efforts are underway to prevent such tragedies in the future."
While signing books in Grand Rapids, Michigan (near his hometown of Muskegon), on Saturday, Bowers apparently knew of the deal. But he's still clearly upset. "There will be no justice served in this case, because the Peruvian Air Force officers and CIA operatives continue as usual with no repercussions," he told The Muskegon Chronicle. "They all have their jobs, didn't get a pay cut, didn't get reprimanded, didn't get anything. Everything continues as before."
In a separate story, the Chronicle reports that only three weeks after the initial publication of If God Should Choose: The Authorized Story of Jim and Roni Bowers, Moody Press is preparing for its third 10,000-copy printing. Profits from the book will help to build a sports complex in Peru, and Bowers says he wasn't looking to get rich from government compensation. "It should be obvious to all who know me and the other individuals involved that we would not consider any settlement money in a way other than missionary work," he said.
Expect more from the Chronicle, the ABWE Web site, and elsewhere today and tomorrow.
Google forced to remove links to anti-Scientology site
In an article snarkily titled "Cult forces Google to remove critical links," ZDNet reports that the hugely popular search engine is deleting links to propriety information on Xenu.net's "Operation Clambake: The fight against the Church of Scientology on the Net." Apparently the Scientologists have invoked the Digital Millennium Copyright Act: the same law that makes it a crime for Weblog to link to a site that tells readers how to make copies of DVDs. "Had we not removed these URLs," Google told the tech news site, "We would be subject to a claim for copyright infringement, regardless of its merits." This is very bad news, people. But don't blame Google: the Digital Millennium Copyright Act is, in Weblog's opinion, a very bad law.
Faith-based organizations work better
"Of the 25 existing studies of the effectiveness of faith-based service providers, or 'intentional religion,' 23 found that faith-based groups were more effective than their secular equivalents, with the remaining two studies finding no difference between them." That's just one of the findings in Objective Hope: Assessing the Effectiveness of Faith-Based Organizations, released by the Manhattan Institute for Policy Research and the Center for Research on Religion and Urban Civil Society at the University of Pennsylvania. Expect more on this story later, too.
More articles
Crime:
Education:
Science:
Evolution:
Bioethics:
Money & business:
Missions & ministry:
Music:
Pop culture:
Theology:
History:
Catholicism:
Other stories of interest:
Related Elsewhere
See our past Weblog updates:
March 20 | 19 | 18
March 15 | 14 | 13 | 12 | 11
March 8 | 7 | 6 | 5 | 4
March 1 | February 28 | 27 | 26 | 25
February 22 | 21 | 20 | 19 | 18
February 15 | 14 | 13 | 12 | 11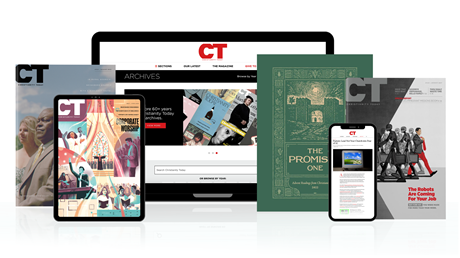 Subscribe to Christianity Today and get access to this article plus 65+ years of archives.
Home delivery of CT magazine
Complete access to articles on ChristianityToday.com
Over 120 years of magazine archives plus full access to all of CT's online archives
Subscribe Now
Peru Missionaries Get Money and 'Regret,' But No Apology
Peru Missionaries Get Money and 'Regret,' But No Apology