Fundamentalist leader Carl McIntire dies at 95
The term fundamentalist may be quickly falling out of fashion to describe conservative Christians who emphasize separation from a sinful culture, but during the fundamentalist-evangelical split of the post-World War II era, Carl McIntire was one of the most prominent people to wear the label proudly. He died Tuesday at age 95.
In his new Encyclopedia of Evangelicalism, Randall Balmer calls McIntire "the P.T. Barnum of American fundamentalism," a constant and colorful crusader against communism, ecumenism, and liberal theology—which he often saw as going hand-in-hand-in-hand. His 20th Century Reformation Hour broadcast was a major outlet for fundamentalism over the radio, and after a battle with the FCC, he launched a short-lived pirate station, Radio Free America. (Hear some of his sermons here.)
"I think you'd have to say that he was the most consistent fundamentalist of the 20th century," historian Martin Marty tells The Miami Herald. "Whatever he decided was the truth he followed to the very end, no matter how few friends or colleagues were left." He battled Billy Graham, Francis Schaeffer, Martin Luther King Jr., and just about every other major religious leader of his day. (A profile of McIntire by Balmer will appear in Christianity Today's May issue—subscribe now to receive it.)
D.C. Marathon means fewer process to church for Palm Sunday
Churches in downtown Washington saw attendance plummet yesterday because of the first-ever D.C. marathon. "This is one of the biggest Sundays of the year. The churches lose money as a result of that, that you never make up," the Rev. John Mack of First Congregational Church tells The Washington Post.
After the city realized it had scheduled the race on Palm Sunday, it sprinted to the churches to try to undo the damage. City managers suggested churches join together for an ecumenical service, but that was clearly unfeasible. "We like to be in our own place on Palm Sunday, one of the holiest days," pastor Jim Somerville of First Baptist Church explains to The Washington Times. For a while, it looked like the best case-scenario might actually come to pass: relatively few churches would be directly affected. But it was not to be—644 Catholics attended the 10 a.m. Mass at St. Matthew's Cathedral. Last year 1,108 came.
Some churches, however, had fun with the marathon. "I'm sure it's going to hurt our attendance, but we'll recover," said Bob Holum, pastor of Lutheran Place Memorial Church, whom the Post reports was wearing "a white robe and rainbow-colored stole [and] a black beret on his head" while he cheered the racers. "I think it's good for the city, and if it helps our chances of getting the Olympics, they uplift people as much as religion does," he said. (Now there's a message you want to hear from your pastor on Palm Sunday.)
City officials promise they'll never schedule the race for Palm Sunday again. Maybe someone should also remind them that the Sunday after it is off-limits too. (Oh, and in case you're wondering: local Andrey Kuznetsov won, outpacing the pace car and overcoming the organizers' errors in directing the course.)
Nigerian woman goes free
A Nigerian Shari'ah court today freed Safiya Husaini, who had been sentenced to be stoned to death for adultery. "The first court... that convicted her did not follow the appropriate procedure," said judge Mohammed Tambari-Uthman. "The police report also did not give all the necessary information related to the offence."
"Today I am happy. I thank God," Husaini told reporters. Her case drew worldwide attention to the horrors of the Islamic law in Nigeria's northern states. But don't celebrate yet. Just as Husaini was being freed, reports came of another woman in a nearby state who is also sentenced to death by stoning for adultery.
Related Elsewhere
See our past Weblog updates:
March 22 | 21 | 20 | 19 | 18
March 15 | 14 | 13 | 12 | 11
March 8 | 7 | 6 | 5 | 4
March 1 | February 28 | 27 | 26 | 25
February 22 | 21 | 20 | 19 | 18
February 15 | 14 | 13 | 12 | 11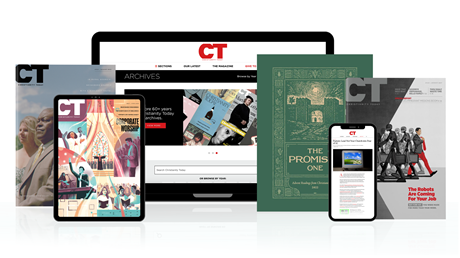 Subscribe to Christianity Today and get access to this article plus 65+ years of archives.
Home delivery of CT magazine
Complete access to articles on ChristianityToday.com
Over 120 years of magazine archives plus full access to all of CT's online archives
Subscribe Now
Carl McIntire, 'P.T. Barnum of Fundamentalism,' Dies at 95
Carl McIntire, 'P.T. Barnum of Fundamentalism,' Dies at 95