The U. S. Embassy in BogotÁ has warned Evangelical missionaries and churches in rural Colombia that they may be the targets of guerrilla attacks.
The warning follows the recent breakdown of peace talks between the government and the Revolutionary Armed Forces of Colombia (FARC).
In a statement circulated to resident missionaries throughout Colombia, the embassy said, "The U.S. Government is aware of information that the guerrillas may be targeting members of North American religious missions outside the major cities at this time. We urge all heads of missionary organizations in Colombia to contact their personnel in the field and alert them to this threat."
Embassy personnel told missionary security offices in BogotÁ that the major cities referred to in the statement were BogotÁ, Medellin, Cali, and the north coast cities of Cartagena and Barranquilla.
Missionaries said that they considered this alert to be much stronger than normal embassy warnings. The first notice came March 4, in a late-night phone call from a representative of the embassy to missionary agencies. Veteran missionaries said that they could remember only one other time when embassy officials relayed a specific warning by phone after hours.
"The embassy security department wants Americans who may be working in rural areas to dramatically increase their state of awareness, and to rethink whether or not their presence in those areas is absolutely necessary," reported Jim McCauley of Wycliffe Bible Translators who also works with the BogotÁ Liaison Committee, an inter-mission task force that keeps watch on security issues.
"There was a lot of panic among the missionaries after the alert was issued," McCauley said. However, after lengthy conversations with embassy security officials, he reported that not all missionaries in Colombia are in increased danger. The major concern is for those who are living or working in areas where there is subversive (guerrilla) activity. "Missionaries in those regions should rethink the importance of their presence in those areas," he said. "They should stay on high alert."
The BogotÁ Liaison Committee is made up of representatives of diverse missionary groups in Colombia, including Assemblies of God, Southern Baptist, Wycliffe Bible Translators, TEAM, Christian and Missionary Alliance and others.
"For now, most missionaries are staying (in the country)," reported Mary Ann Armet, who serves with the Latin America Mission in BogotÁ. "There are a few individuals who have left and others who are going to leave."
Armet said that some of the larger missions are asking their personnel not to attend church this coming weekend when local elections will be held throughout Colombia.
Southern Baptist missionaries "have been advised of the report," said John Magyar who has served with the Baptist's International Mission Board in Colombia for 31 years. "We have no plans but to be extra careful," he said.
"My read is that if you stay in the larger cities and are with someone who knows the limits, you will be as safe as driving I-95 at rush hour," he reported, referring to south Florida's notoriously unsafe interstate highway.
"I have seen it a lot worse than this," Magyar said. "If you just use common sense, stay in major cities, you will be as safe as in any third world country today."
The alert to missionaries followed a public announcement issued by the U.S. State Department on February 23 warning American citizens to avoid all travel to Colombia. The department also warned that, "Americans already residing or traveling in Colombia are advised to exercise caution and vigilance under the current circumstances."
The warning also followed a political rally earlier this year where presidential candidate Álvaro Uribe VÉlez spoke to a large crowd sponsored by the International Charismatic Mission. Uribe, who is the leading candidate according to polls, has advocated a tough, military stand against the various guerrilla groups in Colombia's 40 year-long civil war.
Following his address, rumors circulated that FARC guerrillas had named evangelical churches as military targets. Those rumors were confirmed when a major evangelical association received information directly from FARC that evangelical pastors and churches are considered military targets because of alleged political involvement.
While most missionaries live outside of the former guerrilla enclave, the renewed military action and fear of guerrilla reprisals have left many of them wary.
"Tension is up, of course, and everyone is very aware of the moment-by-moment news being broadcast," said Latin America Mission (LAM)-Canada missionary Beverly Ramirez from her home in Armenia, northwest of the most intense military action. "All across the country we are being advised not to travel, either by air or by road, unless absolutely necessary. We are also advised, if at all possible, to stay close to home, work and school."
Stephen Armet of LAM, which works in partnership with churches and Christian agencies throughout Latin America, said that most of the larger missions have contracted full-time security people who have also sent notices of a high security alert.
"This means to have your paperwork in order and be ready to leave quickly if you must," he said. "They also advise to avoid travel in any 'red zones' where guerrilla, ELN (National Liberation Army) or FARC may be present in force."
The Miami-based Latin America Mission has notified all of their missionaries in Colombia that the Mission stands ready to help them should they feel the need to evacuate the country. "We are not 'telling you' to leave," Member Care Director Connie Befus wrote to mission personnel. "We are urging you to exercise extreme caution, use your best judgment, and we stand ready to help if you feel you should evacuate."
Prolonged talks between the government and FARC leaders collapsed on February 19 after the rebel group hijacked a national airliner and kidnapped a senator.
Colombian president Andres Pastrana angrily ordered the army to retake a guerrilla enclave that Pastrana had ceded to the FARC in late 1998 as a concession aimed at spurring peace talks.
Some 10,000 Colombian soldiers were deployed in the military mission, dubbed "Operation Thanatos" after the Greek god of death. Troops took control of five towns within days after guerrilla forces fled into the jungle.
Guerrillas have responded by numerous attacks on electricity supply lines and telephone communications, leaving much of the country without light or phone service.
The 38-year-old guerrilla conflict has claimed more than 40,000 lives in the past decade.
Related Elsewhere
For more news coverage of the events in Colombia, see Christianity Today'sWorld Report and Yahoo! full coverage.
Previous Christianity Today articles on Colombia include:
Risking Life for Peace | Caught between rebels, paramilitaries, and crop-dusters, peacemaking Christians put their lives on the line in violent Colombia. (September 7, 2001)
Hostage Pastor Released Unharmed In Colombia | Wife pledges to stay in Colombia because the kidnappers cannot stop the Lord's work. (August 20, 2001)
Fate of Kidnapped Colombian Pastor Still Unknown | FARC suspected, but so far there has been no word from Gomez's abductors. (March 13, 2001)
Colombian Guerilla Offers No Clues to Missionaries' Fate | FBI says that Medina has no information on kidnapped New Tribes missionaries. (Feb. 23, 2001)
Another Prominent Pastor Kidnapped in Colombia | Family believes kidnapping is God's will so that Gomez's can witness to his abductors. (Feb. 23, 2001)
Article continues below
Break in Missionary Kidnapping Case | Captured Colombian guerilla may hold key to U.S. missionaries' fate. (Dec. 4, 2000)
Colombian Pastor Released After Paying Ransom | Ransom arrangement a tough decision for churches and missions. (Sept. 9, 2000)
Plan for Peace in Colombia Is a Plan 'For Death,' Say Church Activists | Will U.S. military assistance in destroying coca fields only increase violence? (Aug. 15, 2000)
Death in the Night | Colombia's pastors endure extortion, kidnappings, and threats as they plant churches and help the poor in a war zone. (June 6, 2000)
Colombia's Bleeding Church | Despite the murders of 120 church leaders, Christians are fighting for peace in one of the world's most violent nations. (May 18, 1998)
Fate of Kidnapped Missionaries Still Unresolved | Colombia remains thought to end questions are not human after all. (Mar. 29, 2000)
Twenty-five Pastors Killed This Year (Oct. 4, 1999)
Christians Held As Hostages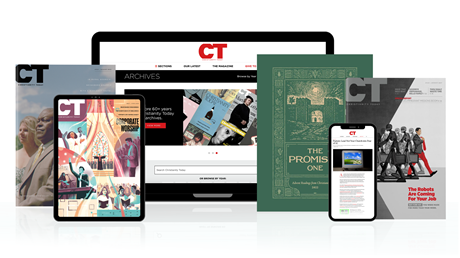 Annual & Monthly subscriptions available.
Print & Digital Issues of CT magazine
Complete access to every article on ChristianityToday.com
Unlimited access to 65+ years of CT's online archives
Member-only special issues
Subscribe
Missionaries May Be Target Of FARC Guerrillas
Missionaries May Be Target Of FARC Guerrillas