Patrick Henry College denied accreditation because of creationism
The American Academy of Liberal Education has denied accreditation to Patrick Henry College, a two-year-old college in Purcellville, Virginia, designed for home-schooled students. In a letter to the school, AALE President Jeffrey D. Wallin took issue with the school's Statement of Biblical Worldview, especially its mandate that "any biology, Bible or other courses at PHC dealing with creation will teach creationism from the understanding of Scripture that God's creative work, as described in Genesis 1:2-31, was completed in six 24-hour days." (All faculty must adhere to the statement.) The order "appears to restrict curriculum content and teaching to a degree that inhibits the acquisition of basic knowledge," Wallin said, and AALE accreditation depends on assurances that "liberty of thought and freedom of speech are supported and protected, bound only by such rules of civility and order as to facilitate intellectual inquiry and the search for truth."
"AALE's decision was shocking in several respects," college president Michael Farris said in a press release. "They claim we violate their standards on freedom of thought, yet … they are denying PHC its freedom to think, believe, and speak differently from the norm of academia. … AALE has engaged in blatant viewpoint discrimination."
The school will both appeal the decision and pursue accreditation with another group, the Southern Association of Colleges and Schools.
Meanwhile, the debate over academic freedom continues. "Voluntary groups [such as the academy] can make up guidelines however they want," Wheaton College's Mark Noll told The Washington Post. "But the question about academic freedom is a tricky one. It's fair to say that academic freedom has always been relative; it's never been absolute. … What I wish people who champion academic freedom would realize is that they do not believe in it absolutely."
Pat Robertson is selling his racehorses
"I am sorry that my fondness for the performance of equine athletes has caused you an offense," broadcaster Pat Robertson said in a letter to those who opposed his ownership of racehorses. "Therefore, for your sake and the sake of others like you, I have set in motion the necessary plans to dispose of all my thoroughbred racing and breeding stock between now and the breeding sale in Kentucky in November."
Letters poured in after The New York Times noted Robertson's racing interests earlier this month. He still says there's nothing wrong with owning and racing horses but Christian Broadcasting spokeswoman Angell Watts explains, "He wants to be above reproach, so he'll do whatever he has to do."
Articles in The New York Times, Associated Press, and The Virginian-Pilot don't say if Robertson has been receiving any letters about his partnerships with dictators, gold and diamond-mining operations, oil refining, or other controversial business interests.
More articles
Mideast conflict:
Politics:
Church & State:
Life ethics:
Church life:
Books:
Pop culture:
Other stories of interest:
Related Elsewhere
See our past Weblog updates:
May 14 | 13
May 9 | 8 | 7 | 6
May 3 | 2 | 1 | April 30 | 29
April 26 | 25 | 24 | 23 | 22
April 19 | 18 | 17 | 16 | 15
April 12b | 12a | 11 | 10 | 9 | 8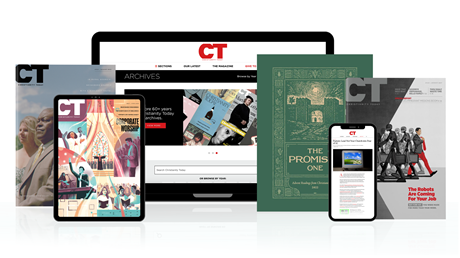 Subscribe to Christianity Today and get access to this article plus 65+ years of archives.
Home delivery of CT magazine
Complete access to articles on ChristianityToday.com
Over 120 years of magazine archives plus full access to all of CT's online archives
Subscribe Now
Accreditor Says Creationism Mandate Violates Academic Freedom
Accreditor Says Creationism Mandate Violates Academic Freedom