Calif. Supreme Court: Religious organizations can regulate religious speech
There was a very important decision at the California Supreme Court yesterday, but it doesn't fit into easy categories of religious freedom. It's good news for religious organizations, but it came because an evangelical was fired from a secularized Catholic medical center.
Terence Silo was a file clerk at the Catholic Healthcare West Medical Foundation when, in his words, "I gave my life to Christ. My heart was filled with the Holy Spirit, and my life was changed." Excited about his new relationship with God, he started telling coworkers and patients.
His employer wasn't pleased. The clinic, it turns out, is only nominally Catholic, though it is operated by the Roman Catholic Church. It eschews religious symbols, doesn't have any services or Bible studies, and doesn't even have a chaplain or chapel. And Silo's religious talk was forbidden. "He was counseled … that he should not use the word 'God … unless it's off the clock,'" court documents say.
Eventually Silo was fired. The clinic said it was over poor performance, not religion, but a Superior Court jury disagreed, awarding him damages and attorney fees. A California Court of Appeal upheld the judgment, noting that the state constitution forbids religious discrimination.
The California Supreme Court, however, unanimously overturned the verdict yesterday. "We can discern no fundamental public policy that places limits on a religious employer's right to control such speech," wrote Justice Carlos R. Moreno (PDF | DOC | HTML). "The public policy against religious discrimination in employment must be qualified by the public policy of permitting religious employers considerable discretion to choose employees who will not interfere with their religious mission or message."
"The impact of this is great for religious institutions," Jeffrey Berman told the Los Angeles Times (he filed amicus curiae briefs in the case for religious organizations). "It indicates that the California Supreme Court is sensitive to the issue of religious autonomy and to both the state and federal constitutional rights of religions to regulate themselves."
Let's hope that the next time a Christian organization invokes such rights, it does so to further, not hinder, the kingdom of God.
Do Christian colleges' faith statements violate academic freedom?
A Christian college is allowed to fire professors for disagreeing with its statement of faith (see previous item), but, reports The Chronicle of Higher Education, they don't do so without criticism.
"The ordeals of … professors at the more than 100 evangelical Protestant institutions in the United States that require such faith statements—orally or in writing—have spurred charges that they violate academic freedom," writes Beth McMurtrie. "Do they, in fact, defy the academic ideal of open intellectual inquiry? Are the statements—some of them generic—subject to such broad interpretation that they can be used to punish whatever teaching or lifestyle choices administrators may dislike?"
The occasion for the article is Patrick Henry College's denial of accreditation because it requires all teachers to believe and teach seven-day creationism. But McMurtrie's article touches on just about every major conflict over Christian college faith statements in the last five years. There's Wheaton College's dismissal of anthropology professor Alex Bolyanatz, Seattle Pacific University's rescinding an offer to English professor Scott Cairns, Earl Ross Genzel's forced resignation from Messiah College, and successful battles by Greg Boyd at Bethel College and Howard J. Van Till at Calvin. This is an article that goes beyond generalizations and actually names names.
On Thursday afternoon The Chronicle of Higher Education will host an online discussion with former Calvin president Anthony J. Diekema, author of Academic Freedom and Christian Scholarship. It may be a very lively debate. But with the publication of this article, Weblog is sure that the conversation and debate won't be starting then. (Weblog is interested in readers' responses to the article, especially from faculty and administrators at Christian colleges.)
Human cloning patented
The U.S. Patent Office has awarded a patent on a "method for producing a cloned mammal," including "human oocytes," the anti-cloning International Center for Technology Assessment revealed yesterday.
"It is horrendous that we would define all of human life as biological machines that can be cloned, manufactured and patented," ICTA executive director Andrew Kimbrell told The New York Times.
The Center for Bioethics and Human Dignity agrees. "The possible patenting of human beings, no matter their age, size or stage of existence, would be a crushing blow to essential human rights and dignity," CBHD president John F. Kilner said in a press release. "What is slavery other than one person owning another? By giving a company ownership of human beings produced through a cloning process, this patent apparently gives government approval to a new form of slavery. … There must be a legislative ban on this kind of practice. Human beings are not property."
Sen. Sam Brownback (R-Kan.) agrees. He tells the Times that he'll introduce a bill prohibiting patents on human beings, including embryos. "I think the patent office will appreciate having that clarity, given the applications that are coming into the patent office," he said. Good luck, Senator. The Senate is having a hard enough time as it is deciding how much cloning it should ban.
Belgium becomes second country to legalize euthanasia
In other major bioethics news, Belgium's parliament voted 86-51 to allow assisted suicide. The Netherlands made a similar move in April. As expected, the country's Roman Catholic bishops condemned the action. "All this is directly opposed to the fundamental respect for human life that lies at the heart of a society based on human dignity," they said.
The country's doctors also criticized the bill. "Doctors know that this law is simply flawed and find it totally unacceptable that individuals who are not terminally ill will also be eligible for euthanasia," Marc Moens, vice chairman of the Belgian medical chamber ABSYM, tells Reuters. Three quarters of the nation's doctors opposed the law.
Life ethics:
Politics and law:
Church and state:
Slavery:
Holy Land conflict:
Church abuse scandal:
Sex & marriage:
School expels stripper's daughter:
Missions and ministry:
Church life:
Pope John Paul II:
Other stories of interest:
Related Elsewhere
See our past Weblog updates:
May 16 | 15 | 14 | 13
May 9 | 8 | 7 | 6
May 3 | 2 | 1 | April 30 | 29
April 26 | 25 | 24 | 23 | 22
April 19 | 18 | 17 | 16 | 15
April 12b | 12a | 11 | 10 | 9 | 8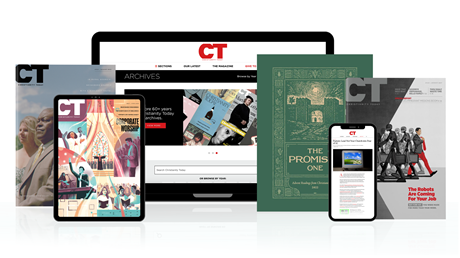 Annual & Monthly subscriptions available.
Print & Digital Issues of CT magazine
Complete access to every article on ChristianityToday.com
Unlimited access to 65+ years of CT's online archives
Member-only special issues
Subscribe
Religious Organizations Allowed to Discriminate on Basis of Religion
Religious Organizations Allowed to Discriminate on ...