Missionaries Martin and Gracia Burnham have been held captive in the Philippines by the Muslim guerilla group Abu Sayyaf for more than a year. Those of us who have never faced such horror can perhaps gain insight into their situation by learning about captive Christians from the past.
The Apostle Paul spent roughly one-quarter of his missionary career in prisons. His jailers were Roman authorities, not jungle guerillas, but this didn't improve his conditions. As John McRay wrote in CH issue 47:
Roman imprisonment was preceded by being stripped naked and then flogged, a humiliating, painful, and bloody ordeal. The bleeding wounds went untreated; prisoners sat in painful leg or wrist chains. Mutilated, blood-stained clothing was not replaced, even in the cold of winter . …
Most cells were dark, especially the inner cells of a prison, like the one Paul and Silas inhabited in Philippi. Unbearable cold, lack of water, cramped quarters, and sickening stench from few toilets made sleeping difficult and waking hours miserable . …Because of the miserable conditions, many prisoners begged for a speedy death. Others simply committed suicide.
In settings like this, Paul wrote encouraging—even joyful—letters and continued to speak of Jesus. Paul was eventually executed during Emperor Nero's sadistic reign.
In the seventeenth century, when England was trying to decide what kinds of Christians it would tolerate, a country pastor named John Bunyan was arrested for unauthorized preaching. He refused to stop his ministry, so he was imprisoned for 14 years, separated from his second wife (who lost a baby as a result of the trauma) and four children from his first marriage.
Bunyan described his feelings in the autobiographical Grace Abounding to the Chief of Sinners:
The parting with my wife and poor children hath oft been to me in this place as the pulling the flesh from my bones; and that not only because I am somewhat too fond of these great mercies, but also because I should have often brought to my mind the many hardships, miseries, and wants that my poor family was like to meet with, should I be taken from them, especially my poor blind Child, who lay nearer my heart than all I had besides.
Bunyan strained to find blessing in his situation, too. He wrote, "Jesus Christ also was never more real and apparent than now; here I have seen him and felt him indeed." Imprisonment also gave Bunyan ample time to work on his literary masterpiece, Pilgrim's Progress. Bunyan was eventually released.
One of the twentieth century's best-known religious prisoners was Dietrich Bonhoeffer. Bonhoeffer watched as Nazis seized power in his native Germany, and though he had a chance to escape to America, he decided that Germany's Confessing Church—a group of Christians who had not succumbed to Hitler's message—needed him. He wrote, preached, taught at a secret seminary, helped Jews flee to safety, and joined a plot to kill Hitler. When the plot failed, the conspirators, including Bonhoeffer, faced imprisonment and death.
Bonhoeffer's incarceration produced Letters and Papers from Prison. It includes a poem called "Who Am I?" in which he contrasts his brave reputation with his desperate feelings. He describes himself as:
restless and longing and sick, like a bird in a cage,
struggling for breath, as though hands were compressing my throat,
yearning for colors, for flowers, for the voices of birds,
thirsting for words of kindness …
Bonhoeffer was hanged April 9, 1945. Three weeks later, Hitler committed suicide. Bonhoeffer missed Allied liberation by a month.
We don't yet know how the Burnhams' situation will turn out. We don't even know much about their current condition. Their feelings may be quite different from Paul's, Bunyan's, or Bonhoeffer's. Thankfully, they share the same faith.
Elesha Coffman is managing editor of Christian History magazine.
Related Elsewhere:
More Christian history, including a list of events that occurred this week in the church's past, is available at ChristianHistory.net. Subscriptions to the quarterly print magazine are also available.
Past Christian History issues including those referenced above (issues 11, 32, and 47) can be purchased online.
New Tribes Mission Online has regular updates on the Burnhams.
For further developments on the Burnhams, see Christianity Today's Weblog, The Wichita Eagle, Yahoo's full coverage, and PrayThemHome.com.
Christianity Today articles on the Burnhams include:
Weblog: On Anniversary of Burnhams' Abduction, U.S. Says It's Pulling Out of Philippines | Friends, family, and others pray for the missionary couple held hostage. (May 28, 2002)
Free the Burnhams | A year after the missionaries' abduction, it's time to bring them home. (May 24, 2002)
Weblog: The Burnhams, One Year and Counting (May 24, 2002)
Families of Hostage Couple Wait | Men's prayer group for Burnhams perseveres six days a week. (Feb. 26, 2002)
Article continues below
Agency Disputes Rumors about Burnhams | All indications say the hostages are still being held captive in the jungles of Basilan Island. (Feb. 26, 2002)
Missionary Couple Remains in Limbo | The apparently poor condition of the Burnhams has given the case a new urgency. (Jan. 17, 2002)
Kidnapped Missionaries Reported Safe | But danger increasing for Burnhams—and for workers around the world. (June 26, 2001)
New Tribes Missionaries Kidnapped | Muslim rebels in Philippines threaten to kill Martin and Gracia Burnham and 18 others if military intervenes. (May 29, 2001)
Christian History Corner appears every Friday at ChristianityToday.com. Previous editions include:
Of Church, State, and Taxes | If you want to know what the establishment of religion looks like, check out church history, not American tax law. (May 17, 2002)
Mom, We Salute You | Mother's Day and Memorial Day were meant to go together. (May 10, 2002)
Christ, Culture, and History | Is the "main character" in the church's story God, transforming faith, or an inspired yet wayward community? (May 3, 2002)
Moving Targets | Evangelizing on-the-go Americans only seems harder than it used to be. (Apr. 26, 2002)
The Profligate Provocateur | In the twelfth century, an intellectual challenge to church authority proved much more dangerous than a sex scandal. (Apr. 19, 2002)
'Hier Stehe Ich!' | When Martin Luther stood up for his ideas at the Diet of Worms, did he really say, "Here I stand"? (April 12, 2002)
National Makeover | Washington's struggle to sell the American image overseas illustrates how sharply today's reality differs from seventeenth-century ideals. (Apr. 5, 2002)
Easter Eloquence | The holiday has inspired great words from some of history's greatest preachers. (March 28, 2002)
The Other Holy Day | In the rush toward Good Friday and Easter, don't forget Maundy Thursday. (March 22, 2002)
The Politics of Patrick | In the field of Irish history, every turn of phrase hints at the author's spin. (March 15, 2002)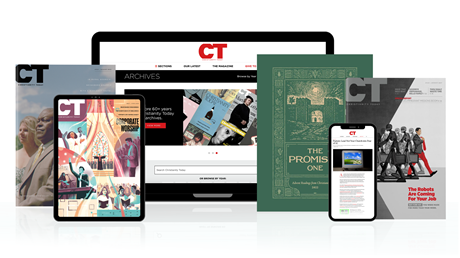 Annual & Monthly subscriptions available.
Print & Digital Issues of CT magazine
Complete access to every article on ChristianityToday.com
Unlimited access to 65+ years of CT's online archives
Member-only special issues
Subscribe
Captive Christians
Captive Christians