Calvary Chapel says Focus on the Family is inappropriate
KWVE, a California Christian radio station run by Chuck Smith's Calvary Chapel of Costa Mesa, has dropped Christian radio's most popular program, Focus on the Family, after 17 years. The broadcasts, hosted by James Dobson, "were not always reflecting the kind of content that fit with our primary purpose," the church board of directors explains on the radio station's website. The letter continues:
It all came to a head with a series of programs Focus broadcast earlier this year. The programs were called, "Women and Sexuality." In our opinion these three programs were not appropriate for our general audience. One of the programs was very verbally graphic concerning marital sex. In a portion of the program one of the women being interviewed declared, "We are not saying that a woman's experiencing of a physical orgasm is not important, but that can't be the total emphasis of the relationship." Dr. Dobson then asked, "But what about the use of vibrators in achieving an orgasm? From the aspect of a godly woman, does the Bible have anything to say about vibrators?"
It should be noted that the broadcasts began with a disclaimer that the content was not appropriate for young children, as Focus on the Family programs often do when discussing sexuality, abortion, or other potentially troubling topics. (But not always — today's broadcast, "A Message to Teens About Sex," doesn't have a warning, but is unlikely to raise any hackles.)
The letter also said, "The purpose of the station is not to promote Psychology as the answer to a person's problems, but to bring people into a deeper walk with God," but it's unclear from the context whether the church opposes Christian psychology — not uncommon among some evangelicals — or just doesn't think it fits with its station format.
Focus on the Family hasn't responded with a press release, but Paul Hetrick, the organization's vice president of media relations, told Charisma News Service that Focus was "shocked and surprised" by the decision.
The "Women and Sexuality" broadcasts, which aired in mid-February, are no longer available for free online, but if you're looking for the answer to Dobson's question, check out Christianity Today sister publication Marriage Partnership. "There is a vast array of possible sexual practices for married couples that are not mentioned at all in Scripture (we can find no reference to Internet pornography, vibrators, or videos)," says a Spring 2001 article by Louis and Melissa McBurney. "So, since we aren't likely to find a definitive answer, the best we can do is find the principles God has given us and apply them to the cultural setting we're living in." Marriage Partnership's "Real Sex" column, written by the McBurneys, is a good place to start.
Gong Shengliang, other Chinese Christians sentenced to life in prison
As Weblog noted earlier, five leaders of the banned South China Church had their death sentences overturned and were given new trials. Now, instead of being charged for leading an "evil cult," Gong Shengliang was accused of rape and battery — charges that observers say are a fiction. Nevertheless, the court found Gong Shengliang guilty and sentenced him to life in prison. Two other church leaders were sentenced to life for battery, and another two were given 15-year sentences. (Four others who had been convicted earlier on the cult charges were freed completely, but The New York Times quotes relatives saying they "showed evidence of 'brutal mistreatment.'")
"The methods are diversifying away from cult legislation and toward economic and criminal prosecutions as a way of attacking such groups," Xiao Qing, Executive Director of New York-based Human Rights in China, told the Associated Press.
World magazine, sourcing Voice of the Martyrs, says female church members were beaten by Chinese authorities to force them to claim Gong raped them.
Pakistan's Islamic parties gain in election
Pakistani Christians had reasons to celebrate and mourn yesterday's elections. The good news was that it was the first election where they could vote for whoever they wanted to, regardless of the candidate's religion. Earlier, under what many called a "religious apartheid" system, Christians could only vote for Christian candidates — which kept them from being politically influential.
However, the main story coming out of yesterday's elections was not the triumph of Christians, but that of hardline Muslim parties. The New York Times says the vote "could complicate the American-led campaign against terrorism." But so far, Weblog hasn't seen any commentary on what the vote might mean for the war against terrorism in Pakistan itself, as militant Muslims have attacked Christians throughout the country. Keep an eye on Pakistan Christian Post for news related to the election.
More articles
Persecution and violence:
State Department and religious freedom:
War with Iraq:
Politics:
Courts and law:
Judaism and Israel:
Jerry Falwell:
Life ethics:
Toumai skull:
Church life:
Music:
Film:
Outrage over cartoon:
Harry Potter:
Mother Teresa:
Sex abuse cases:
Other stories of interest:
Related Elsewhere
Suggest links and stories by sending e-mail to weblog@christianitytoday.com
See our past Weblog updates:
October 10 | 9 | 8 | 7
October 4 | 3 | 2 | 1 | September 30
September 27 | 26 | 25 | 24 | 23
September 19 | 18 | 17 | 16
September 13 | 12 | 11 | 10 | 9
September 6 | 5 | 4 | 3
August 30 | 29 | 28 | 27 | 26
August 23 | 22 | 21 | 20 | 19
August 16 | 15 | 14 | 13 | 12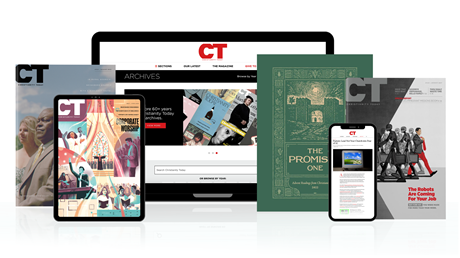 Annual & Monthly subscriptions available.
Print & Digital Issues of CT magazine
Complete access to every article on ChristianityToday.com
Unlimited access to 65+ years of CT's online archives
Member-only special issues
Subscribe
Calvary Chapel Radio Drops 'Graphic' Focus on the Family
Calvary Chapel Radio Drops 'Graphic' Focus on the Family