Cobb County adopts new evolution policy
The Cobb county school board voted last night to allow the teaching of alternate origins of species theories. Many of this morning's headlines on the vote announce that creationism is now allowed in the district's classrooms. The Associated Press says, "Ga. school district OKs creationism." CNN: "Ga. school board OKs teaching creationism."
This is exactly the interpretation of the board's actions that board chairman Curt Johnston apparently worried about when writing the board's only statement after making its decision. He said:
We seem to have been caught in the middle of a dispute between various parties who apparently want to use our curriculum to promote their own views. We expect teachers to continue to teach the theory of evolution. We do not expect teachers to teach creationism … Religion has no place in science instruction. The purpose of this policy is to foster critical thinking among students to allow academic freedom consistent with legal requirements to promote tolerance and acceptance of diversity of opinion and to ensure a posture of neutrality toward religion.
The new policy admits that evolution and other theories of origins are regularly debated and challenged in the science community. Thus, it allows teachers to show this debate in order "to foster critical thinking among students, to allow academic freedom consistent with legal requirements, to promote tolerance and acceptance of diversity of opinion, and to ensure a posture of neutrality toward religion."
In a broad-based curriculum, the policy reads, the "discussion of disputed views of academic subjects is a necessary element of providing a balanced education, including the study of the origin of species."
The much-anticipated board vote comes after a parent sued the district for distributing science books with disclaimers. Stickers inside the books warned that evolution should be critically evaluated because it is a theory and not a fact.
When the school board looked at its old policy on evolution instruction, discussion turned to amending it to include other theories. At the time, Johnson said the board wanted to provide open discussion in the classroom. His hope was that the policy would clarify for teachers what they could discuss.
The parent suing the district reacted to the new policy by saying, "I'll see you in court."
Other evolution stories:
House passes abortion bill protecting hospitals
The House of Representatives has approved a bill that would allow hospitals and insurance companies to deny to perform or pay for abortions without the threat of losing federal funds. The Abortion Non-Discrimination Act (H.R.4691) passed on Wednesday in a 229-189 vote mainly down party lines.
"This bill provides important protections for the conscience rights of healthcare professionals and providers," said Dr. David Stevens, executive director of the Christian Medical Association in a press release. "No one should be forced to violate their conscience by being coerced to take part in abortion."
The bill amends 1996 legislation (42 U.S.C. '238n), which gave health care entities protection against anti-discrimination suits if they declined to train in or perform abortions. The weakness of this legislation was vague language. In application, it has often only covered residency programs and training—and not healthcare professionals or hospitals themselves.
The bill is also significant for Catholic hospitals that merge with secular hospitals. Abortion groups have pressured the staff of the new institution to provide abortions because they were formerlyavailable at the secular hospital.
Focus on the Family calls this a major victory at a crucial time for pro-life advocates. However, observers don't expect it to survive the Democrat-held Senate. The bill may not even reach the Senate floor this year.
Before the House vote this week, President Bush endorsed the bill: "This legislation makes clear that they may not be subjected to discrimination by the federal government, or by any state or local government … because they oppose or choose not to participate in abortions or abortion training."
Other stories on abortion include:
Discussions on physical abuse and punishment
Three extreme cases of beating children have created new discussion of physically punishing youth. One case is a trial in Toronto against a nun who regularly beat children. While the cases of two mothers who recently beat their children in public are more about irrational temper than physical punishment, they have been the subject of interesting columns—especially the case of Madelyne Gorman Toogood. She beat her daughter in a department store parking lot (and was recorded by a security camera).
Columnists are discussing when a child should be pulled from a home, the tendency to rationalize sins, and when individuals should interfere in troublesome situations. In The Chicago Tribune, Focus on the Family's vice president of medical outreach gives a qualified endorsement of spanking.
Darby Christopher wrote this week for The Atlanta-Journal Constitution that cases like Toogood's have taken away the "gray areas" of parenting. "A parent either treats their offspring with the utmost patience and respect at all times," she writes. "Or abuses them, necessitating their removal from the home."
She argues that all parents lose their temper and the public needs to look at itself. Christopher writes:
As a culture, we are like the religious zealots who came to Jesus wanting to stone a woman caught in the act of adultery, only now we have a woman caught losing control and striking her child. To paraphrase Jesus' response, if there is a parent among us who without fear or hesitation would allow the world to view all of their parenting moments on videotape, may he or she cast the first stone.
More articles
Bioethics:
Berkeley study:
Books:
Media:
Education:
Other religions:
Interfaith relations:
Abraham:
Church life:
Christians and Israel:
Politics and law:
Persecution and violence:
Crime:
Church and state:
Other stories of interest:
Related Elsewhere
Suggest links and stories by sending mail to weblog@christianitytoday.com
See our past Weblog updates:
September 26 | 25 | 24 | 23
September 19 | 18 | 17 | 16
September 13 | 12 | 11 | 10 | 9
September 6 | 5 | 4 | 3
August 30 | 29 | 28 | 27 | 26
August 23 | 22 | 21 | 20 | 19
August 16 | 15 | 14 | 13 | 12
August 9 | 8 | 7 | 6 | 5
August 2 | 1 | July 31 | 30 | 29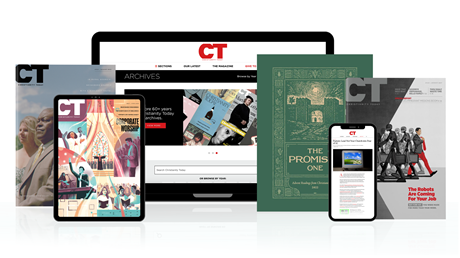 Annual & Monthly subscriptions available.
Print & Digital Issues of CT magazine
Complete access to every article on ChristianityToday.com
Unlimited access to 65+ years of CT's online archives
Member-only special issues
Subscribe
School Board Allows Evolution Alternatives
School Board Allows Evolution Alternatives