"Given that the United States is repeatedly said to be a religious country and that over 80 percent of its citizens are reported to be Christians, it is interesting how little has been made of the declarations by so many Christian leaders and ethicists that the Bush Administration's proposed war against Iraq is unjust and immoral," New York Times columnist Peter Steinfels wrote in his "Beliefs" column Saturday.
He spoke a bit too soon. The major newspapers seem to have all covered religious leaders' responses over the weekend.
For example, The Washington Post reported, "Thus far, the religious community has tended to be critical of Bush's war rhetoric. … But the president also has received support from leaders of the fastest-growing segment of religion in the United States — evangelical Christianity."
Most such articles echo our website's September 4 opinion roundup on Iraq, quoting the Southern Baptist Convention's very hawkish Richard Land and the National Association of Evangelicals' more reserved Rich Cizik. (Steinfels is the only one, however, to quote Christianity Today's editorial.)
Some voice is given to pacifists like Stanley Hauerwas, but the focus is on just war theory. See, for example, the Los Angeles Times's Saturday article on Christians' differences over how just war theory applies to Iraq. A Wall Street Journal editorial (subscription required) puts particular focus on just war theory's requirement that war must be waged "by a legitimate authority." "Maybe we missed the revelation, in Thomas Aquinas or elsewhere, that no war is just unless it is sanctioned by the United Nations Security Council," the paper says. "There are any number of legitimate arguments against a war in Iraq, prudential as well as principled. We've published some in these pages, and we certainly respect pacifism rooted in religious conscience. But since when did multilateralism become the linchpin of just-war theory?"
Mainline churches are very dovish on Iraq — even some of those that gave qualified support to U.S. military action in Afghanistan. Steinfels counts them off: the United Methodist Church, the Episcopal Church, the Evangelical Lutheran Church in America, the Presbyterian Church (U.S.A), the Orthodox Church in America, the African Methodist Episcopal Church, the Christian Church (Disciples of Christ), and the United Church of Christ, the National Council of Churches, the United States Conference of Catholic Bishops, the World Council of Churches, the Anglican Consultative Council (leaders of 70 million Anglicans), the Lutheran World Federation, the Vatican, and the incoming Archbishop of Canterbury.
"Many of these church bodies are habitual critics of American foreign policy and military actions, and people in their pews … do not necessarily pay much heed to their leaders' statements," Steinfels writes. "But some of these groups, the Catholic bishops, for instance, offered a degree of support for the war in Afghanistan that they are distinctly withholding now. Something similar can be said of the more than 100 Christian ethicists from seminaries and universities who released a simple statement on Wednesday affirming a 'moral presumption against a pre-emptive war with Iraq by the United States.'"
In a Washington Times op-ed piece, Hoover Institution fellow, former pastor, and former Christianity.com CEO David Davenport takes the ethicists' statement with a grain of salt. "That Christians could be marshaled to oppose war is hardly news. There have always been strong strains of pacifism, conscientious objection, and antiwar thought in religious communities. … Indeed, why did they rally only 100 Christian ethicists? To be fair, this number would be substantially reduced if we removed the pacifists whose theology would preclude all wars and those whose politics are anti-Bush."
But Davenport doesn't wholly reject the statement. "The studied opinion of 100 Christian ethicists about the morality of a war is an important word, but not the last word on the matter. There is ample room for Christians, and others, to find solid moral ground for military action against Saddam," he writes. "Sometimes Christianity demands its followers to be proactive, not merely reactive or passive. Frequently it requires tough choices between shades of good and evil. Most of all, it requires us to adapt ancient moral principles to modern realities, which fairly includes the pre-emptive removal of weapons of mass destruction, as well as the evildoer who controls them."
Meanwhile, Henry G. Brinton, pastor of Fairfax Presbyterian Church, writes in The Washington Post, "It is hard for me to chart a straight course for myself and my parishioners when respected religious leaders are recommending an approach that is so different from the president's. … For a worldwide Christian church that rarely agrees about anything, this is quite a consensus. … The president needs to address these misgivings, using both political and theological language, if he is to win the support of Christian leaders at home and abroad."
It's not just a problem in the U.S., either. The Daily Telegraph of London reports that Prime Minister Tony Blair will call a "faith summit" on the issue. "We've got a tricky situation at the moment," an unnamed official who is setting up the summit said. "The peace-loving Christians and the Muslims are getting jittery. We need to get them in and calm them down. Tony agrees."
Bush announces fetus rights rule:
Politics and law:
Mychal Judge:
Missions and ministry:
Bible:
Clergy sex abuse:
Related Elsewhere
Suggest links and stories by sending mail to weblog@christianitytoday.com
See our past Weblog updates:
September 30
September 27 | 26 | 25 | 24 | 23
September 19 | 18 | 17 | 16
September 13 | 12 | 11 | 10 | 9
September 6 | 5 | 4 | 3
August 30 | 29 | 28 | 27 | 26
August 23 | 22 | 21 | 20 | 19
August 16 | 15 | 14 | 13 | 12
August 9 | 8 | 7 | 6 | 5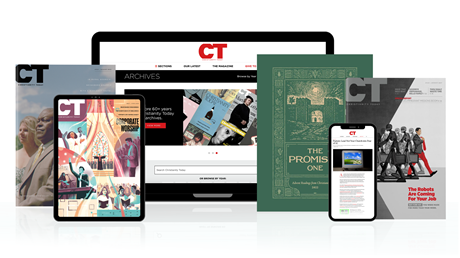 Annual & Monthly subscriptions available.
Print & Digital Issues of CT magazine
Complete access to every article on ChristianityToday.com
Unlimited access to 65+ years of CT's online archives
Member-only special issues
Subscribe
Religious Leaders Get Heard on Iraq
Religious Leaders Get Heard on Iraq