At the height of the conflict with Iraq this spring, Riah Abu Al-Assal, an Anglican bishop in Jerusalem spoke ominously about the future of Christians in the Holy Land. "Speaking of Islam and Muslims as a bunch of terrorists," he said, "will cause the greatest harm to the Christian presence in the birthplace of our faith. I fear for what remains in this land of the Holy One."
The bishop spoke for many Arab Christians dreading Muslims might interpret the Anglo-American invasion as one more Christian attack on the Islamic world. Statistics in Israel/Palestine seem to bear out the bishop's fears—according to Betty Jane & J. Martin Bailey's Who Are the Christians in the Middle East?, Palestinian Christians are leaving their homeland in droves. At least 250,000 now live outside the country, more than 60 percent of all Palestinian Christians worldwide.
Many western Christians still aren't aware of the Christian presence in Israel/Palestine. I wasn't until my freshman year at Wheaton College, when I asked for a missionary kid as a roommate and the college matched me up with a Palestinian Christian. My new friend soon informed me that Palestinian Christians had lived in the Holy Land since the time of Jesus, and that Christians in the West needed to know that Israel was discriminating against fellow believers, depriving them of their land and opportunity. Years later, I traveled to Ramallah in the West Bank to visit the Christian orphanage his father ran. My former roommate's descriptions matched the mood I felt there—hopelessness over a dwindling Christian population and deteriorating economic conditions.
I left Ramallah with many questions. How did the Palestinian Christians come to such straits? Why is Israel oppressing them? Who exactly are the Palestinian Christians, and where did they come from?
The Early Years
The Acts of the Apostles states that the first Christians in Jerusalem were Jews, and historians believe that even after the fall of Jerusalem in A.D. 70, Christianity in the Holy Land kept its Jewish flavor. But the Jewish revolt of Bar-Kokhba in 135 changed all this; Rome showed no mercy to the Jews and obliterated Jerusalem, renaming the city "Aelia Capitolina" and the country of Israel "Palestine." With this blow, the Christian Jewish community effectively disappeared.
The conversion of Constantine in 313 gave rise to a new Christian presence in the Holy Land. Constantine's mother, Helena, helped populate the land with churches and monasteries, and over the next three centuries, the Holy Land witnessed an influx of Christians from various parts of the Roman empire, including Greeks, Armenians, Georgians, Egyptians, and Syrians. The Byzantine emperor, meanwhile, governed the land.
This period of Byzantine rule entrenched Christianity in the Holy Land, and Christians became the majority. Famous theologians made the Holy Land their home, including St. Jerome, who translated the Bible into Latin. But the heresy wars of the fourth and fifth centuries took their toll, as Christians from the Eastern churches increasingly resented Byzantine intervention in their affairs. When Muslim Arabs invaded the Holy Land and took Jerusalem in 640, these Christians viewed the newcomers as "liberators," joined their cause, and helped them expel the Byzantine armies.
Demoted to Dhimmis
It was a tragic miscalculation. What followed was the gradual decline of the church in the Holy Land, as Muslim overlords reduced Christians to servitude (dhimmis) and prohibited Christians from proselytizing Muslims. Still, the various Christian sects survived (Greek Orthodox, Ethiopian Orthodox, Nestorians, Syrian Orthodox, Armenians, Copts), and many of their people adopted Arabic as their primary language—with the exception of the Syrians who kept their liturgical language.
Christians from Arabia also joined their brethren in the Holy Land, and the "Palestinian" Arab Christian population began to assume a distinct identity. The Crusader kingdom of the twelfth and thirteenth centuries rose and fell, but Eastern Christians continued to call the Holy Land home in spite of the return of Muslim power.
Over the next 600 years, the heavy taxes exacted by Muslim sultans impoverished Christian communities, and the sultans allowed bloody outbreaks of persecution. Christians appealed to their old master, the Byzantine emperor, who graciously intervened for them with ransoms and bribes. But Constantinople fell to the Turks in 1453, and for protection, Christians turned to France, which supported Franciscan holdings in the Holy Land acquired after the Crusades. Yet the Franciscans may have done more harm than good—Greek Orthodox priests particularly resented Latin claims to part of the Church of the Holy Sepulchre, the traditional site of Jesus' crucifixion and resurrection.
By the nineteenth century, the Christian population in the Holy Land numbered only 15,000, over 80 percent of these being Greek Orthodox. These numbers actually rose over the course of the century, as Ottoman military power declined and European nations like Russia, France, and Britain exerted pressure on the Turks to "liberalize" their rule. At the same time, Western Protestants began sending missionaries to the Holy Land; Anglicans, for example, first visited Jerusalem in 1820 where they built new churches and set up schools and clinics. Soon a host of other Protestant denominations joined them, including Lutherans, the Church of Scotland, and the Christian and Missionary Alliance. Catholics too sent missionaries to the Holy Land.
Palestinian Christians Today
Muslim rule came to an end with the British occupation of the Holy Land in 1917. The British Mandate provided Christians with a welcome respite from Turkish control; high birth rates contributed to an increase in the population. When the state of Israel declared itself in 1948 and an estimated 750,000 "Palestinian" Arabs fled the country (never to be allowed back in), many Christians stayed, doubling the ratio of Arab Christians to Muslims, especially in towns like Nazareth and Bethlehem.
Despite this, Palestinian Christians have suffered discrimination—and brutality—from Israel. Even though the Israeli constitution assures Christians "freedom of religion, conscience, education and culture," they live as second-class citizens. Israel refuses to allow them to serve in its military, and Palestinian Christians have fewer educational and employment opportunities. Also, Israel's troops, in response to suicidal terrorists bombing Israeli citizens, have confiscated land belonging to Palestinian Christians.
Since the founding of Israel, massive numbers of Palestinian Christians have left the Holy Land, due to Israel's occupation of their land and the dismal state of the economy in Palestinian towns. Today, they make up only 2 percent of the country, when they claimed 17 percent of the population around 1900.
Most Palestinian Christians support the quest for a homeland. But Christians familiar with the rising tide of Muslim persecution in other parts of the Middle East must ask what kind of government the Palestinian Authority (PA) might create once/if Israel releases control. Various watchdog organizations point out that since the PA took over Bethlehem in 1993, Christians have dropped from 60 percent of the population to 30 percent, and they cite incidents of Palestinian police harassing Christians. It would seem then that Palestinian Christians are caught between a wary, unfriendly Israeli state and increasingly hostile Muslim neighbors. No wonder bishop Assal fears for the Christians of his country.
Steven Gertz is editorial coordinator of Christian History. More Christian History, including a list of events that occurred this week in the church's past, is available at ChristianHistory.net. Subscriptions to the quarterly print magazine are also available.
Related Elsewhere
Previous Christianity Today articles on Palestinian Christians include:
'U.S. Credibility Hangs on Whether It Can Do Justice for the Palestinians' | A Palestinian Christian and former PCUSA moderator talks about his faith and critiques Bush's road map to peace in the Middle East. (August 8, 2003)
Palestine's Christians Persist Despite Pressures | With escalating violence in Israel, ministries face a "sad and scary" situation. (September 19, 2001)
Holy Land Roadblocks | Christian pilgrims learn about Palestinians' everyday indignities. (Apr. 9, 2001)
Between the Temple Mount and a Hard Place | Palestinian Christians want both peace in their villages and justice for their Muslim brothers. (Dec. 5, 2000)
Other Christianity Today articles on the Israeli-Palestinian conflict include:
Opinion Roundup: TheEvangelical View of Israel? | Evangelicals are more diverse on the Israeli-Palestinian conflict than we are led to believe. (Christianity Today, June 11, 2003)
A Middle Way in the Middle East | A third theological path through the Israeli-Palestinian thicket. (April 11, 2003)
How Evangelicals Became Israel's Best Friend | In the last 50 years, Israel has needed all the friends it can get, and evangelicals have been loyal and productive supporters. (October 5, 1998)
Activists well acquainted with terror | "Jerusalem Women Speak" tour gains relevance for audience members struggling with new fears. (September 27, 2001)
Strengthen Christian Presence In The Holy Land, Carey Pleads | Middle-East leaders asked to help tone down violence that has killed 650 in 10 months. (August 2, 2001)
Violence Puts Archaeologists Between Rocks, Hard Places | About half of the planned excavations in the Holy Land this summer have been canceled. (June 27, 2001)
Greek Orthodox Priest Falls Victim to Middle East Conflict | Monks worry they may appear as threats to each warring side. (June 21, 2001)
Pilgrimages Drop and Workers Lose Jobs as Middle East Violence Continues | Silence fills places normally crowded with pilgrims, reports British group. (April 11, 2001)
Article continues below
Christian Zionists Rally for Jewish State | More than 600 Christians from around the world flock to Jerusalem to show solidarity with Israel as peace process collapses. (Apr. 9, 2001)
Between a Rock and a Holy Site | Muslims have stepped up their efforts to take control of places revered by Jews and Christians. (Feb. 13, 2001)
The Peace Regress | What's behind the current outbreak of hostilities in the Holy Land? (Jan. 11, 2001)
Conflict in the Holy Land | A timeline of trials for the most contested piece of real estate in the world. (Jan. 11, 2001)
Christmas Plans for Bethlehem Scrapped | Escalating violence cancels millennial celebration in town of Christ's birth. (Dec. 1, 2000)
Latin Patriarch tells Israel to Surrender Lands to Palestinians | Catholic leader says Israel will never have peace unless it "converts all of its neighbors to friends." (Nov. 1, 2000)
Israelis and Palestinians Pay Tribute to Pope's Pilgrimage to Holy Land | Though some at grassroots remain unappeased, leaders of both groups are full of praise. (March 29, 2000)
West Bank Squeezed by Warring Majorities (Nov. 16, 1998)
Jerusalem as Jesus Views It (Oct. 5, 1998)
Temple Mount on Shaky Ground? | (April 6, 1998)
Christian History Corner appears every Friday on Christianity Today's website. Previous editions include:
Liberia's Troubled Past—and Present | The nation's history explains why the current conflict succumbs to, yet simultaneously transcends, the stereotype of African tribal wars. (August 1, 2003)
Medical Missions' African Legacy | For generations, missionary doctors have healed body and soul in Africa. (July 25, 2003)
European Christianity's 'Failure to Thrive' | Why Christendom, born with an imperial bang, is now fading away in an irrelevant whimper. (July 18, 2003)
Where Have All the Classics Gone? | These days it's a triumph when a movie is simply inoffensive. But we can do better than that (July 11, 2003)
From Beer to Bibles to VBS | How America got its favorite summer tradition. (July 3, 2003)
The African Lion Roars in the Western Church | Anglican liberals are fretting, conservatives rejoicing, and all are scrambling to their history books: whence this new evangelical force on the world scene? (June 27, 2003)
How John Wesley Changed America | His 300th birthday should be a red-letter day on this side of the ocean. After all, we're all Wesleyans now. (June 20, 2003)
Did Eric Rudolph Act in a "Tradition of Christian Terror"? | A historian considers the evidence of the Crusades and the Inquisition (June 13, 2003)
Article continues below
The Ancient Rise and Recent Fall of Tithing | Is yet another time-honored Christian practice fading from view? (June 6, 2003)
When World Leaders Pray, Part II | Tony Blair's spin-doctors worried when he recently "outed" himself as a Christian. But what impact has Christianity really had on our leaders? (May 29, 2003)
The Day the Ransoming Began | A gripping new book details the first American missionary hostage crisis, over 100 years ago. (May 23, 2003)
When World Leaders Pray | Some observers are upset with Tony Blair's recent public avowal of faith. But what impact has Christianity really had on our leaders? (May 16, 2003)
Got Your 'Spiritual Director' Yet? | The roots of a resurgent practice, plus 14 books for further study. (May 2, 2003)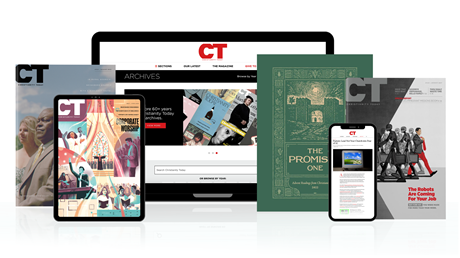 Annual & Monthly subscriptions available.
Print & Digital Issues of CT magazine
Complete access to every article on ChristianityToday.com
Unlimited access to 65+ years of CT's online archives
Member-only special issues
Subscribe
"Christian History Corner: Palestinian Christians, Strangers in a Familiar Land"
"Christian History Corner: Palestinian Christians, ...