Los Angeles Times cribs Alan Wolfe's notes
A week after running a 5,000-word essay on changes at Fuller Seminary, the Los Angeles Times has published a much shorter article on Christian undergraduate schools, which it says "are gaining broader acceptance and moving closer to the academic mainstream."
Reporters Stuart Silverstein and Andy Olsen (no relation) list the evidence:
Enrollments are surging, especially in Southern California, home to two of the largest schools. The percentage of students heading to graduate school is rising and some of the institutions have edged up in college rankings. Evangelical scholars, meanwhile, are having a bigger effect in academic circles, occasionally attracting job offers from Ivy League schools.
All of this should be largely familiar to Christianity Today readers. It should also be very familiar to Atlantic Monthly readers, since the Los Angeles Times piece is essentially a much shorter version of Alan Wolfe's October 2000 cover story, "The Opening of the Evangelical Mind" (see responses to that article from Weblog, Books & Culture's John Wilson, and Wheaton College's Mark Noll). It's all here: references to Mark Noll and George Marsden (with updates and the important additions of Miroslav Volf and John Hare, both now at Yale), misdirected complaints about required adherence to statements of faith, and a theme of how the mainstream academy, including the Ivy Leagues, has become less hostile to evangelical scholarship in recent years.
There's one odd section where Phil Shahbaz, director of student activities and orientation at Azusa Pacific University, tells a classroom that the Holocaust "is a huge thing to talk about, because it happened to one of the most important people groups in the Bible, the Jews. Okay? And the Jews are not, are not taught to forgive. They don't forgive, and you have forgiveness inside your heart. That's what you've been taught to do as a Christian."
The Times says it's an example of how "some commentary in the [evangelical] classroom might create a stir at a secular school." That's perhaps true, but the Times's use of the anecdote seems misplaced. For one thing, the dominant theme of the article is the rise of solid evangelical scholarship. To illustrate scholarship in the classroom, therefore, one therefore may have expected a classroom quote from a professional scholar (i.e. a tenured professor), not a director of student activities. Second, if the Times's point is to illustrate the difference between staff at an evangelical school and that at a secular school, Shahbaz doesn't necessarily help to make the point. After all, he was until recently coordinator of residential life at Cal State, San Bernardino. Third, poorly worded (but supportable) statements about the Jews and the Holocaust are neither common in evangelical schools nor are they absent from the mainstream academy.
One other point should be made about the Times's remark that "some scholars who have studied religious schools contend that they offer a narrow intellectual and social perspective." Apparently Larry Braskamp, education professor at Loyola University (a Jesuit school), is one of these scholars. Students are "not as integrated into the mainstream of society, and they don't mix a lot with other backgrounds, so sometimes I think they carry stereotypes with them," he said. Eh? First, while there's certainly a "bubble" on the campus of many evangelical schools, students are far more likely to get off campus through involvement in missions and social service activities than are their cohorts at secular colleges, thus "mixing with a lot of other backgrounds." And if Braskamp thinks that Christian college students carry stereotypes with them, he may want to start asking students at a major state university to describe students at Christian colleges.
Apart from these two tangential points, however, supporters of Christian higher education will be pleased by the Times article. They just won't be surprised by it.
Related Elsewhere
Suggest links and stories by sending e-mail to weblog@christianitytoday.com
Check out Books & Culture's weblog, Content & Context.
See our past Weblog updates:
November 26 | 25b | 25a | 24
November 21 | 20 | 19 | 18 | 17
November 14 | 13 | 12 | 11 | 10
November 7b | 7a | 6 | 5 | 3
October 31 | 30 | 29 | 28 | 27
October 24 | 23 | 22 | 21
October 17 b | 17a | 16 | 15 | 13
and more, back to November 1999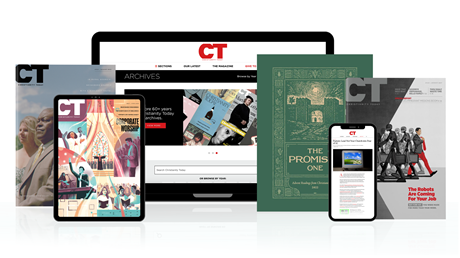 Subscribe to Christianity Today and get access to this article plus 65+ years of archives.
Home delivery of CT magazine
Complete access to articles on ChristianityToday.com
Over 120 years of magazine archives plus full access to all of CT's online archives
Subscribe Now
LA Times Continues Its Discovery of Christian Higher Ed
LA Times Continues Its Discovery of Christian Higher Ed