Supreme Court justices appeared to be divided Tuesday in arguments over whether Joshua Davey should have received the Promise Scholarship he was eligible for but was denied because he chose to study pastoral ministry at Northwest College in Washington.
Davey applied for the scholarship in 1999, and learned that he was eligible to receive the $1,125 scholarship, which could be renewed for one year. However, just months after beginning his studies in pastoral ministries and business management and administration, he was denied the funds because of Washington State's constitution, which provides a stricter separation between church and state than does the federal constitution.
In 2000, Davey filed suit, alleging that the state violated his Constitutional right of free exercise of religion. Davey would have received the scholarship if he were not studying pastoral ministry, or if he were studying theology from a secular institution.
A federal judge ruled for the state, but Davey appealed, and the U.S. Court of Appeals for the 9th Circuit (the same court that struck down "under God" from the pledge) ruled in favor of Davey. According to The New York Times, "Washington State's appeal of that ruling has produced a Supreme Court case of potentially landmark dimensions, raising the profound question of whether, and under what circumstances, the government can carve religion out of general programs of services and benefits."
Because 36 (or 37, depending on who you read) other states have a similarly strict state constitutional "wall of separation" (often called Blaine Amendments), the Supreme Court's decision could have broad implications. The Washington Postwrites, "Depending on the breadth of the court's ultimate ruling, the case could also touch on whether government can ever exclude religious institutions from the distribution of general aid to social programs, a question at the heart of the Bush administration's push for greater federal support to "faith-based" social welfare organizations."
The New York Timeswrote, "The justices devoted much of the lively hourlong argument to probing for just what the consequences might be on issues like school voucher programs if they agreed with the appeals court. The two justices most often in the middle of the court's church-state debates, Sandra Day O'Connor and Anthony M. Kennedy, sought assurances that neither the student's lawyer, Jay A. Sekulow, nor Solicitor General Theodore B. Olson, arguing for the Bush administration as a "friend of the court" on the student's behalf, was willing to provide—that a decision to strike down the Washington program could stop there."
The Timescontinues, "If your side wins," Justice Breyer told the solicitor general, "every program, not just educational programs, but nursing programs, hospital programs, social welfare programs, contracting programs throughout the governments" would all be subject to the argument "that they cannot be purely secular, that they must fund all religions who want to do the same thing."
Olson said, "The clear and unmistakable message is that religion and preparation for a career in the ministry is disfavored and discouraged." And "The person who wants to believe in God or wants to have a position of religious leadership is the one that's singled out for discriminatory treatment."
Sekulow, of the American Center for Law and Justice, said, "There are a lot of students in Josh Davey's situation—where they have met the criteria, had excellent grades and needed economic help, yet were denied the ability to go to religious schools because of the religious affiliation."
The issue is similar to the school voucher case in Cleveland that the Supreme Court decided in favor of. However, in the Davey case, the state might be forced to fund religious instruction, rather than giving individuals the option to attend religious schools. Many reports say because of states' "Blaine Amendments" school voucher programs have not expanded as expected after the Cleveland decision.
At the core of the argument is whether Washington State's higher wall of separation violates the federal Constitution's provision for free exercise of religion. The Chicago Tribunerecords this interaction during Tuesday's arguments:
Justice John Paul Stevens questioned how state officials, in denying Davey the scholarship, had hampered his ability to practice his religion.
"Can't he practice his religion just as he always would and become a minister?" Stevens asked. "He just has to pay for it."
Responded Olson: "He can practice but he practices it at a price."
"He practices it without a subsidy," Stevens shot back.
Said Olson: "He practices it without the same subsidy that is made available to every other citizen except someone who wants to study to be a minister."
A decision is expected in several months. In the meantime, The Los Angeles Times has an interesting profile of Sekulow.
Related Elsewhere
Suggest links and stories by sending e-mail to weblog@christianitytoday.com
Check out Books & Culture's weblog, Content & Context.
See our past Weblog updates:
December 3 | 2 | 1
November 26 | 25b | 25a | 24
November 21 | 20 | 19 | 18 | 17
November 14 | 13 | 12 | 11 | 10
November 7b | 7a | 6 | 5 | 3
October 31 | 30 | 29 | 28 | 27
October 24 | 23 | 22 | 21
and more, back to November 1999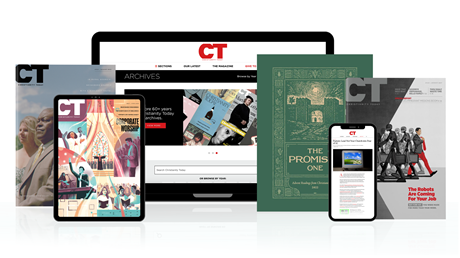 Annual & Monthly subscriptions available.
Print & Digital Issues of CT magazine
Complete access to every article on ChristianityToday.com
Unlimited access to 65+ years of CT's online archives
Member-only special issues
Subscribe
Supreme Court Justices Ask 'How High a Wall of Separation?'
Supreme Court Justices Ask 'How High a Wall of Separation?'