In Chaldean communities near Detroit and San Diego news of Saddam Hussein's capture spread quickly. "I spoke with my sister in Iraq first thing, and she said the gunfire I heard in the background were coming from the people who are happy," Kinaya, a deacon at Mother of God Chaldean Catholic Church in Southfield, Michigan, toldThe Detroit Free Press. "The Iraqi people are a democratic people who are now celebrating their freedom."
The Detroit area is home to about 100,000 Chaldean Christians, who saw Saddam's capture as a fitting gift as the church enters the Christmas season. "This is a great Christmas present," said Joseph Kassab, director of the Michigan chapter of the Chaldean National Congress," according to The Detroit News. An Associated Press story, which ran in several California papers reported on Chaldean reactions there. "It's a great joy for all the Iraqi people on this day, especially for Christians," said Noel Gorgis, pastor of St. Paul Assyrian Chaldean Catholic Church in North Hollywood, which has a large Iraqi congregation. "We prepare ourselves for joy on Christmas, and now that joy is complete."
However the celebrations were tempered with reminders of Saddam's cruelty, from which no one was exempt. "At Sacred Heart Catholic Church in Detroit, Khatoum Mossa, 65, said her son lost most of his right arm fighting, against his will, for the Iraqi army in the first Persian Gulf War." The Detroit Free Press writes, "Khayon Al-Tamimi, 53, who is originally from Nasiriyah, Iraq, lost his brother and nephew when both were killed after they fought in Shi'ite uprisings against Hussein. … There is not one Iraqi family who didn't lose someone," he said.
According to the Press Enterprise in Southern California, "Hussein killed both Iraqi Muslims and Christians, destroying churches and forcing many to flee. 'It was just something that had to happen. He hurt everyone,' said Fadiah Ziro, 19, whose family members are Chaldean Christian refugees from Iraq. 'Maybe everything will just calm down (now).' "
There are conflicting estimates on the number of Christians in Iraq. Last month, Weblog ran through the numbers. "According to The Daily Telegraph of London, about 700,000 Chaldean Christians and more than a million Assyrian Christians live in Iraq. Operation World suggests that those figures are highly inflated, and says there are only 358,281 Christians in the country total (about 22,000 are identified as evangelicals). David Barrett's World Christian Encyclopedia splits the difference, counting 730,774 Christians (74,800 evangelicals) among the population of 22,946,245."
Christians have been fleeing Iraq for decades, first under Saddam Hussein and now because of Muslim persecution. "The fundamentalists have put pressure on us as never before," said local priest Charlemagne Shmool after one of his parishioners had been killed by Muslims. "Within 10 years there will be no Christians in this area. We will be finished."
After a recent attack, ChaldeansOnline reported,
since the fall of Saddam Hussein, tens of targeted attacks were carried out against Iraqi Christians across Iraq. Last May, 2003 in Basra, southern Iraq, two Chaldean liquor owners were killed when their shops were attacked with machine guns. Also, two more Chaldeans were killed in Baghdad and for the same reason. Add to that, the burning down of many liquor factories and shops in the Greater Baghdad area which were all owned by Chaldean Christians.
Not only did those heinous crimes result in the loss of innocent lives, but worse they have created tremendous hardships for those Chaldean families whose very livelihood were attacked. With lack of alternative jobs, many of them are currently living off the charitable contributions of the local Chaldean churches.
Many "Arabs" have fled to the U.S and now number about 3.5 million, according to one report, and most of them are Assyrian and Chaldean Christians. There seems to be some confusion over how Christians are reported in census figures. Another story reports that Christians are not counted as Arabs on census figures. However, both stories report that many Christians are fleeing Middle Eastern countries because of persecution.
CT has dozens more articles from Iraq.
Related Elsewhere
Suggest links and stories by sending e-mail to weblog@christianitytoday.com
Check out Books & Culture's weblog, Content & Context.
See our past Weblog updates:
December 12 | 11 | 10 | 9 | 8
December 5b | 5a | 4 | 3 | 2 | 1
November 26 | 25b | 25a | 24
November 21 | 20 | 19 | 18 | 17
November 14 | 13 | 12 | 11 | 10
November 7b | 7a | 6 | 5 | 3
and more, back to November 1999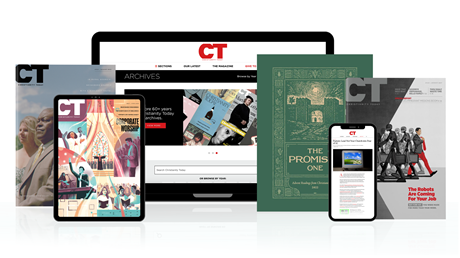 Subscribe to Christianity Today and get access to this article plus 65+ years of archives.
Home delivery of CT magazine
Complete access to articles on ChristianityToday.com
Over 120 years of magazine archives plus full access to all of CT's online archives
Subscribe Now
Iraqi Christians Celebrate Saddam's Capture
Iraqi Christians Celebrate Saddam's Capture