Abortion foes oppose nonprescription 'morning-after pill'
Christian and conservative groups are opposing a recommendation by a committee of the Food and Drug Administration to give a "morning after" pill over-the-counter status. The pill, Plan B, owned by Barr Laboratories, has been on the market as a prescription drug since 1999, and sold a paltry (by pharmaceutical industry standards) $10 million annually.
In a 23-4 vote, the panel recommended to make the pill available over the counter, which proponents and opponents say could have a cultural and social effect second only to the birth control pill. On Monday, 44 members of Congress, including House Majority Leader Tom DeLay, sent a letter to the FDA opposing over-the-counter status. "We urge you to reject the petition currently before you to make the morning-after pill as accessible to our nation's teenage daughters as aspirin or hairspray," the letter stated.
Barr Laboratories, now the number three U.S. producer of birth control pills, said it is only interested in "woman's health." But, CBSMarketwatch writes, "Barr's contraceptive business is coming under increasing pressure. On Wednesday, No. 1 generic drugmaker Teva and Andrx Corp. said they would team up to market birth-control pills in the United States. The news put pressure on Barr shares and led Lehman Bros. and JP Morgan to downgrade the stock." The drug maker believes that women won't buy the morning-after pill if it means talking to a pharmacist (which some states allow without a prescription) or getting a prescription from a doctor.
There is also debate over whether the drug causes an abortion. Barr says it prevents pregnancy, while Judy Brown, president of the American Life League, said, "The pill acts to prevent a pregnancy by aborting a child." Ms. Brown added that while Plan B may be called emergency contraception "the emergency in this case is a baby," according to The New York Times. Christian groups want a warning on the label to make users aware that it may prevent implantation after conception.
Dr. W. David Hager of the University of Kentucky, who voted against nonprescription status, said Plan B would have a similar effect on society as the birth control pill, which he said ushered in "a new day and age for the expression of sexuality among young people," according to The New York Times. "What we heard today was frequently about individuals who did not want to take responsibility for their actions and wanted a medication to relieve those consequences."
Wendy Wright of Concerned Women for America argued that the pill was not safe without a doctor's evaluation. The U.S. Conference of Catholic Bishops also opposes the pill's over-the-counter status, but the FDA will likely make the switch when it makes its decision, expected by February 20.
Episcopal bishops form new group
Thirteen Episcopal bishops are announcing their plans to form an alternative network of diocese and parishes for those opposed to the consecration of Gene Robinson as bishop of New Hampshire. "We're not leaving, we're not separating ourselves," Bishop Robert W. Duncan of Pittsburgh said. Duncan will be the "moderator and convening authority" of the new network. "What we trust is going to happen is that the rest of the world and the rest of the Christian community are going to bring such pressure to bear on the whole of this church that it steps back from this event."
The network includes the dioceses of "Albany; Pittsburgh; San Joaquin in California; South Carolina; Florida, Central Florida, and Southwest Florida; Dallas and Fort Worth; Quincy and Springfield in Illinois; Western Kansas; and Rio Grande, which includes parts of Texas and New Mexico."
The Network of Anglican Communion Dioceses and Parishes website has posted its theological charter.
Can lesbians divorce if they're not married?
An Iowa judge did not immediately recognize that he was allowing the divorce of two lesbians, who'd had a civil union in Vermont, but he decided to let his decision stand, he said, because the Constitution requires states to recognize other's laws.
But when some states recognize civil unions, and others have a Defense of Marriage Act, the laws conflict, and the Iowa Family Policy Center is arguing before the state supreme court that the judge exceeded his authority. Chuck Hurley, president of the Family Policy Center said, the lawsuit is "based on the premise that he did not have the authority to dissolve a marriage since there can be no marriage under Iowa law. The judicial branch has usurped or tried to assume a legislative function." Several state legislators have joined the opposition.
The women seeking a divorce had received their union in Vermont and returned to Iowa to live. However, the Iowa Family Policy Center argues that the state does not recognize the union, and therefore can't grant a divorce.
More articles:
French to ban Islamic headscarves:
Christians seek refuge in Australia:
Hanukah: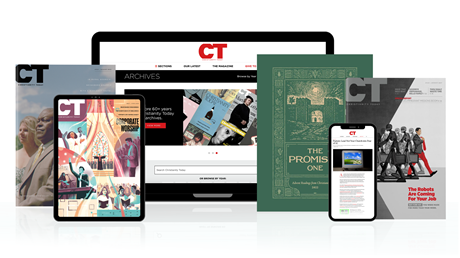 Subscribe to Christianity Today and get access to this article plus 65+ years of archives.
Home delivery of CT magazine
Complete access to articles on ChristianityToday.com
Over 120 years of magazine archives plus full access to all of CT's online archives
Subscribe Now
FDA Panel Recommends Over-the-counter 'Morning After' Pill
FDA Panel Recommends Over-the-counter 'Morning After' Pill