While France rejects Islamic headscarves and other forms of religious expression in public schools, American schools are actively inviting Muslims (in some cases from outside the school) to express their faith and even requiring classes to participate.
A federal judge recently decided there was no establishment of religion when a teacher asked students to pretend to be Muslims for three weeks. The role-playing activities included choosing a Muslim name, wearing Arabic clothes, recite Muslim prayers, and play a board game in which they raced to Mecca.
A Christian family objected. "I think it's pretty cut and dry," Jonas Eklund, a parent of one of the students said. "Three weeks of Islam and they won't teach any other religion. That was our problem with it." The judge (who also sided with Planned Parenthood against the partial-birth abortion ban) ruled in favor of the school district. The district argued that role-playing is a teaching technique that was used in a historical context. According to Islam Online, the principle said "that not only Islam, but Christianity, Judaism, Buddhism and other major religions are also taught as they apply to the understanding of history and the development of major Western and non-Western civilizations."
The Thomas More Law Center argued that the school used a double standard. According to the Contra Costa Times, "It is hypocritical that schools are not allowed to post the Ten Commandments, while Byron [school] students were allowed to recite 'In the name of God, Most Gracious, Most Merciful,' " said Richard Thompson, chief counsel and president of the law center.
It's not really hypocritical, though because Jesus wasn't really born in a stable, according New York City lawyers. They argued on behalf of a school system saying the "suggestion that a crèche is a historically accurate representation of an event with secular significance is wholly disingenuous." Parents sued, objecting to the removal of a nativity scene while the school urged teachers to bring in "religious symbols" representing Jewish and Islamic religions.
Maybe the parents could move to Houston, where no one is rejecting Jesus' birth, they're just teaching witchcraft. Parents there got upset when a student brought home a book on Wicca. "For someone to put this bad seed into my child's thoughts, and try to cloud the goodness that is in his mind is really what bothers me," one parent said.
Outside Cincinnati, parents found it "curious" when a middle school invited the local Islamic center's school to perform a "Ramadan Rap" during a Christmas concert. " Mason Intermediate School Principal Cathy Hunter told the Cincinnati Enquirer, "We have been such a homogenous community here in Mason but now we are getting kids from all over the world. But the younger we start teaching diversity, we hope that it has a trickle-up effect on the whole community."
No lawsuits yet.
Court OKs law banning late-term abortion
An appeals court panel upheld an Ohio partial-birth abortion ban in a 2-1 ruling yesterday. The 6th U.S. Circuit Court of Appeals reversed a lower court ruling that banned the ban before it could take effect. Ohio Right to Life released a statement praising the decision.
Library directors overturn ban on Jesus images
Following up on a recent CTstory, a Connecticut library that had banned an artist's display, which included pictures of Jesus has now allowed Mary Morley to display her paintings. The library is now preparing for a backlash. According to the Record-Journal in Meriden, the library board said, "Although, as demonstrated throughout history, religion stirs great passions, those who have directed their anger at the Library Director are urged to reconsider her role in this controversy. Ms. Trotta has served this community and the Library well for many years. She is a person of the highest moral character and deserves the support not only of the Library Board but also of our community as a whole."
More articles:
France bans religious expression in schools:
Ministry:
Pat Robertson in Israel:
Holocaust survivors:
Jews for Jesus in Palm Beach:
Related Elsewhere
Suggest links and stories by sending e-mail to weblog@christianitytoday.com
Check out Books & Culture's weblog, Content & Context.
See our past Weblog updates:
December 17 | 16 | 15
December 12 | 11 | 10 | 9 | 8
December 5b | 5a | 4 | 3 | 2 | 1
November 26 | 25b | 25a | 24
November 21 | 20 | 19 | 18 | 17
November 14 | 13 | 12 | 11 | 10
and more, back to November 1999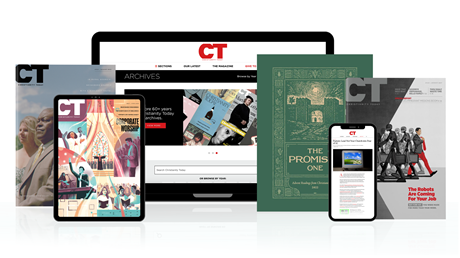 Subscribe to Christianity Today and get access to this article plus 65+ years of archives.
Home delivery of CT magazine
Complete access to articles on ChristianityToday.com
Over 120 years of magazine archives plus full access to all of CT's online archives
Subscribe Now
French Schools Ban Islamic Headscarves; U.S. Schools Practice Islam
French Schools Ban Islamic Headscarves; U.S. ...