Bethlehem prepares itself for another gloomy Christmas. The town, usually buzzing with pre-Christmas activity, is now dead. An Associated Press story gives the picture: "George Juha sat in his empty Manger Square restaurant, flipping through a picture album, reminiscing about the good old days when hundreds of tourists, diplomats, and famous personalities lunched there. 'We've been closed most of the year. There are no tourists, so business is very slow,'' said Juha, 44, looking at 5-year-old pictures of U.S. congressmen enjoying a traditional Middle Eastern meal at his restaurant.
Bethlehem's mayor announced this week that Christmas celebrations would be limited to religious ceremonies. "I know that Bethlehem has a special place in the Christians' hearts, being the cradle of Jesus Christ, and for that I encourage all our Christian brethren to show their love for Bethlehem this Christmas by taking serious steps to save the city and its people, as it's in dire need for help preserve its prestigious place and its importance as a pilgrimage destination and a city of peace," the mayor said.
In addition, Israel barred Yasser Arafat from attending any celebrations in the city after a Christian delegation invited him. Arafat typically attends the Christmas ceremonies, but hasn't for three years while he has been confined to his Ramallah compound.
Christians have been fleeing the city at a rate of 1,000 per year, Reuters reports. "If this continues, our churches will be more like museums than living houses of prayer," said Father Amjad Sabbara, a senior Roman Catholic cleric, after celebrating mass before a sparse congregation of mostly gray-haired worshipers." Christians number only 50,000 in the West Bank and Gaza, less than half of the 110,000 Christians who lived there in 1948.
The town has lost the historic harmony it once had between Christians, Muslims, and Jews. Reuters says,
Town manager Jamal Salman said Christians are being hardest hit as Israel seizes land on Bethlehem's outskirts for a vast metal-and-concrete barrier it is building in the West Bank.
But Christians complain they are also being squeezed by Muslim neighbors who in some cases have taken advantage of growing lawlessness to grab farmland and other property.
Reuters writes this Christmas Ihab Mousselem, whose family has lived in Bethlehem for generations, got what he wished for: a visa to Europe. Mousselem is "joining a growing exodus of Palestinian Christians squeezed by Israel's crippling military blockade of the West Bank and the rise of Muslim fundamentalism. … 'We were here before the Greeks, Romans and Turks. It hurts to leave but it's more painful to stay,' " he said.
For a personal glimpse at the situation, read Rev. Alex Awad's letter to Ariel Sharon. Awad is dean of students of a Christian college in Bethlehem and the pastor of a Church in Jerusalem. He describes the "great social, economic, educational, medical and religious nightmares to the Christian citizens of Bethlehem."
Also check out CT editor David Neff's interview with Joshua Hammer, author of A Season in Bethlehem. Hammer describes the difficult situation of Christians in the town of Jesus' birth. Also online is information from the publisher, including an excerpt, a Newsweek excerpt, Hammer's discussion of the book on NPR's Fresh Air, and PBS's Frontline coverage of the Church of the Nativity standoff in Bethlehem.
More articles:
Christians and Israel:
Christianity and Judaism:
Judaism:
Anti-Semitism:
Religious hate:
Religious freedom:
Vietnam religious freedom:
India:
Sri Lanka:
Chinese Christian arrested:
Russian Christians in Minnesota:
Pakistan:
Saudi Arabia:
Indonesia:
Philippines:
Iraq:
Terrorism and war:
Christianity and Islam:
France to ban Islamic headscarves:
Religion and politics:
Interfaith:
Social justice:
Abuse:
Catholicism:
Da Vinci Code:
Gnostics:
Episcopal alternative network:
Episcopal church:
Anglican church:
Gay marriage:
Anti-gay:
Sexual ethics:
Christmas:
Advent:
Christmas shopping:
Christmas displays:
In Palm Beach:
Christmas ministry:
Ministry:
Christian business:
Abercrombie and Fitch boycott:
Church life:
Christ on campus:
Atheism:
Spirituality:
Art:
Film:
Music:
Books:
Archeology and history:
Senator Paul Simon:
Also:
Related Elsewhere
Suggest links and stories by sending e-mail to weblog@christianitytoday.com
Check out Books & Culture's weblog, Content & Context.
See our past Weblog updates:
December 18 | 17 | 16 | 15
December 12 | 11 | 10 | 9 | 8
December 5b | 5a | 4 | 3 | 2 | 1
November 26 | 25b | 25a | 24
November 21 | 20 | 19 | 18 | 17
November 14 | 13 | 12 | 11 | 10
and more, back to November 1999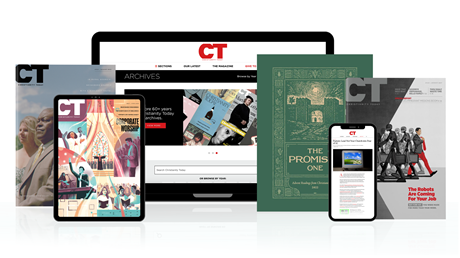 Subscribe to Christianity Today and get access to this article plus 65+ years of archives.
Home delivery of CT magazine
Complete access to articles on ChristianityToday.com
Over 120 years of magazine archives plus full access to all of CT's online archives
Subscribe Now
Bethlehem Prepares for Dour Christmas
Bethlehem Prepares for Dour Christmas