When Elizabeth Hansen asked Ann Arbor, Michigan's Pioneer High School administrator if her views could be included in the school's Diversity Week forum on "Homosexuality and Religion," school officials said "no" because she wanted to include a "negative" message based on her Roman Catholic faith.
The forum included "two Episcopalian ministers, a Presbyterian minister, a Presbyterian deacon, a rabbi and a pastor of the United Church of Christ," according to the Associated Press. The school's Gay/Straight alliance handpicked everyone on the forum, said the Detroit Free Press. "At one point, officials decided to cancel the panel discussion after one official said excluding an opposing viewpoint was illegal. But the Gay/Straight Alliance persuaded officials to relent and exclude anyone with an opposing point of view to sit on the panel."
Hansen was allowed to give a speech on "What Diversity Means to Me," but school officials eliminated one paragraph in which Hansen expressed her view that homosexuality was wrong. Hansen, who was a senior at the time, filed suit with the help of the Thomas More Law Center in Ann Arbor, alleging the school acted to "prevent the expression of the traditional Christian view toward homosexuality at this panel discussion and throughout the '2002 Diversity Week' events," according to The Detroit News.
In court arguments, Pioneer High School attorney, Seth Lloyd, said the school "must be able to limit viewpoints in discussions. Otherwise, he said, a panel on job opportunities for women would have to include a religious conservative who could argue that women should stay home and rear children."
According to the Ann Arbor News, "The district's attorney argued that the speech was edited because the school wanted to promote 'student tolerance and acceptance of minority points of view.' " The Detroit Free Press said, "Officials wanted to present a positive message to offset the views of the school's Pioneers for Christ club, of which Hansen was a member. Lloyd said officials also wanted to encourage tolerance and discourage violence and harassment inflicted on gay students at the high school."
Naturally, the school wanted to encourage tolerance. In fact, the school's ant-discrimination policy says, "No person shall be excluded from participation in, be denied the benefits of, or be subjected to discrimination in any educational program or activity available in any school on the basis of race, color, sex, religion, creed, political belief, age, national origin, linguistic and language differences, sexual orientation, socio-economic status, height, weight, marital or familial status, or disability." So what part of "no person shall be excluded from participation" does the school not understand?
The judge ruled last week against the school, saying,
"This case presents the ironic, and unfortunate, paradox of a public high school celebrating 'diversity' by refusing to permit the presentation to students of an 'unwelcomed' viewpoint on the topic of homosexuality and religion, while actively promoting the competing view. This practice of 'one-way diversity,' unsettling in itself, was rendered still more troubling—both constitutionally and ethically—by the fact that the approved viewpoint was, in one manifestation, presented to students as religious doctrine by six clerics (some in full garb) quoting from religious scripture. In its other manifestation, it resulted in the censorship by school administrators of a student's speech about 'what diversity means to me,' removing that portion of the speech in which the student described the unapproved viewpoint."
"All of this, of course, raises the question, among others presented here, of what 'diversity' means and whether a school may promote one view of 'diversity' over another. Even accepting that the term 'diversity' has evolved in recent years to mean, at least colloquially, something more than the dictionary definition, the notion of sponsorship of one viewpoint to the exclusion of another hardly seems to further the school's purported objective of 'celebrating diversity.'
The Ann Arbor Newssays, "In one passage, [U.S. District Judge Gerald] Rosen wondered "what message concerning intellectual integrity the school is conveying to students by making an argument that is so transparently disingenuous and offensive in its … attempt to torture the facts … to justify its ultimate decision."
During arguments, Rosen said "Don't you think that smacks of government and religious totalitarianism. Isn't that what this government was founded to get away from? … Isn't that how we got to book burning in Nazi Germany back in the 1930s?"
Rosen is no special friend of Christians. According to The Witches' Voice web site, Rosen once ruled that Wiccan students at Lincoln Park High School should be allowed to wear pentagrams as an expression of their religion.
Pioneer High School may owe up to $100,000 for attorneys' fees, according to the Thomas More Law Center.
Related Elsewhere
Suggest links and stories by sending e-mail to weblog@christianitytoday.com
Check out Books & Culture's weblog, Content & Context.
See our past Weblog updates:
December 8
December 5b | 5a | 4 | 3 | 2 | 1
November 26 | 25b | 25a | 24
November 21 | 20 | 19 | 18 | 17
November 14 | 13 | 12 | 11 | 10
November 7b | 7a | 6 | 5 | 3
October 31 | 30 | 29 | 28 | 27
and more, back to November 1999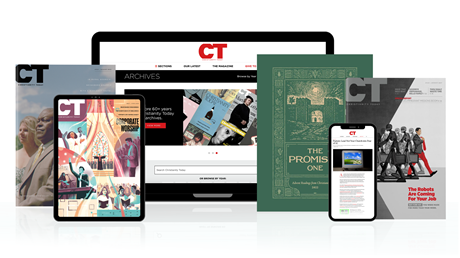 Annual & Monthly subscriptions available.
Print & Digital Issues of CT magazine
Complete access to every article on ChristianityToday.com
Unlimited access to 65+ years of CT's online archives
Member-only special issues
Subscribe
Shut Up and Embrace Diversity
Shut Up and Embrace Diversity