Prison ministry sued
Last Friday, the Texas Criminal Justice Policy Council issued a glowing report about the Innerchange Freedom Initiative, a Christian program launched in 1997 by Prison Fellowship founder (and Christianity Today columnist) Charles Colson.
Only 8 percent of the 177 prisoners who completed the 16-month Innerchange program wound up back in prison within two years of their release, the study found. For other prisoners at the Carol Vance Unit near Houston, the recidivism rate was 20.5 percent. (Those who started but didn't complete the program, however, had a 36% recidivism rate.)
"We're real excited about those results," Don Keil, assistant director for religious programs at the Texas Department of Criminal Justice, told the Associated Press. "It shows there's something happening down there."
What's happening down there, says Americans United for Separation of Church and State, is pure evil. "It uses tax dollars for pervasively religious programs, allows discriminatory hiring, gives preferential treatment to one religion over others, funds coercive conversion efforts and basically ignores the whole notion of a separation between church and state," executive director Barry Lynn said.
Yesterday, Americans United sued the Innerchange program at the Newton Correctional Facility in Iowa. It hopes that the suit will derail the faith-based initiative of President Bush, who has praised Innerchange and brought it to Texas as governor.
"Contrary to the representation by the suits' plaintiffs, the InnerChange Freedom Initiative in operation in Iowa in no way violates the Establishment Clause of the First Amendment to the Constitution," says Prison Fellowship president Mark Earley in a press release. "In Iowa, InnerChange Freedom Initiative uses state monies solely for non-sectarian expenses while private funds are used for all religious programming. Furthermore, all inmates who take part in the Iowa InnerChange program—and indeed in all InnerChange programs—voluntarily choose to participate. While the program is open to inmates of all faiths or no faith, participants are fully apprised of the faith-centered nature of the program in advance of their participation."
UCLA law professor Eugene Volokh, whom The Washington Post rightly says "generally takes a supportive view of faith-based programs," told the paper that Innerchange will face a tough time making its case at trial. "The offer of various benefits that are unavailable to others is an indirect form of coercion that is clearly impermissible," he says.
But expect Innerchange and prison officials to question those benefits. Jerry Wilger, InnerChange executive national director told The New York Times that many of the lawsuits' contentions are misleading or erroneous. Televisions are prohibited, he says, though the suit says they get big-screen TVs. Phone calls are indeed free—in emergencies. And yes, Innerchange inmates get keys to their cells—because the Department of Corrections put the program where cells only have old wooden doors.
NPR's Barbara Bradley Hagerty, who covered the Innerchange program in Iowa back in September 2001, also has a report on the lawsuit.
Isn't it ironic?
At Georgetown University yesterday, President Clinton defended himself against actor Richard Gere's remarks that he "did nothing" to fight AIDS while in office.
"I don't blame Richard Gere, because he's an actor. He doesn't know," he said. "I think that somebody told Richard Gere something because they were trying to score a few political points."
He contrasted his achievements on AIDS with those of the Bush administration: "We more than doubled domestic spending. We established the AIDS czar, the AIDS council. We started the vaccine initiative. So I am very proud of our record -- and we did it in a hostile environment," he said. "So in 2001, Sen. Jesse Helms got $500 million more for AIDS. It was wonderful. And the  [Bush] administration cut him back. And for two years they took a position that the Global AIDS Fund couldn't pay for generic medicine. And they put this guy on the AIDS council that said that AIDS was a gay plague."
Um. Let's see. Did he mean the guy who was nominated (not put on) the AIDS council who talked about how he used to believe AIDS was a gay plague until he and his family contracted the disease, and has now devoted himself to recruiting churches in the battle against HIV and AIDS? That guy? Who's trying to score a few political points now?
More articles
Education:
Money and business:
Sexual ethics:
St. Valentine:
Sex, marriage, and relationships:
War with Iraq:
Church sex abuse:
Church life:
Television and radio:
Pop culture:
Other stories of Interest:
Related Elsewhere
Suggest links and stories by sending e-mail to weblog@christianitytoday.com
See our past Weblog updates:
February 12 | 11 | 10
February 7 | 6 | 5 | 4 | 3
January 31 | 30 | 29 | 28 | 27
January 24 | 23 | 22 | 21 | 20
January 17 | 16 | 15 | 14 | 13
January 10 | 9 | 8 | 7 | 6
January 3 | 2 | December 31 | 30
and more, back to November 1999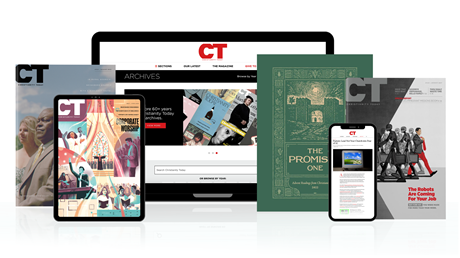 Annual & Monthly subscriptions available.
Print & Digital Issues of CT magazine
Complete access to every article on ChristianityToday.com
Unlimited access to 65+ years of CT's online archives
Member-only special issues
Subscribe
Christian Prison Program Sued
Christian Prison Program Sued