UPDATE: See a response to this Weblog item from Biola professor Richard Flory here.
How can the church reach post-Boomers? Not by emphasizing biblical truth, says Biola exhibit
Fifty years ago, Richard Niebuhr famously identified five different beliefs Christians hold about engaging culture. Now, it seems, two Southern California professors are creating a new Christ and Culture for the postmodern age. And a lot of Christians aren't going to like it.
Biola University sociologist Richard Flory and University of Southern California religion professor Don Miller are the creators of "Recovery of Ritual," a new exhibit at Biola that, according to the Los Angeles Times, "explores challenges that churches face in attracting younger worshipers."
Four categories are depicted: Reactors, which use "nostalgic efforts that focus on the recovery of reason, seeking to roll back the clock on our postmodern culture;" Imitators, who "hijack portions of popular culture and inject a Christian message;" Reappropriators, who thirst for orthodoxy and are transfixed by the smells and bells of liturgical churches; and Innovators, who want to reinvent the church and focus on "intimate community."
Of these, the Times reports, only the Reactors are treated with derision. "The centerpiece of this section is a small television that shows talking-head shots of academics and pastors defending Christianity through the use of Scripture," reports William Lobdell. "On the wall are political cartoons from the 1920s, magazines from the 1950s and current books, all giving the same message: The only hope for Christianity against modern culture is hammering away at biblical truths."
And around the TV in an endless loop, Lobdell notes, "is a small electric train with 'Facts' as its engine, 'Faith' as the second car, and 'Feeling' as the caboose." The Times doesn't note it, but this metaphor was made famous through Campus Crusade's "Four Spiritual Laws," which may be one of the "outdated tracts or pamphlets on how to become a Christian" that's noted in the exhibit.
Since this exhibit is at a traditionally conservative Christian school, expect a reaction from some "Reactors" who won't be pleased with such disdain for "hammering away at biblical truths." The modern gospel of "relevancy" has come under criticism from some of the most prominent post-boomer evangelicals (though "authenticity" is still as broadly embraced as the Times suggests). Nevertheless, using popular culture seems to be seen as a shortcut for reaching "these kids today."
Witness, for example, Crescent Heights United Methodist Church in West Hollywood. The church has a Broadway tune sing-along that brings in 40 people a week. "The music people love, to my mind, is sacred," Pastor John Griffin told The New York Times in Sunday's edition. "I don't see music divided into sacred and secular. If it touches people, or lifts people, that's sacred."
But will tunes from "Oklahoma!" and "La Cage aux Folles" keep the seats filled? Maybe and maybe not. Check out another piece in the Los Angeles Times:
In September of 1992, [Mark] Tomaino was a 31-year-old evangelical Christian who was questioning his faith and had resigned as lay leader of the singles ministry at the former Melodyland Christian Center in Anaheim. When a friend from an Internet bulletin board announced that she was attending

The Rocky Horror Picture Show

one evening, Tomaino caught [amateur theater troupe] Midnight Insanity's extravaganza at the Art Theatre. Tomaino attended the next week's show, volunteered for the troupe and never looked back.
But it wasn't the film that got him, he says. "When I missed church for a few weeks, nobody would call," he tells the Times. "But if you missed anything at Rocky, somebody calls and asks if you're OK."
Midnight Insanity even has a crisis hotline. "We've had calls from people who are at the end of their rope and wouldn't call a regular hotline," Tomaino says. "We're not trying to rush [them] to the hospital. We [tell them] we care, and to say 'hi' at next Saturday's [Rocky Horror] show. Then they have something to look forward to."
Expect quite a few folks in the Innovators group to clip and save that story as evidence that a church emphasis on community is the answer to a postmodern world.
"Mexico City Policy" still solid as fight against AIDS moves forward
Over the weekend there seemed to be a battle over whether the White House's $15 billion plan to fight AIDS abroad would clash with Bush's efforts to limit the promotion of abortion around the world.
In 2001, President Bush reinstated a ban on federal funds for family planning agencies that provide abortion overseas (the ban, instated by President Reagan in 1984 and repealed by President Clinton in 1993, is known as the Mexico City policy because Reagan announced it at a United Nations International Conference on Population in that city).
Friday night, the White House announced what some took to be a significant change in that policy. "Any agency that provides treatment for AIDS will get the money, as long as none of the funds are used for family planning purposes or for abortions, except in cases of rape, incest or when the life of the mother is in danger," a senior White House aide told the Los Angeles Times. The New York Times had a similar report.
It turns out that the reports were overstated. Organizations that provide or encourage abortions will have to set up wholly separate anti-AIDS programs to receive any of the federal AIDS funds. By Saturday, Planned Parenthood was complaining to the Associated Press about a "gag rule," and the National Right to Life Committee was praising Bush's AIDS policy.
But while this story seems to be a flash in the pan, it will be interesting to see if there's any fallout. Will religious organizations claim that groups like Planned Parenthood can't separate their abortion advocacy from anti-AIDS work? Be careful: That's the same logic that critics of Bush's faith-based initiative are using to say that religious organizations can't separate religious indoctrination from their social service.
Related Elsewhere
Suggest links and stories by sending e-mail to weblog@christianitytoday.com
See our past Weblog updates:
February 14 | 13 | 12 | 11 | 10
February 7 | 6 | 5 | 4 |3
January 31 | 30 | 29 | 28 | 27
January 24 | 23 | 22 | 21 | 20
January 17 | 16 | 15 | 14 | 13
January 10 | 9 | 8 | 7 | 6
January 3 | 2 | December 31 | 30
and more, back to November 1999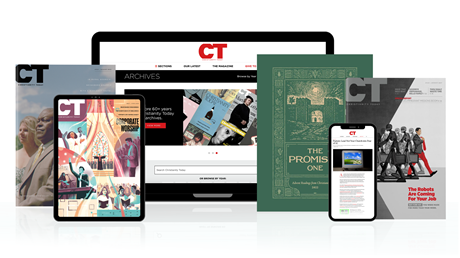 Annual & Monthly subscriptions available.
Print & Digital Issues of CT magazine
Complete access to every article on ChristianityToday.com
Unlimited access to 65+ years of CT's online archives
Member-only special issues
Subscribe
Some May Be Offended by Biola Exhibit on Reaching Culture
Some May Be Offended by Biola Exhibit on Reaching Culture